The Story Behind Winona's 'Beetlejuice' Outfits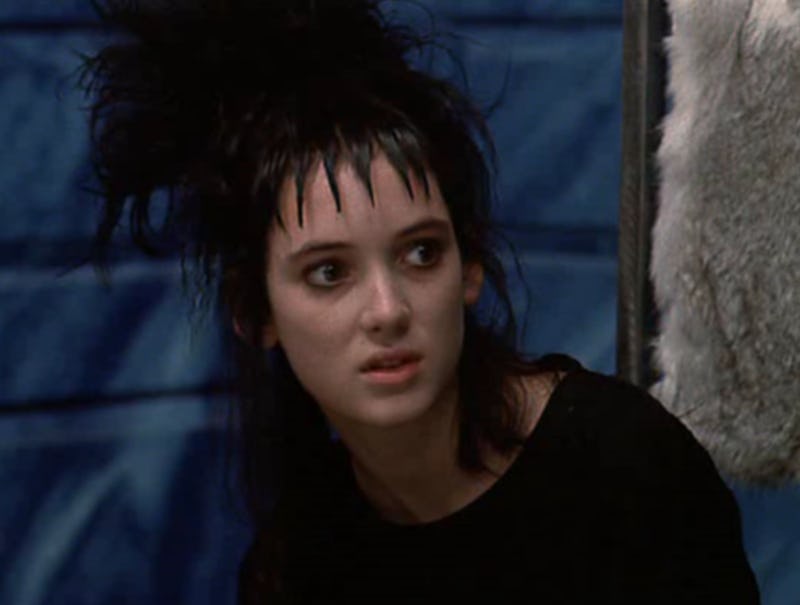 If you're a twentysomething woman who grew up watching the Tim Burton classic Beetlejuice on repeat, you were probably mostly in love with Beetlejuice for the snarky, witchy Lydia Deetz (played by the enchanting Winona Ryder). Who am I kidding? You are probably still obsessed. Famously adored for lines like, "My whole life is a dark room," and, you know, the fact that she could communicate with the dead, Deetz's wardrobe was also unlike any other on-screen teen's at the time. Fitting Burton's twisted, spooky visuals, Lydia's look was as Gothic and outlandish as the film itself. Elle interviewed costume designer Aggie Guerard Rodgers about creating the looks for Lydia Deetz and working with Winona Ryder. "No one knew what to do with me," she says.While teenage girls were generally still being portrayed as "sugar, spice, and everything nice" and were wearing neon spandex and sporting teased blonde bangs, Lydia's black hair and offbeat outfits were a breath of fresh air. From her shocking red dress to her twisted schoolgirl outfit, she was not playing by any of the WASP-y rules that her family was trying to enforce. That red dress? It was a wedding dress, made in red especially for Ryder: "I said, 'This wedding dress of Geena, how do you like it?' It was just a series of photos of people in bridal dresses that Brenda's always cranked out. He picked one and I said, 'How about for Winona we make her this same dress in red?' And that is how we got that ridiculous dress," Rodgers told Elle.
Lydia is badass character, yes, but even more badass is that the 16-year-old Ryder actually collaborated with the costume designer to create Deetz's looks. "In the final scene of the film, Winona decided to wear her school outfit with that petticoat on underneath all by herself. That was her idea. I think she probably even brought that in herself," Rodgers added. That outfit is front and center in the film's iconic closing credits. May we all be a little more like Lydia Deetz/16-year-old Winona Ryder.
Images/Video: Warner Bros; Youtube