Former 'Dance Moms' Star Chloe Is Better Than Ever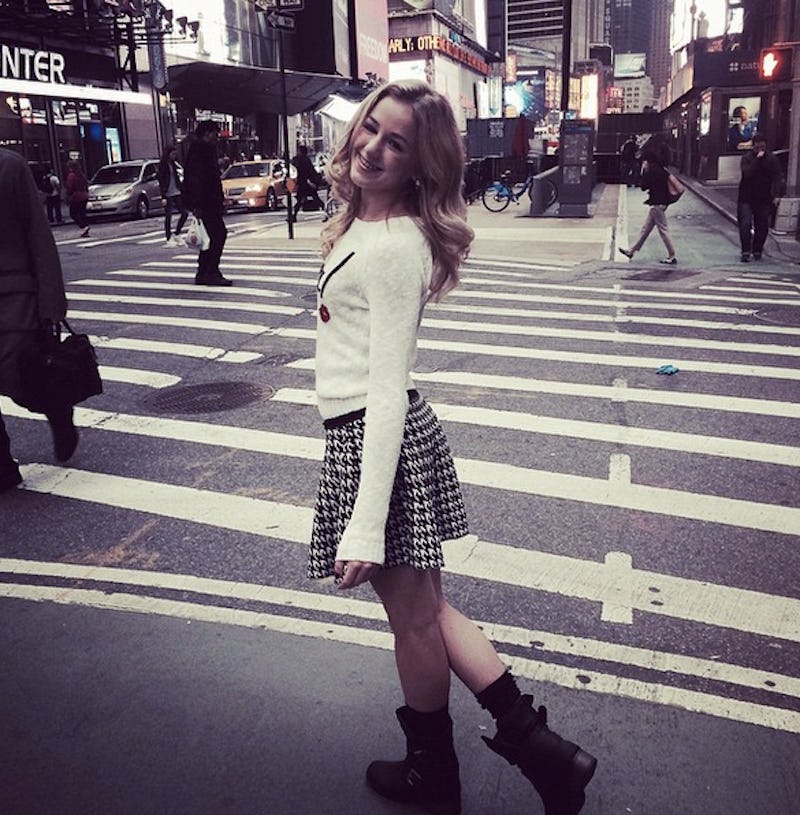 When Season 5 of Dance Moms premiered on Lifetime in January, most fans weren't surprised to learn that Chloe Lukasiak and her mom, Christi, would not be returning. In the Season 4 finale, Abby Lee Miller's escalating verbal abuse of Chloe culminated in Christi and Abby's biggest blowout yet, during which Abby referred to Chloe as "washed-up". Chloe was easily one of the most talented dancers at the Abby Lee Dance Company, but she was perpetually under-appreciated by Abby because she committed the cardinal sin of not being Maddie Ziegler. I appreciate the #MaddieFace as much as the next Dance Moms enthusiast, but who doesn't love an (exceptionally talented) underdog?
Chloe shined on Dance Moms with her graceful dancing, signature turns, and candid commentary. She always managed to keep a positive attitude, no matter how tough things got, while Christi wasn't afraid to throw major shade at Abby and her fellow Dance Moms, much to the delight of viewers who enjoy watching jazzy dance numbers interspersed with a healthy dose of drama. Chloe may have moved on from Dance Moms, but she's busier than ever and can be seen wearing the sweet smile that many fans (especially this one) missed last season. So what exactly has Chloe been up to?
Dancing
Dancing well is the best revenge. Chloe confirmed on her official website that she has joined Studio 19 Dance Complex in Pennsylvania where she's happy and thriving. "My new studio is absolutely amazing. I think I've improved so much. Everyone is so nice and all the teachers are amazing and I love it there so much!" she told fans in a recent YouTube video. Chloe's new solo with Studio 19 showcases her graceful technique, beautiful extensions, and top-notch turns.
Hosting Her Own Book Club
Chloe has used her website to launch her own book club (encouraging pre-teens to read! Could she be any cooler?). Chloe posts her pick at the beginning of each month and hosts an online discussion several weeks later. Her current choice is The Selection by Keira Cass. Another recent pick was The Maze Runner by James Dashner. "Don't cheat and watch the movie, because it's way different than the book," she cautioned in the discussion, channeling her inner English teacher.
Modeling For Just for Kix Dancewear
Chloe teamed up with Just for Kix last fall and is modeling their dancewear. The company offers everything from leotards to tutus to dance shoes, all available online with the Chloe stamp of approval.
#NobodyISYOU Campaign
Abby loves to threaten her students with the line "everyone's replaceable," but Chloe is promoting the opposite message in a campaign with Just for Kix. She is embracing her individuality and encouraging her fans to do the same. Anyone can join the movement: post a photo or video of yourself on Instagram with the hashtag #NobodyIsYOU and tag @officialjustforkix.
Hanging Out With Paige Hyland
An added bonus of Chloe's Instagram and YouTube channel is that her best friend and fellow Dance Moms alum Paige Hyland makes the occasional appearance. Paige also looks happier than ever since leaving the Abby Lee Dance Company (sense a pattern here?).
With Season 5 ratings down a whopping 25 percent from Season 4, it looks like I'm not the only person who really misses seeing Chloe on Dance Moms.
Image: Chloe Lukasiak/Instagram