The 'Friends' Cast's Strangest Pre-'Friends' Roles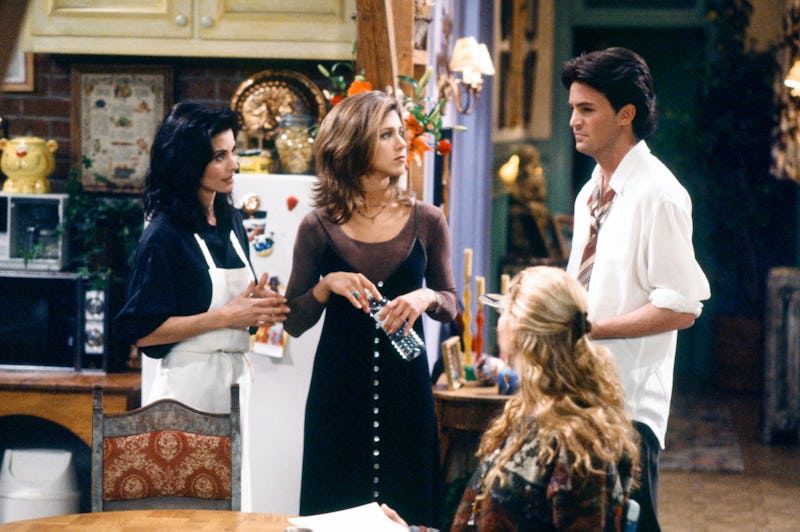 More than 10 years after Friends first aired, the Central Perk Six are devoting themselves to staying in the game. Matthew Perry stars in a remake of The Odd Couple , Courteney Cox is on basic cable with the cult favorite Cougar Town, Matt LeBlanc and Lisa Kudrow live on premium cable with Episodes and a revived The Comeback, Jennifer Aniston remains a regular fixture of the big screen, and David Schwimmer will be portraying Robert Kardashian. But no matter how much success any of our Friends find, in front of or behind the camera, it's hard to completely separate the actors from the pop culture phenomenons they portrayed on the hit show — they will always be Chandler, Monica, Joey, Phoebe, Rachel, and Ross.
So rigid are these associations that it's funny to think about the group before they became our favorite West Village-dwelling caffeine addicts. As young actors on the rise in the late 1980s and early '90s, the Friends stars-to-be could be found in a wide variety of roles that wouldn't quite predict the nature of their careers yet to come. Here's a quick look back at some of the more noteworthy — in other words, most unusual — gigs of Perry, Cox, LeBlanc, Kudrow, Aniston, and Schwimmer before their fateful union in 1994.
Matthew Perry
His weirdest pre-Friends project: Second Chance, a supernatural sitcom that aired for one season on Fox between September 1987 and May '88. Perry played a young man called Chazz who is visited (unknowingly) by an older, recently deceased version of himself — from the future! — aiming to encourage better life choices in the young Chazz in order to earn a spot in heaven down the road. Chandler would probably have binge watched it.
Courteney Cox
Her weirdest pre-Friends project: Masters of the Universe, the 1987 sprawling sci-fi/fantasy epic. Cox plays one of two teenagers who stumbles upon the "Cosmic Key," which involves the pair in an intergalactic war. Not bad, Monica.
Matt LeBlanc
His weirdest pre-Friends job: Two back-to-back Married with Children spinoffs, in which he played dimwit Vinnie Verducci. Each program aired for only seven episodes, first in 1991 and then in 1992. Not a huge thematic distance from Joey Tribbiani, but it's impressive that LeBlanc had enough star power to land a second go at a standalone sitcom for this character. (LeBlanc was also in a couple of Red Shoe Diaries . Let that sink in.)
Lisa Kudrow
Her weirdest pre-Friends job: The Unborn, a 1991 horror flick about an in-vitro fertilization gone horribly wrong. Funnily enough, the theme would prep Kudrow for her eventual "having her brothers' babies" arc on Friends. Things went a little more pleasantly that time, though.
Jennifer Aniston
Her weirdest pre-Friends job: Aniston has a few fair candidates for this superlative. We can look to the short-lived Ferris Bueller sitcom, in which she played the main character's contentious younger sister, or perhaps her gig on the cancelled Fox sketch comedy show The Edge. But, truly, little can top the 1993 masterpiece of horror shlock, Leprechaun, in which the future Rachel Green played a young girl who falls victim to a bloodthirsty Warwick Davis.
David Scwhimmer
His weirdest pre-Friends job: Tepid, mild-mannered, and bumbling Ross Geller is hardly our picture of crime fighting hero, but Schwimmer's days before Friends were paved with cop and lawyer shows. He recurred on L.A. Law as City Attorney Dana Romney and on NYPD Blue as Josh "4B" Goldstein, a gun-toting would-be vigilante.
Images: NBC; Cannon Films; FOX (2); Columbia TriStar; Trimark Pictures; ABC