What Should The Shepherdess Do Next On 'Grey's'?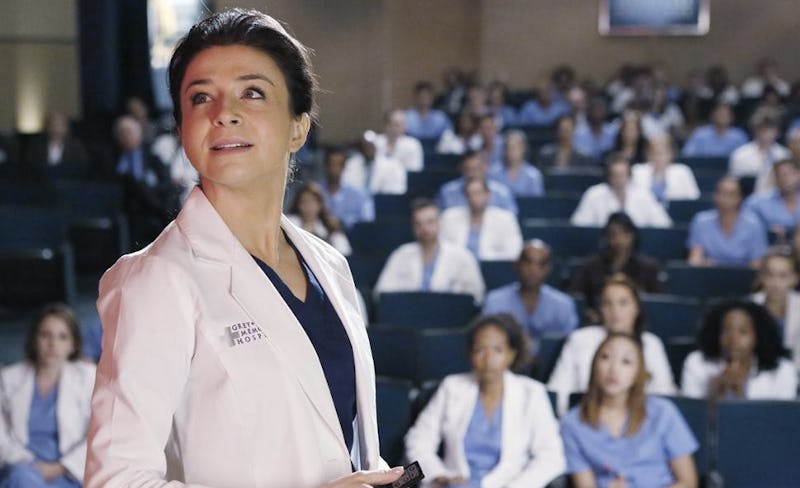 Known to some as the she-Shepherd or Shepherdess at Grey Sloan Memorial Hospital, Grey's Anatomy Doctor Amelia Shepherd had a big year. She got clean, moved to Seattle, and saved the life of a venerated GSMH doctor, Nicole Herman. After she heard about Dr. Herman's super-lethal brain tumor, the Shepherd (she is Derek's sister, after all) in Amelia got the best of her and she was super interested in examining it. Amelia, with the help of Arizona Robbins and Stephanie Edwards, stole all of Dr. Herman's files and scans and figured out a way to save Dr. Herman's life. Cool, right? After about 14 hours in surgery, Amelia and Stephanie successfully cut that tumor out of Dr. Herman's brain and, although her eyesight was compromised from the tumor, Dr. Herman is expected to make an otherwise full recovery. Amelia deemed herself and Stephanie "superheroes," which they obviously are. I can't do anything for 14 hours straight — not even sit or sleep. Now that Amelia has completed this major, career-making surgery, what should she do next?
She deserves a party, a nap, or just something that will let her blow off some steam and congratulate herself for a job well done. Here are some plotlines Grey's Anatomy should seriously considering adding for Amelia before this season ends.
Start A Romance With Owen
Viewers have seen the beginning of a romance between Amelia and former army surgeon and Chief of Medicine Dr. Owen Hunt, but all of that was brushed to the side when we learned about Dr. Herman's tumor. But now that the surgery has gone successfully, I want to go back to that romance — and that means more than just that one kiss. I want fireworks! I want sex in the on-call room (a Grey's Anatomy­ rite of passage)! Maybe getting together with Amelia will give Owen a chance at not only the happy romantic relationship he craves, but also the children he definitely wants to have someday. Let's hear it for Grey's Anatomy's newest couple, Owelia (yep, naming them now)!
Visit California, Private Practice Style
When I complete a big project at work, I take some time off to escape, refresh, and plan for my next move, which is why Amelia should go back to California (her character came over from Private Practice). Visit Cooper and Charlotte and their adorable triplet babies! Hang out with ex-sister-in-law Addison and her son, Henry! Give me a reason to see Taye Diggs on TV again, for chrissakes. Seattle is so, so gloomy, and though the Shepherd family (Meredith included) seems to like gloom, a little trip to sunny Southern California would give viewers a fun look back into the Private Practice team and provide Amelia with some well-deserved rest and inspiration.
Start Her Own Clinical Trial
Hey, if Derek can do it, why can't Amelia? Amelia has just completed an amazingly difficult surgery, so I'm sure that she has plenty of other ideas in that Shepherd head. Though Amelia successfully removed Dr. Herman's tumor, Dr. Herman lost her eyesight because of the tumor's placement. Maybe Amelia can work on a way to avoid that, so that patients with tumors like Dr. Herman's can get better and keep their vision. That sounds like something a Shepherd would do, and it would get Amelia out of Derek's ever-present shadow.
There we have it: plenty of options for Amelia Shepherd. Personally, I'm rooting for the Owen romance, but who says she can't have all these stories?
Images: ABC/Kelsey McNeal; Giphy (3)