A Cookie Romance Blossoms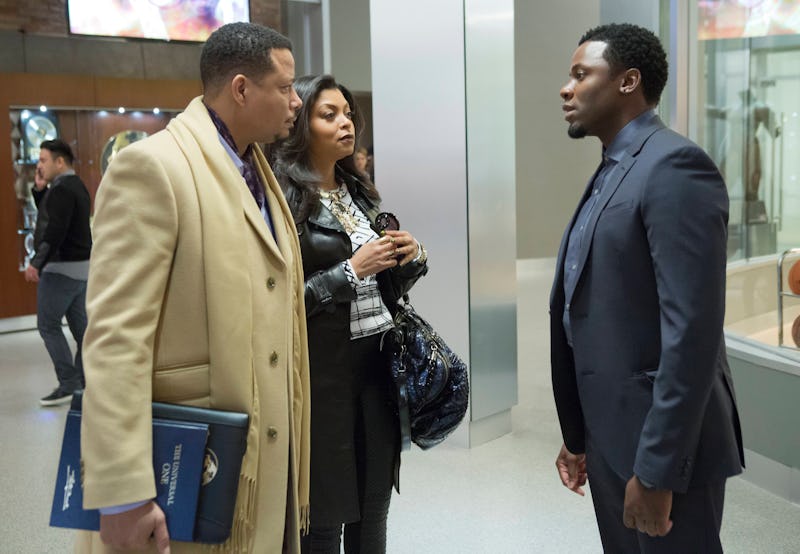 Lucious or Malcolm. That was the choice that faced Cookie on Wednesday night's Empire episode "The Sins of the Father." And if Cookie had chosen Lucious, I would be pulling her hair harder than Annika appears to do in the promo for next week's two-hour season finale. Honestly, is there anyone on television right now who is more terrible to their family than Lucious freaking Lyon? I think not. On Wednesday night, Malcolm (who is a beautiful man, by the way) admitted to Cookie that he had violated his personal code of conduct and had been disloyal to his "commander" by falling for Cookie. And it didn't take long for Cookie to reciprocate Malcolm's feelings... ahem... physically.
Unfortunately for Lucious, this tryst was happening under his nose and he had no idea as he was all set to give away Jamal and Andre's shares to Cookie, give her the coveted head of A&R position at the company, and get married again as he wanted to spend the rest of his life with the most important thing in his life: Family. Is family really that important to you Lucious? Because all we've seen so far is you screwing over two of your sons because one was gay and the other has a serious mental illness that deserves your attention. Oh, and you insulted your son's wife, cheated on your fiance and lied multiple times to your ex-wife. Yeah, I'm thinking family's not so high on the agenda. At this point, this is what I feel like doing to Lucious every time he's onscreen:
The Lyon family undergoes quite the ordeal over Jamal's ex-wife Olivia and her daughter Lola as Olivia's scary ex-boyfriend Reg threatens both Jamal and Cookie with a gun. Lucious tries to step in and help the situation by telling Reg that he is actually Lola's father, not Jamal, and he tells Reg to shoot him as his whole family hates him. You've got that right partner. In the end, Malcolm saves everyone by shooting Reg dead and Lucious has done his final damage and disservice to Cookie. She tells him: "I wish he would have shot you."
When the chaos dies down, Lucious tries to get his "family" back together and explains to Cookie that he wants to be with her forever. Whatever mistakes he made in the past, he'll spend the rest of his life fixing them and making it up to her. But all of that "I can change" BS is negated when he tells Cookie that when they're together he'll do better but that she'll understand the choices he's made. Basically he won't change at all but believes he can just convince Cookie somehow that he has. Cookie, being a smarter woman than most, doesn't give him the time of day. She understands this man. She's had decades to understand him completely.
Cookie makes the right choice, the smart choice by picking Malcolm and asking him to take her away some place, away from the dark cloud that envelops her when she's around Lucious. Clearly she's choosing to no longer be destroyed by Lucious, and who can blame her? She spent 17 years protecting him, and many more years before that making him what he is today.
In "The Sins of the Father," Lucious compares himself to a God and explains that he has made himself what he is today. That just proves that he is a selfish man that would never understand the kind of love Cookie could have and would have given him. Malcolm is a much better man in every way. With this choice, Cookie remains one of the best women on television.
Images: Chuck Hodes/FOX; americanhorrorsimss, dailyempire-gifs, newyorkalovestory/Tumblr