'12 Years a Slave's Chiwetel Ejiofor & 2 Other Black Actors Might Get Oscar Nods This Year — What Other Times Did the Oscars Make History?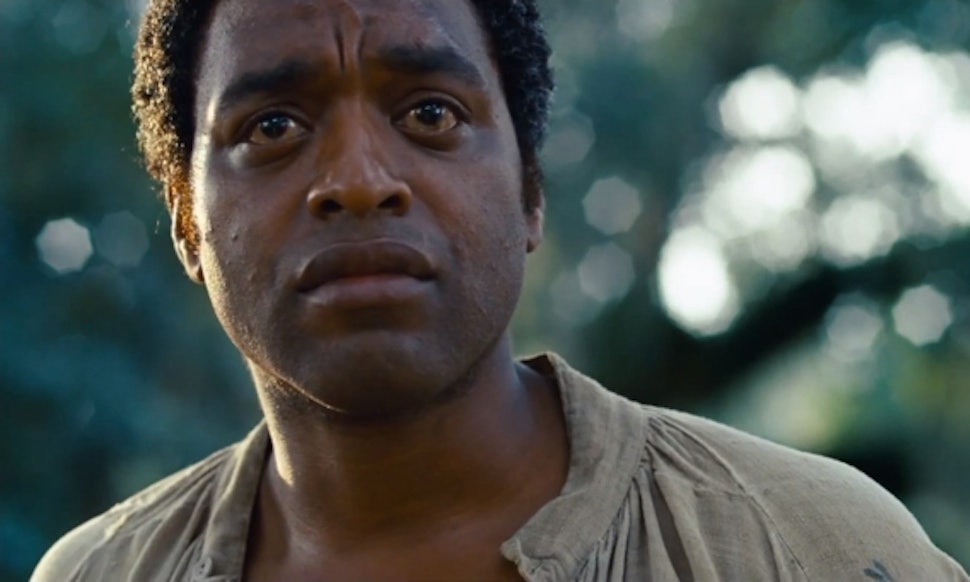 This weekend, 12 Years a Slave, Steve McQueen's critically adored festival darling about a free man sold into slavery, hits theaters. There's been a lot of buildup for the film over the past few months, with critics almost unanimously calling it a lock for a Best Picture nomination, if not win. And if star Chiwetel Ejiofor gets Academy recognition for his role, as is expected? He could make history as one of three or even four black men nominated for Best Actor. It wouldn't be the first year the Oscars have broken records, but it'd certainly be one of the biggest. Let's take a look back at some of the most history-making years in Oscar history. Image: Fox Searchlight
1

2014 (Maybe)
This year's Oscars could see 12 Years a Slave's Chiwetel Ejiofor, Fruitvale Station's Michael B. Jordan, The Butler's Forest Whitaker, and Mandela: Long Walk to Freedom's Idris Elba all get nominations. There's no guarantee that any of these men will get picked for Best Actor, of course, but the fact that they're all strong contenders is history-making enough. Image: The Weinstein Company
2

2001 - Denzel Washington and Halle Berry Win Best Actor/Actress
2001 saw major progress for African-American actors, with both Denzel Washington and Halle Berry picking up awards. Washington became the second black man to ever win a Best Actor Oscar, ending a 38 year streak since Sidney Poitier's historic 1963 win. Berry became the first black woman to win, and in an emotional, powerful speech, she addressed her history-making win by saying that it was "for every nameless, faceless woman of color that now has a chance."
3

2010 - Kathryn Bigelow Wins Best Director
Women everywhere applauded when Kathryn Bigelow accepted the Best Director award for The Hurt Locker, making her the first woman ever to win and only the fourth to be nominated.
4

1956 - Yul Brynner Wins Best Lead Actor
When Yul Brynner won Best Lead Actor for The King and I, he became the first Asian to ever be nominated or win the award. Only one has followed suit — Ben Kingsley, who won in 1982 for Gandhi and received a second nomination for House of Sand and Fog in 2003. It's not much better for the females: as of this year, only one Asian woman has ever been nominated for Lead Actress, and none have won. Image: the Academy
5

1950 - Jose Ferrer Wins Best Actor
Winning for his role in Cyrano de Bergerac, Ferrer was the first Hispanic-American to receive an Academy Award. A handful of others have been nominated since, but none have won since Benico del Toro's 2000 Supporting Actor nod for Traffic. Image: United Artists
6

1986 - Marlee Matlin Wins Best Actress
In 1986, Marlee Matlin made history not once, but twice, with her Best Actress win for Children of a Lesser God. Not only is she the youngest Best Actress winner in Oscar history, but she's also the only deaf performer to ever win in any acting category. Image: the Academy
7

1993 - Whoopi Goldberg Hosts the Oscars
Although several women had co-hosted the Oscars before 1993, the show had never seen a solo female host. Then came Whoopi Goldberg, who ended up hosting the show three more times over the next decade, and earned better reviews than many of the Oscars' male hosts (we're looking at you, James Franco). Image: the Academy
8

1999 - Sir Ian McKellan Gets Nominated for Best Actor
In the 86 year history of the Oscars, not a single out LGBT actor has won an acting award, and only one has been nominated — Sir Ian McKellan, for Best Actor in 1999. No, two-time Oscar winner Jodie Foster, who kind of came out this year in an oddly-worded Golden Globes speech, doesn't count; she wasn't open about her sexuality at the time of her wins. Image: the Academy