11 Books Set In Ireland To Celebrate St. Paddy's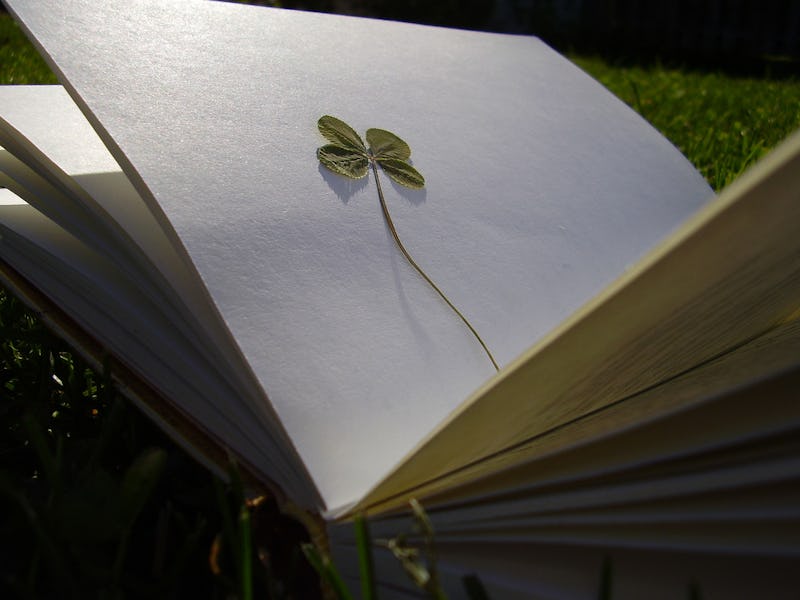 St. Patrick's Day is, of course, the perfect time to celebrate Ireland. But Ireland isn't all four-leaf clovers, leprechauns, and rainbows with pots of gold waiting for them at the end (as much as Lucky Charms cereal would tell you otherwise). There's a rich culture full of legends and family tradition that's a perfect sea to pull from for novels and short stories.
And I'm not going to tell you not to go out, decked to the nines in all the green clothing you own, drinking green beer, and singing along to The Irish Rovers and The Pogues (because that would be terribly lame advice, except for maybe the green beer part) But maybe you might have some time before or after that to settle in with a real piece of Ireland from some of the country's strongest voices. And these voices both celebrate their heritage and question it at times, too. These are the stories of loads of siblings gathering together for a reunion, best friendship made on the lush Irish coast, and Irish men and women who use music to express themselves.
Whether you're interested in fiction, young adult, memoir, or short stories, these 11 books make perfect companions for St. Patrick's Day reading. And you're more than welcome to read with a trusty Guinness in your hand.
If you're in my generation, you probably know Irish writer Maeve Binchy's Circle of Friends as the story that made you fall in love with Chris O'Donnell with the 1995 movie adaption of the novel. Binchy's story is set in 1950s Ireland, and it follows Benny and her best friend Eve as they escape their small hometown to attend college in Dublin together. When they meet new people at school, they are forced to confront their own heartbreaks and betrayals.
Edna O'Brien's 1960 novel The Country Girls was famously banned in her home country of Ireland because of its sexual content, to which O'Brien has said, "Maybe the crime was to do with the society and the strangulation and the silencing at that time." Kate and Baba are best friends from the Irish countryside who yearn for the excitement that the big city can offer them. But the two young women differ on how they see life playing out: Kate would rather that swoony true love like in the movies, and Baba wants to live up life as a free, single woman — a division that rocks the relationship.
There's perhaps nothing more Irish than huge family gatherings with loads of siblings. In Anne Enright's The Gathering , unfortunately, this family reunion isn't for happy reasons. The nine remaining children in the Hegarty family return to their home in Dublin for the funeral of their brother Liam, who drowned. It's an Irish family epic spanning three generations, filled with memories and the secrets in families that fester and threaten to burst.
Of course, no Irish-themed book list would be complete without Dubliners , James Joyce's opus about the lives of Dublin residents at the turn of the last century. The short stories don't have all that romantic legend and magic that readers often associate with Ireland; instead Joyce looks into the lives of ordinary, middle class human beings at a crossroads both in their country's history and in their own lives.
Even since her tragic death in 2007 from breast cancer, Siobhan Dowd has been an absolutely massive name in the young adult lit world of Ireland and Britain. Dowd was born in London to Irish parents, and her stories encapsulate the rich, lush settings of Ireland, Northern Ireland, and England. A Swift Pure Cry takes place in County Cork, Ireland in 1984 (hence the scrunchie on the cover), just after teenager Shell's mother dies and her father turns to the bottle to cope. Shell finds companionship both in a young priest and with her childhood friend Declan. But when she gets pregnant, Shell sends a ripple effect through her religious family and home, and the scandal even echoes out to all of Ireland.
Frank McCourt's Pulitzer Prize-winning memoir Angela's Ashes is nothing short of essential for Irish reading. McCourt was born in Brooklyn during the depression. His parents, including his mother, the titular Angela, were Irish immigrants and eventually returned with their children to the slums of Limerick. His story is both tragic and funny, weaving in traditional Irish folktales and legend that Frank's father would tell his children.
When I look back on my childhood I wonder how I managed to survive at all. It was, of course, a miserable childhood: the happy childhood is hardly worth your while. Worse than the ordinary miserable childhood is the miserable Irish childhood, and worse yet is the miserable Irish Catholic childhood.
I'm going to have to get out my tissues before I can even write about this, and if you've read Cecelia Ahern's novel or seen the Hillary Swank and Gerard Butler movie adaptation, you know why. While P.S. I Love You isn't set entirely in Ireland, it is embued by the beauty and hopeful spirit of the country. After 30-year-old Holly's love of her life, her Irish husband Gerry, dies, she begins to receive a series of letters addressed to her, from her late husband. They remind her of happy memories and push her to retrieve her love of life again. And plus, there's this scene, which I was flat-out certain would happen to me one day:
Dublin native Roddy Doyle's first novel follows a bunch of working-class Irishmen who form the "world's hardest working band," hoping to bring soul music to their home of Dublin. The Commitments, which takes its title from the band's name, has been called the Irish version of The Blues Brothers, and it's just as hilarious and probably even more tenacious and rude, but overwhelmingly funky and fun.
Young adult novel The Carnival at Bray won so many awards you couldn't count them on both hands. It's 1993 and teenager Maggie Lynch is forced to leave her home in Chicago and move to Bray, a town on the Irish coast. And because it's 1993, Maggie in entrenched in and entranced by the sounds of Nirvana and the grunge movement. This passion along with both love and death, bring her to set out on a journey into the seedy parts of Dublin and to Rome to witness Kurt Cobain in concert. But what will really catch you (that is, other than the intense music nostalgia) is how Jessie Ann Foley paints Bray and the quirky characters that populate the background of the story.
Claire Keegan's short story collection Walk the Blue Fields tells the stories of several varied characters, yes, but it really could be said that together, it tells the story of modern day Ireland as it wrestles with its past and future. You'll feel transported to the country's cities and cliffs overlooking the Irish sea as you turn each page and delve into the lives of its citizens, each who is haunted by part of their past.
The first book in the Dublin Murder Squad series starts in the city's suburbs in 1984, when three children disappear into the woods. And 20 years later, a 12-year-old girl is killed in those same woods, sending Dublin detectives to uncover not only what happened now, but what happened all those years ago. The novel gives a different look into life in Dublin, and you'll get sucked right into its chilling atmosphere.
Image: lightlady/Flickr