How To Get Your Bike Ready For Spring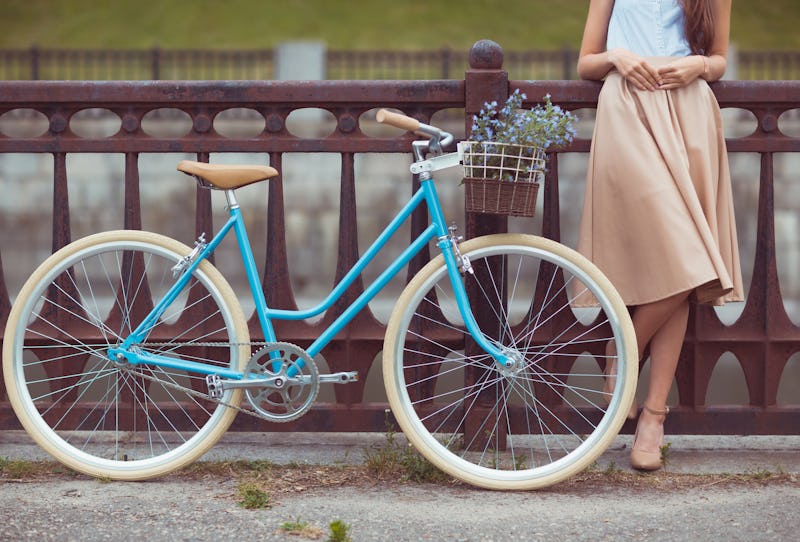 Warm, glorious spring weather is finally here — fingers crossed that it's to stay — and if your preferred mode of transportation is on two wheels, you're probably freaking out right about now, because it's time to get your bike ready for spring. The snow is finally melting! You no longer have to wear ski goggles to combat freezing wind in your face! Best of all, you can actually slow down and just enjoy riding again… or start riding again if you're a sane person who avoided cold-weather biking. But before you zip through the streets like Pee-wee Herman on his big red bicycle (we should all aspire to be so awesome), make sure your ride's actually ready to roll. Safety first, friends!
There's always the option to take your bike to a local shop and pay for a quick tune-up, but you can save time and money by doing it yourself. Giving your bike a spring checkup is easier than you think — and trust me, I'm by no means a bike wizard. Once you master these basics, you can keep your bike riding smoothly all through summer instead of ignoring the inevitable wear and tear from bumpy trails or city streets. So if you're anxious to ride again, grab your bike and follow these eight simple steps.
1. Check your tires... and pump them up
If you haven't been riding lately, your tires probably have low air pressure. Inspect slightly deflated tire tubes for any punctures or cuts. If they look good to go, pump them back up to the proper PSI.
2. Spin those wheels
Lift each wheel off the ground and spin them to make sure they aren't wobbling or running crooked. If they are, you might want to head to a bike shop for help from a mechanic.
3. De-grime everything
If you ride your bike in the city, it'll get really gross and grimy. Use a wet towel to wipe off winter dust and old road buildup — from the frame, derailleurs, pretty much everywhere. For the chain, get a good degreaser... and prepare to get your hands dirty.
4. Lube your chain
Now that your chain is spic and span, lube it up!
5. Check brake pads
If they look super worn — you can see wear indicator lines — it's time to replace them before you ride. Make sure they grip your rims right and aren't rubbing the tires either.
6. Change light batteries
Let's face it, drivers just aren't always looking out for cyclists on the road, so recharge or replace batteries for your front and rear lights. You never know when you'll be riding in the dark or on an overcast day... and unlike Jared Leto, you should wear a helmet, too!
7. Adjust your seat post
First remove the seat post and wipe it clean, then put it back onto the frame with a dab of grease. Make sure your saddle's in a comfy position for riding.
8. Get new handlebar tape... and fun accessories
If your handlebar tape is looking worn out, get some new tape in a fun color! There's no easier way to refresh the look of your bike. While you're at it, get something else that makes you happy — a cool bell, a coffee cup holder, maybe even a basket for your cat.
...and now you can go out and ride like a boss!
Images: Fotolia; Giphy (9)