'12 Years a Slave' is So Taran Killam's Fault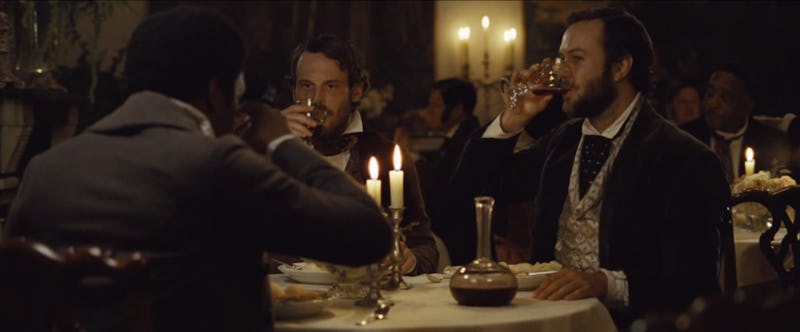 Yes, you read that correctly. The much-buzzed-about, probably-going-to-win-all-of-the-Oscars Steve McQueen film about the incredibly harrowing tale of Solomon Northup — a free black man tricked into slavery in pre-Civil War America, 12 Years a Slave — is pretty much all Saturday Night Live star Taran Killam's fault.
But how? Well it turns out the comedian plays one of the instigating baddies in the film: one of the two men who abduct the Chiwetel Ejiofor-played Northup. Which, gasp! What? No! Really? Yes, really. Look — that's him on the right in the photo above. Taraaaaaaan!
Taran Killam, husband of equally-as-cool-and-hilarious How I Met Your Mother star Cobie Smulders? Improver extraordinare? Adept Dancer to the songs of Robyn? Gay Prince Charming? Spot-on Michael Cera? How can it be? Say it isn't so!
But it is, my friends. It is. Not that Killam is all that unaware of what it means. In an interview last year with Vulture, he confirmed it as such: "As a white man in that, I'm just bound to be evil. I can't be any good. But I like to think that maybe because I'm getting the story out there, I'm absolving myself of it? That's not true. There's no fixing this."
Just like there's no way to fix the broken perception we're anticipating after seeing one of SNL's most joy-inducing players turn around and be so downright fucking evil. "We fucked up really bad. Really bad."
Some could say the same of your choice to show such range, Taran! Don't you know you're only supposed to dance around and make us chuckle and smile? How are we supposed to feel when we know you're capable of portraying such evil? Happy about your acting abilities and future career prospects? Tut tut.
Well, it's over and done now, so we're just going to have to be alright with that. So next time you laugh at something he does on Saturday Night Live, just remember: he totally sold illegal slaves. Monster.
[Photo Credit: Fox Searchlight]