Happy Lip Appreciation Day! Celebrate With These 9 Pout-Loving Lipsticks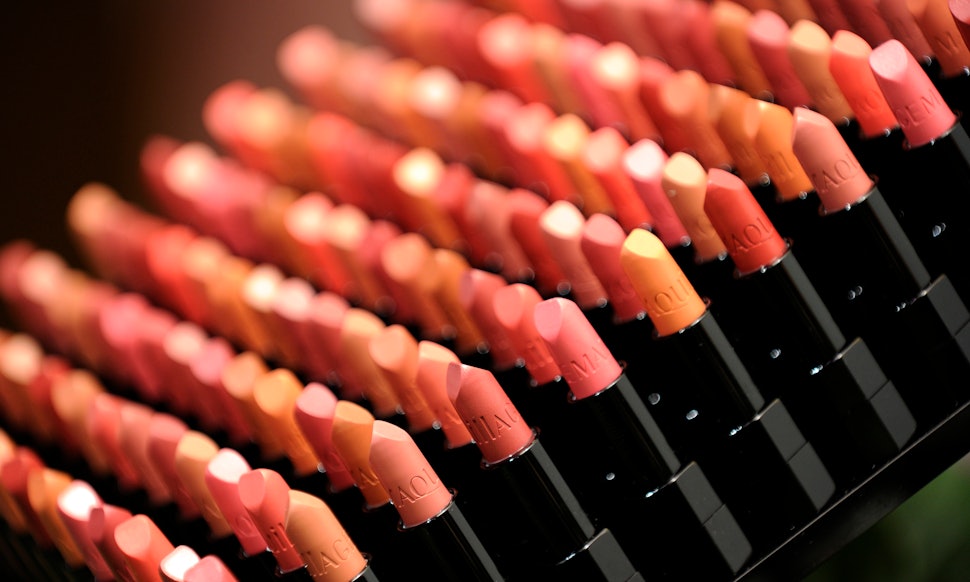 YOSHIKAZU TSUNO/AFP/Getty Images
Apparently, today is Lip Appreciation Day — which caught me a touch off guard, as we already had National Lip Day back in July (I remember, because I wrote a post about my seven favorite pink lipsticks to celebrate). Redundant or not, I personally couldn't be happier that we have two days set aside in the year to celebrate lips, because really: There are few things better in life than a really good lipstick.
So, in honor of Lip Appreciation day, here are 9 lipsticks that will treat your lips the way they're meant to be treataed — you won't find a single drying or flake-clinging formula in the bunch.
Sugar Lip Treatment in Tulip
When you're talking moisturizing lip products, there's no way you can avoid Sugar's cult faves. Tulip's one of their newer shades and it's a surprisingly high-impact and unique color.
Maybelline ColorSensational Lipcolor in Hooked on Pink
I'm generally a fan of the Maybelline ColorSensational line, but it has to be said that there's some variation in formula on color to color — and Hooked on Pink has one of the best I've come across. It's creamy, long-wearing, and most importantly of all, non-drying, which I find to be a rare trait in a product that doesn't specifically advertise itself as moisturizing. Plus, the shade is gorgeous!
Maybelline ColorSensational Lipcolor in Hooked on Pink, $7.46, Drugstore
Too Faced Melted Lipstick in Melted Violet
I think Too Faced might be starting a revolution with this liquified lipstick formula — it's one of the most moisturizing lipsticks I've come across in a long time, and the doe-foot, squeeze-tube application is an absolute dream. The fact that the color selection includes rad purples like Melted Violet is just icing on the cake.
Revlon Just Bitten Balm Stain in Sweetheart
The formula for this is unbeatable for the price — seriously, they're kind of magic: They're very pigmented and long-wearing, they fade evenly (which is a huge plus in my book — you get to avoid that creepy ring-around-your-lips look), and they're gentle on your lips. I honestly own this product in almost every color it comes in (shame), but Sweetheart's especially nice for springtime.
Sephora Collection Kiss Me Balm in Soda Pop
Um, adorable. And surprisingly pigmented for an egg shaped balm — you might have to buy all five shades (which incidentally costs about the same as two higher-end lipsticks!).
Sephora Collection Kiss Me Balm in Soda Pop, $8, Sephora
Benefit Lollibalm Hydrating Lip Tint
NYX Butter Gloss in Fuchsia
Believe the hype on these, ladies: They live up to their name, delivering MAC-worthy shine all wrapped up in a seriously buttery texture.
Bobbi Brown Rich Lip Color in Cosmic Raspberry
Looking to get in on the brights trend? Cosmic Raspberry may be your girl, because Bobbi Brown's Rich Lip Colors are called "rich" for a reason: They're hydrating and creamy, and the color selection is to die for.
Bobbi Brown Rich Lip Color in Cosmic Raspberry, $26, Neiman Marcus
Dior Rouge Baume in Garden Party
My HG lip product of all time. OF ALL TIME. As per its name and texture, it's a balm, but I was blown away by its staying power: It lasts several hours on me (even through eating), and eventually fades into a subtle stain. Plus, it's kind of my perfect MLBB shade, and it smells beautifully Dior-ish, if that makes any sense. The only drawback is its hefty price tag — but you won't regret the splurge.
Dior Rouge Baume in Garden Party, $35, Nordstrom