21 Stylish Spring Sandals To Buy Right Now (Before Everyone Else Snags Them Up)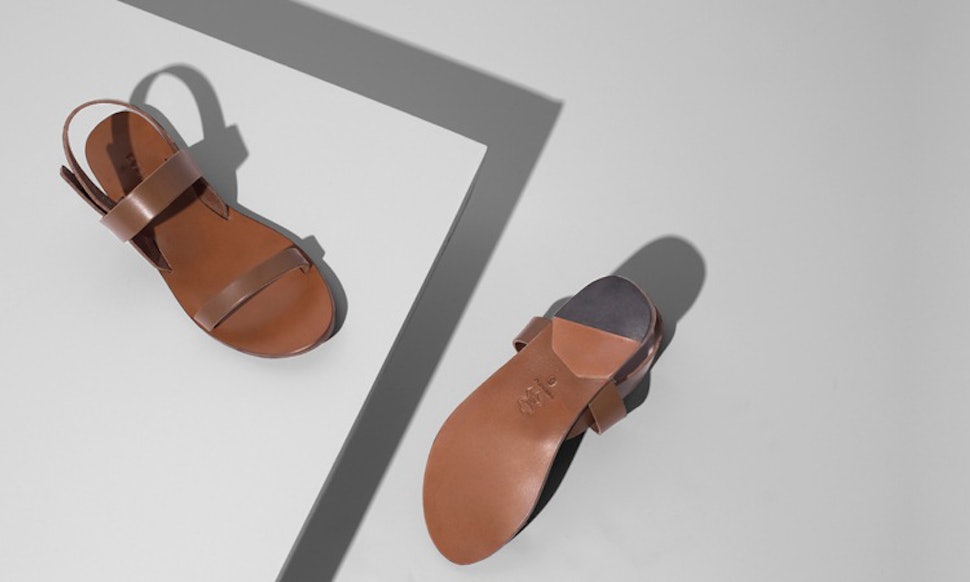 It may only be March, but summer is coming — and with it, the need for a stylish pair of sandals. Soon it will be time to put away the winter boots and galoshes and let your toes be free. There's a time and place for ankle boots and ballet flats but that time and place is not July on the beach. And besides, why would you want to let your feet get hot and sweaty when sandals are so easy to slip on before running out the door? If you buy the right pair, they will be the only shoes you'll need all summer. Maybe this summer is the time to finally start working on that minimalist lifestyle you're always thinking about...
There's so many sandals out there, though, and it can be overwhelming to sort through all of the ugly ones to find your dream pair. Unfortunately if you put it off for too much longer, all the good sandals will be gone. Luckily I'm here to help.
Here are 20 eye-catching pairs of sandals for every kind of summer (and budget). Whether you need a delicate pair to go with all of your summer dresses, a gladiator style to show off your legs, or chunky flatforms to indulge your inner '90s child, there's something here for you.
Image: Everlane
Jelly Sandals
Not only is the nostalgia factor strong with these, they're also just plain adorable. Wear them to the pool or the water park.
FORESURE Jelly Gladiators, $18 ASOS | FRUITY Jelly Sandals, $18, ASOS
Flowery Flip-Flops
These feminine flip-flops are ideal for pairing with a retro swimsuit on the beach.
For What Glitz Worth Sandal, $20, Modcloth
Wooden Platforms
Platforms like these are the must-have accessory to wear with flared jeans. Also available in tan.
Faux Leather Strappy Platform Sandals, $25, Forever 21
Glittery Sliders
These sandals are cozy but make a statement. Pair them with ripped-up boyfriend jeans on the weekends.
Metallic Confetti Two-Strap Sandals, $30, Forever 21
Handmade Doesn't Always Mean Expensive
These gorgeous leather sandals are handmade in Greece — and yet they're under $40. The lesson here is to never underestimate Etsy.
The Classic Standby
Salt Water Sandals have a cult following for a reason. They last forever and come in multiple colors, plus you can wear them with almost anything.
Salt Water Sandals, $40, Modcloth
Ladylike Gladiators
If you've never been a fan of gladiator sandals, this ultra-feminine pair might change your mind. Pair it with a white lace dress for the ultimate festival look.
Chloe Gladiator Sandals, $45, Pixie Market
Futuristic Gold
These sandals add a cool, futuristic vibe to even the most basic outfit.
Buckled Flat Sandals, $50, Zara
Slip-on and go
These sliders are so convenient and comfortable they're practically slippers — but they look so sophisticated you'll get away with it. Also available in black.
Luma Sandal, $70, Aldo Shoes
The Color Of Summer
Is there anything more summery than this pop of coral? Also available in black and tan.
Kaoven Wedge Sandals, $70, Aldo Shoes
Feel Like Royalty
You'll feel like a queen in these jeweled sandals, whether you're wearing them out to dinner or on the boardwalk.
Flat Jeweled Sandals, $80, Zara
Anti-Wallflower Shoes
You have to be anything but a wallflower to wear these attention-grabbing wedge sandals.
Wallflower Print Wedges, $85, Top Shop
Add Some Edge
These trendy sandals add just the right amount of edge to any outfit. Try pairing them with black skinny jeans or an LBD.
Adigon Sandals, $90, Aldo Shoes
Kimmy Schmidt Style
Make like Kimmy Schmidt this summer and get yourself a brightly colored pair of Swedish Hasbeens. There's a huge variety of colors and designs of this handmade sandal available on their online store, but I spotted this particular version in both cherry red and bright yellow on Kimmy. The girl's a big fan (and so am I).
Peep Toe Super High (in various colors), $110, Swedish Has Beens
A Good Investment
Everlane produces high-quality, non-sweatshop clothing. Their sandals, made in Brescia, Italy, reflect their overall aesthetic: minimal, sophisticated, and timeless. This is the definition of a wardrobe investment.
The Italian Ankle-Wrap Sandal, $118, Everlane
Safari Style
These would pair perfectly with an olive green parka and wide-brimmed fedora.
Matisse Exotic Flats, $128, Anthropologie
Coachella Or Westeros?
These elaborate sandals are the perfect cross between Coachella and Game of Thrones.
Bed Stu Aurelia Tall Huarache Sandal, $135, Urban Outfitters
Sandals With Storage
Just think of all the things you can store inside the clear platform of these holographic sandals. You won't even need to carry a purse anymore.
YRU Charlii Rainbow Hologram Platform Sandals, $158, Pixie Market
Tan Gladiators
The classic gladiator style; wear it with flowing white dresses or old cutoffs.
Leather Gladiator Sandals, $160, Zara
The LBD Of Summer Sandals
Whether you're going to a fancy event (there's a lot of weddings in the summer), a casual brunch, or planning a weekend getaway to the beach, these sandals go with everything and can be worn everywhere. Also available in black.
Marc by Marc Jacobs Seditionary Wedge Sandals, $248, Shopbop
Glam Shower Slides
Like those plastic slides you used to shower in college, only fabulous.
Circus By Sam Edelman Skyler Slide Sandal, $20, TJ Maxx