We're Worried You're Missing 'Trophy Wife'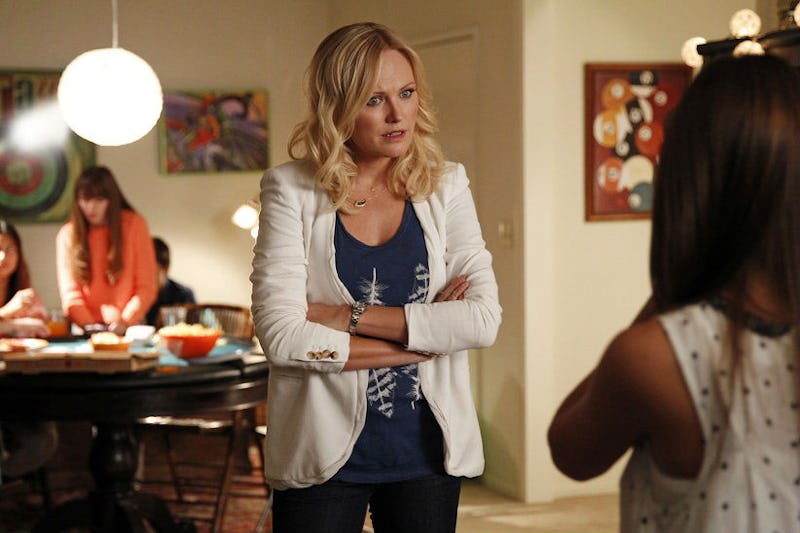 ABC's delightful new family sitcom Trophy Wife is in trouble. In boring number-speak, that means the Malin Akerman-starrer is pulling tiny Tuesday night ratings in the 4 million range, but in emotional distress-speak, that means we could lose one of the best new shows of 2013. That's because ABC is developing a pattern: it debuts great, lovable sitcoms that only tiny audiences are willing to watch. Then, it's only a matter of episodes before we lose our delightful shows and Trophy Wife looks to be next.
Those of us who fell in love with Krysten Ritter's surprisingly enjoyable B in Apartment 23 only to have her unceremoniously ripped from our weekly schedule, Trophy Wife's potential failure stings of past grievances. Only this time, the series on the chopping block is a series that actually buys into ABC's go-to genre: the network family sitcom.
Set in the sunny suburbs of what we can only assume is Southern California, Trophy Wife follows Kate Harrison (Akerman) as she navigates life with her husband Pete (Bradley Whitford), his two ex-wives (the hilarious Marcia Gay Harden and the surprisingly delightful Michaela Watkins), and their three children. And while I thoroughly wanted to hate the series and its seemingly stereotypical look at women and mothers, its first four episodes have won me over.
And it's not just that Akerman has finally found a vehicle for her particular brand of blithe charm, or that Harden's penchant for playing severe characters has found a sweet spot in Diane's comically stout desire for perfection, or that Whitford's Pete isn't just a hapless, exasperated dad overwhelmed by women, but a father learning to collaborate with his wife and ex-wives. It's that the series has done what Modern Family used to be known for before it went down a rabbit hole of hubristic repetition: Trophy Wife makes the family sitcom fresh again.
True, it still suffers from a diversity issue like many network sitcoms; almost every single character is white aside from Pete and Jackie's (Watkins) adopted son Bert and Kate's best friend Meg (Natalie Morales). But for a series among new ABC sitcoms that feel as if they've been ripped from the feel-good bland sitcom offerings of the '90s like Back in the Game, or quite literally the '80s in the case of The Goldbergs, it's refreshing to see a show that plays into what the people seem to want (beautiful families doing beautiful family things) while giving them something a little extra.
And that little something extra is perspective. While episodes one and two focused mostly on Kate and her struggle to gain legitimacy in Pete's parenting rhombus, episodes three and four have expanded to deliver more complete portraits of Pete's ex-wives, who suffered from some harsh and cartoonish character sketches in the pilot. Just as Kate isn't some gold-digging floozy looking for a sugar daddy, Jackie isn't just Pete's whackadoo, hippie ex-wife that drives him batty and Diane isn't a cold ex wife who's hated by her ex and her children. By episode four, we can see that Trophy Wife aims to debunk all angles of the modern not-so-nuclear family.
While Jackie's interests are varied — evidenced by her boasting about owning eight different businesses in episode four — and her comedic dressing is that in each episode, she's got a new venture, she's not drawn as a hamfisted character or a flaky, kooky woman who prefers bead curtains to doors. Her main trait is still that she loves her son dearly and that she often values the heart over the head, and there's nothing wrong with that.
Diane gets a similar treatment when she and Pete go undercover to figure out their daughter Hilary's lies. Diane is deliberate and calculating but in the most hilariously brilliant way — the woman even has a "light catfishing" scheme in place that establishes her as a popular girl from a nearby town so she can spy on her kids. On the surface, we giggle because of the way she snaps at her fellow parents and her children, but underneath that, there's a layer of warmth.
After lecturing her son about studying for a PSAT, the two ride home in the car together and the love behind her declarations that Warren has the ability to become an architect or an engineer betrays the stereotypical cold ex-wife that would have been so much easier for the writers to concoct. Instead, we get someone who plays enough into the stereotype for laughs without falling headfirst into them and losing any last semblance of an actual person.
And in a world ruled by the bland Big Bang Theory and TV's most tired family sitcom (I'm looking at you, Modern Family) it would nice, if just this once, ABC didn't cut the chord on a show that fails to break five million viewers. The problem is that if Trophy Wife starts at four million, chances are it will dwindle as time goes on — it's a fate known to almost every series other than Breaking Bad and The Walking Dead. It's not hard to drop from four million to two, just like Don't Trust the B and fellow fallen, yet beloved sitcom Happy Endings, and considering the lack of fanfare around Trophy Wife, it doesn't seem too unlikely.
So please, before that happens, rev up your laptops, DVRs, On Demand, and other legal means of obtaining past episodes, catch up and fall in love with this show. Like the titular trophy wife, this series is so much more than the sum of its parts.