Yaytop Just Made It Easier To Edit Pics In A Group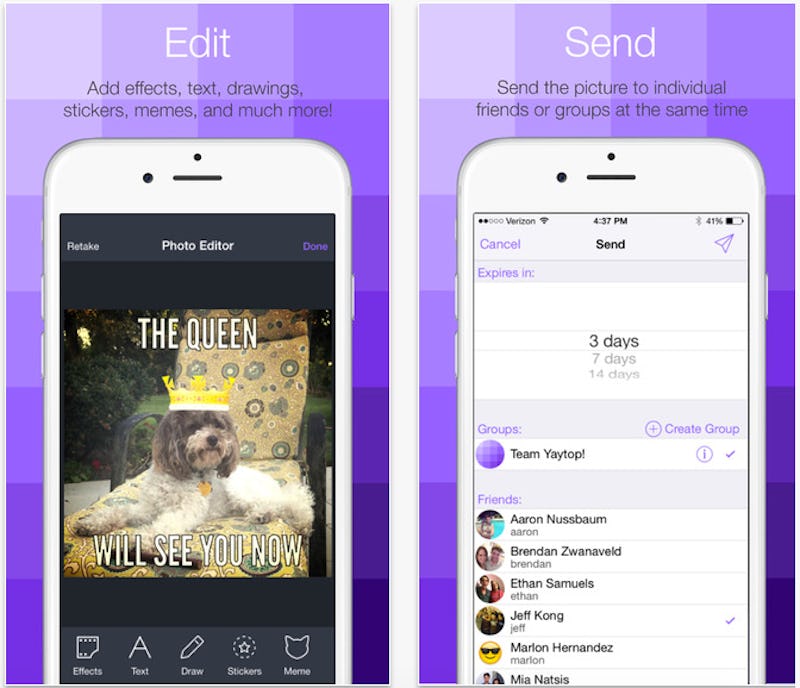 I'll admit that there have been a few moments when I've wanted to seek the opinions of my more artistic friends before posting a picture on social media. That's why I really like the idea of Yaytop, a collaborative photo editing app that lets you share and edit your pictures with friends before posting them on Instagram.
The only times I've checked how a picture looks with friends before posting it, is when they were with me in person, and even then that hasn't been a frequent thing. According to TechCrunch, the creators of Yaytop, Niko Natsis and Aaron Nussbaum, weren't sure if sharing pictures before posting them on social media was an actual thing a lot of people were doing or if it was just their group of friends. The University of Michigan students spent a few months doing research on the trend before they began designing the app. So while group edits weren't a concern to me before, now that the app is here, I can definitely see its usefulness.
I downloaded and tried out the Yaytop and was impressed with it's range of editing options: on top of filters and traditional photo editing options, you can add text, stickers, freehand draw, and even meme a picture. The pictures don't stay in the app permanently; users can select an expiration date of three days, seven days, or 14 days. Which I guess comes in handy considering that I couldn't find a way to delete a picture once you post it in a group.
I invited a friend to download the app and edit a few pictures with me, but there was a brief moment of confusion when my friend couldn't see my pictures and I realized that I'd been sharing pictures with the Yaytop team in the demo group. Because I couldn't delete my pictures, I'm patiently awaiting their critiques and edits on my pictures; they've only got three days.
As TechCrunch writer Kyle Russell pointed out, Yaytop is also a great social app.
In addition to helping pick filters, I found that my friends and I would use the app as a way to talk about what we were doing. Unlike with Snapchat, once I had already shown the other person what I was doing, I could just write something on top of their photo to ask about it instead of feeling forced to send another photo of what I'm doing like some kind of social tennis match.
I can see this app being popular amongst both the average group of friends and marketing and social media teams that need to collaborate on content. The only issue with that is that for now, Yaytop is only available on iOS. Once again, the people who need the most help with finding a good aesthetic don't have it.
(I'm kidding!)
Images: Yaytop; Doyin Oyeniyi