Guess How Many Gummy Bears This Bed Is Made Of?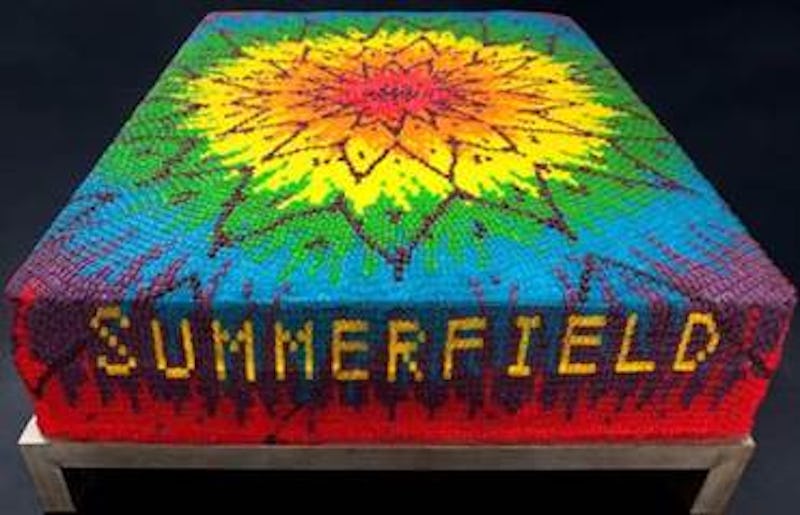 Do you like gummy bears? Do you maybe love gummy bears? Do you maybe want to sleep atop a mattress crafted of literal bears in gummy form? Today is your lucky today, because Craig's Beds in New York City has unveiled The Summerfield Gummy Bear Bed, made of 26,135 gummies. And for anyone with a self-described sweet tooth, it is truly a sight to behold.
Craig Fruchtman, owner of Craig's Beds and presumed candy enthusiast, said in a press release that the concept for the bed came to him after collaborating with Alexander McQueen on that gummy bear dress some years back. "I had already started thinking how interesting a 'gummy mattress' would be and the launch of my new bed in a box presented the perfect opportunity to commission it," said Fruchtman in a statement.
"We were thrilled to create the Summerfield gummy bear bed in the same vein as the famous gummy bear dress," added Hissa Igarashi, editor-in-chief of the magazine TWELV, who helped assemble this wonder. "I put together a team who worked tirelessly for 4 weeks straight to complete the bed with a total of 26,135 gummy bears!" According to reports, an additional 500 gummy bears were eaten before the project wrapped. That's a lot of damn sugar, guys.
Pretty stellar, no? The Gummy Bear Bed will be on display at IT'SUGAR in NoHo on Broadway from March 18-April 6, and visitors can win a chance to win a bunch of free candy ($500 worth, to be exact) by captioning a picture with the installation and #gummybearbed.
But why limit ourselves to the Gummy Throne? Here are a few other edible home fixtures that look good enough to eat.
1. Hard Candy Coffee Table
Yes, hi. That is a lollipop table and chocolate accents from Lanzavecchia + Wai for "times of crisis." (The crisis may be needing to eat your furniture, but we're not here to judge.)
2. Belgian Chocolate Living Room
This edible masterpiece by sculptor Elena Kliment is real, people. But it's not even the first chocolate room: "In February 2011, Mindaugas Tendziagolskis used 660 pounds of chocolate to design a chocolate dining room in Vilarus in Lithuania," reports the Daily Mail. "The room, featuring everything from bookshelves to artwork to chocolate lettuce leaves was on display in a local supermarket for two weeks over Valentine's day."
3. Tofu Chair
Maybe not tasty enough to take a full out bite out of, but it has a certain aesthetic element, no?
Images: Courtesy Craig's Beds; Twitter