Why Paul Feig Loves Casting Women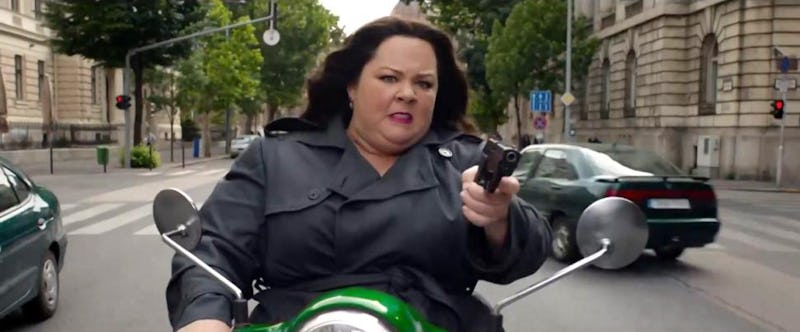 Director Paul Feig and actress Melissa McCarthy are a match made in comedy heaven. The duo, who've worked together on Bridesmaids, The Heat, and the upcoming Spy, can't get enough of one another. "Our relationship hasn't changed that much, I think that's why we work together so much," Feig says. "We fell in with each other so quickly, we have such a shorthand. We share the same sense of humor. We share the same desire to make sure the comedy is grounded emotionally."
In Spy, the action/comedy flick co-starring Jason Statham, Rose Byrne, and Jude Law, succeeds by poking holes in typical spy movie tropes. After McCarthy had dinner at Feig's house one evening, she convinced him to let her read the script. "I didn't write it for Melissa because I didn't think she was available. So I was going to write it for one of the funny women that I know, but wrote it as an every woman character," he says. "But she read it and called the next day and said, 'I gotta do it.' So I pushed the schedule because why would I not want her to play that role? It really worked out perfectly."
It was during Skyfall's release that Feig said, "'God dammnit, I wanna do one of those.'" Always inspired by the likes of Daniel Craig's Bond iterations and Ian Fleming's original novels, Feig wanted to put his own spin on the spy genre. "I've always wanted to do one, and I've made it known to my agents for years and years but why would they ever hire a comedy director to direct a Bond movie, no matter how nicely I'm dressed?" he says. "Then I was like: I have all these funny women I work with, why don't I just create my own spy movie with a woman who's more relatable.? What would I do if I suddenly got put out in the field? It grew from there."
Those familiar with Feig's work might challenge the idea that he hasn't created an action/comedy in the past. Afterall, The Heat — co-starring Oscar-winning Sandra Bullock along side Melissa McCarthy — was about two cops. But as Feig laments, "People think it has so much more action in it than it does. There's just one lame car chase." So for Spy, the action and chase scenes were heightened. "How can I make this funny... but with danger? I wanted it to be a dangerous movie. I just love funny people in peril. It brings out their strengths," he says.
Feig's Spy is different than Fleming's Bond in almost every way. But that's where the comedy comes from. "I wanted her to have all these skill sets," he says. "I wrote this scene, but It didn't end up in the movie. Say someone's walking down the hall and the dry cleaning cart is delivering things, they take a dress, come out and it looks beautiful," he says of a typical Bondian film. "We have it where she steals the dress, comes out, and it's way too big."
But that wasn't the only gag that got left out. " She sees the guy she's trying to hunt down in this casino," he says of another scene written out. "And there are all these people in tuxedos out front, so she goes and gets a fancy dress, goes into the casino, and it's just people dressed in shorts. It's like a terrible vegas casino. We had too many jokes, maybe they'll make it into the sequel."
While he's funny, feminist, and used to crafting movies outside of the realm of mayhem, Feig admits he's the biggest Jason Statham fan. "I'm a Statham fanatic," he says. "My wife and I have seen every single movie of his. It was when I saw the first Crank movie I was like OK, he knows he's funny. He know's what's funny about him. So it was my quest ever since seeing that to get him in the film." And luckily, he did. "He plays a rival spy who's driven crazy because there's a woman out in the field. He destroys in this movie. He surprises everybody because he's so funny."
In casting Jude Law, Feig was surprised by his unorthodox skill set. "I didn't realize he was so skilled physically at fighting. The first two days of the shoot was this big action scene down in these tunnels," Feig reveals. "He came in the day before and we had all this stuff choreographed and I was like 'We're dead! He won't be able to slip into this in a day. We're going to have to use a stunt double, I'm gonna have to hide his face.' But he got it. I was a blown away by the moves he could pull off. He did all his stunts in the film, it's crazy. That's all him, throwing guys around."
And now that the director has tackled the spy genre, so what's up next? As long as there's funny women involved, anything goes. " I love working with funny women, and actress in general, it's so fun to go: 'Well this genre has never been done with women!'" he says. "People tend to think that I'm doing it as a gimmick, but I'm not. It's actually very selfish. I'm just going, 'I've never seen this before."
And his next project, now weighed down with controversy and an all-male "companion" film, stemmed from the same need for more women in film. "It's why with Ghostbusters I wanted to do all women. I just hadn't seen it before and thought it would be really fun," he says. "I'd like to do a western, I'm dying to do a musical. I like telling really person stories like Freaks & Geeks and Bridesmaids and all that, but the fun for me now is going, 'How do you tell these personal stories in the context of something bigger?' It's fun for me."
See Spy in theatres June 5.
Images: Twentieth Century Fox