'Paper Towns' Trailer Is The Opposite Of 'TFIOS'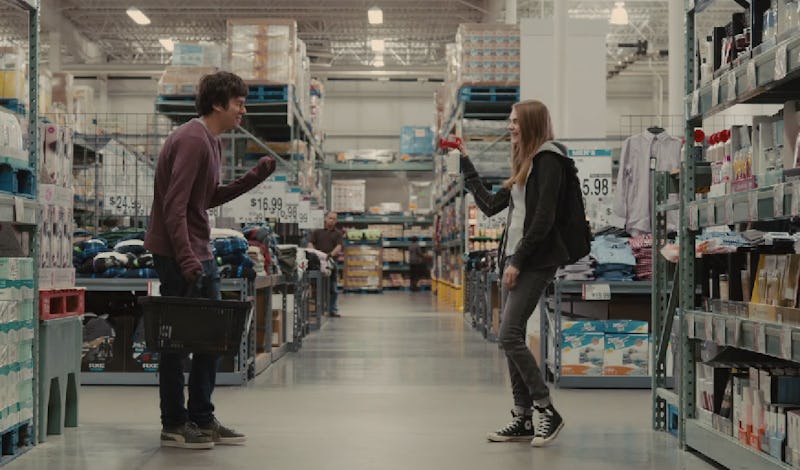 If you're human and not a robot, you immediately started crying when you watched The Fault in Our Stars trailer. Thankfully, you're going to be totally OK watching John Green's latest adaptation, since the Paper Towns trailer is full of happiness and mystery instead of teenage cancer patients falling in love and falling apart. The plot of Paper Towns is almost the exact opposite of TFIOS, but the same sense of fun and adventure follows Quentin (Nat Wolff) and Margo (Cara Delevingne) on a night of debauchery. Although the neighbors had never spoken before — and of course Quentin harbors quite a crush on Margo — they band together when she starts a "revenge plot" on her cheating ex. And though their night includes dancing, plastic-wrapping an entire car, and snapping a naked photo of her ex as he sprints across a yard, it's just that — one night.
For those who haven't read the book, this isn't a spoiler, but Margo disappears. The morning after Quentin's night out with her, the police show up, and he discovers that she is actually leaving clues for him to find her. (Don't worry, this doesn't end up like Gone Girl.) He and his friends embark on a road trip after finding a few "breadcrumbs" — including a graffitied wall that says "you will go to the paper towns and you will never come back" — with some of their own mishaps along the way. Wolff already seems like the perfect fit for Q, and surprisingly, Delevingne keeps her British accent in check, sounding kind of like Emma Stone with her American twang. The movie hits theaters on July 24, and you can check out the trailer below.
Image: 20th Century Fox/YouTube