9 DIY Bar Cart Projects To Up Your Cocktail Game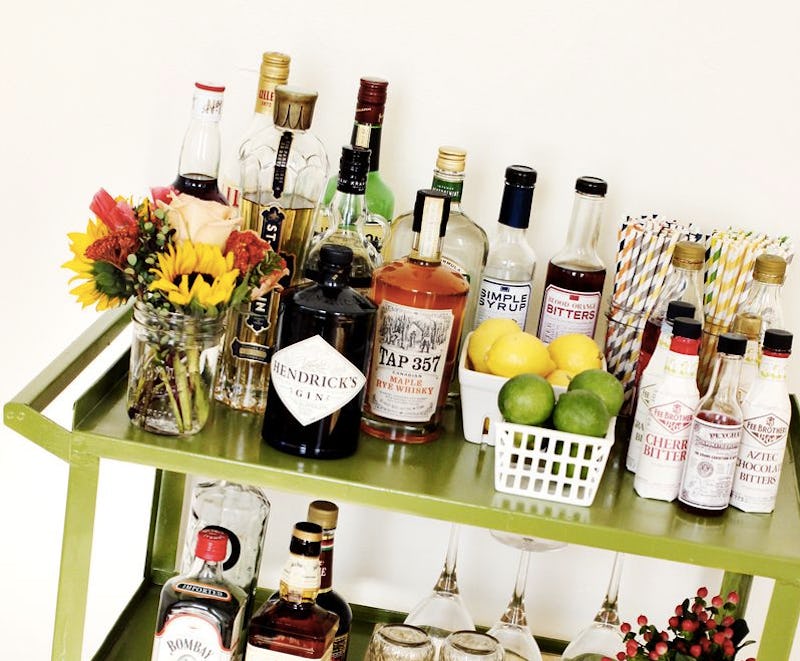 Making a DIY bar cart to have in your home may seem like a pretty grownup move, but let's face it: one of the most enjoyable parts about being a real, live sophisticated adult is being able to try different kinds of delicious cocktails. Sure, there might have been a time in college when you were happy enough to sip a light beer at a poorly ventilated basement party, but times have changed, and your palate has expanded. Now, vodka gimlets have taken the place of cheap rum and cokes, jello shots are a long forgotten memory, and you're more likely to sip on an old fashioned than participate in a beer bong. Before you know it, you have several different types of bitters in your pantry, and a cocktail shaker waiting at the ready. But once you acquire several different sets of drinking glasses, all with designated uses — martini, old fashioned, and margarita — where are you to display them?
Not only are bar carts the perfect grownup apartment accessory, they're also the best location for your growing collection of liquors, syrups, and bar accessories. They're the greatest way to feel like a sophisticated Don Draper, ready to shake a cocktail when entertaining family and friends. But if you're unwilling — or unable — to spend several hundred dollars on a bar cart from a fancy furniture store, it's time to roll up your sleeves and try out the do-it-yourself route. After all, what's better than serving the perfect drink for your guests, if not revealing that you made the cart it was prepared on, too?
To help get you started, we've put together nine of the coolest, most chic bar cart DIY tutorials around. And once you're done making your own, reward yourself with a refreshing cocktail. You deserve it.
1. The Green Machine
How amazing is that lime green color? This beautiful bar cart was restyled from an industrial cart found at a flea market.
2. The Ikea Cart
For less than $30 — and a trip to Swedish heaven, IKEA — you can have yourself a brand new, blue bar cart.
3. The Golden Goddess
Another IKEA find, this petite cart is perfect for your tiny apartment space.
4. The Pop of Color
Because what girl wouldn't want a bar cart that matches her bright pink lipstick? This retro style is perfect for mixing bright, girly cocktails on.
5. The Simple and Sweet
Let your bottles be the center of attention with this understated piece.
6. The Ombre Oasis
Ombre isn't just for your hair. Pick your favorite color, and go to town with this great painting project.
7. The Square Sweetheart
Keep things compartmentalized with this unique take on the traditional cart.
8. The Utilitarian
Contrast your girly, flirty martinis with a bar cart that has an industrial feel.
9. The Blue Beauty
Sometimes, understated is better — take this great navy cart, for example.
Images: A Beautiful Mess