Horrifying Fire In Brooklyn Kills 7 Children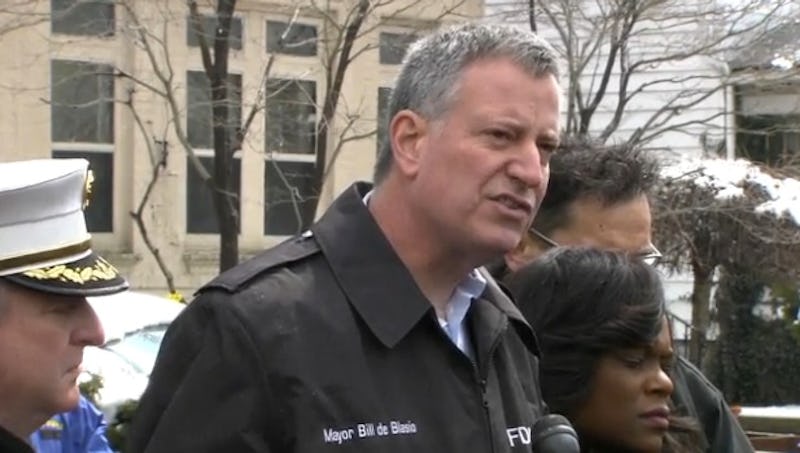 A positively horrifying incident took place in Brooklyn during the night, ultimately drawing Mayor Bill De Blasio to the scene, and grabbing the attention of the whole city. A Brooklyn house fire killed seven children early Saturday morning, making it the worst deadly fire in New York City in eight years. The reported cause of the blaze, according to the FDNY, was a hot plate that had been left running, sparking a fire that quickly engulfed the home of the Sassoons, a Jewish Orthodox family living in Midwood. Only two people lived through the blaze, and they're still reportedly hospitalized in critical condition — the family's mother, and a 14-year-old daughter.
It's an utterly heart-rending set of circumstances, and it's rightly captured attention throughout the city and beyond. In a city the size of New York, fires happen basically all the time. As densely populated a metropolis as it is, that's pretty unavoidable. But for a fire to actually kill seven people, and children no less, is a pretty seismic event. The last fatal blaze to claim more lives than Saturday morning's was all the way back in 2007, when two families of immigrants from Mali suffered ten deaths, nine of them children, in a fire that raged through their Bronx home. As detailed by The New York Times, that deadly blaze had a similar point of origin — a malfunction from an unattended space heater.
Multiple outlets have reported a possible explanation for why this tragedy occurred — something many people may not know, but is likely familiar to some Jewish families (Orthodox Jews in particular). Basically, observance of the Sabbath can include a prohibition on electricity use and lighting flames, meaning that strictly observant Orthodox families are essentially forbidden from cooking food on Saturdays. As such, some families employ workarounds, like setting an oven the preceding evening and leaving it running. If you don't set the flame on the Sabbath itself, then you're apparently on stable spiritual footing.
It's believed that the Sassoons may have been keeping a hot plate running for this same purpose. But, left unattended in the middle of the night, it caused a fire that nobody in the family apparently realized, or was able to react quickly enough to stop — according to New York Fire Commissioner Daniel Nigro, there was no evidence of smoke detectors present on either the first or second floors of the home.
Hopefully we'll get news soon the the surviving mother and daughter have pulled through. Both of them leapt from second-story windows to save their lives, and the condition of both women is still highly uncertain.
Image: NBC News