'Unbreakable Kimmy Schmidt's Perfect Choice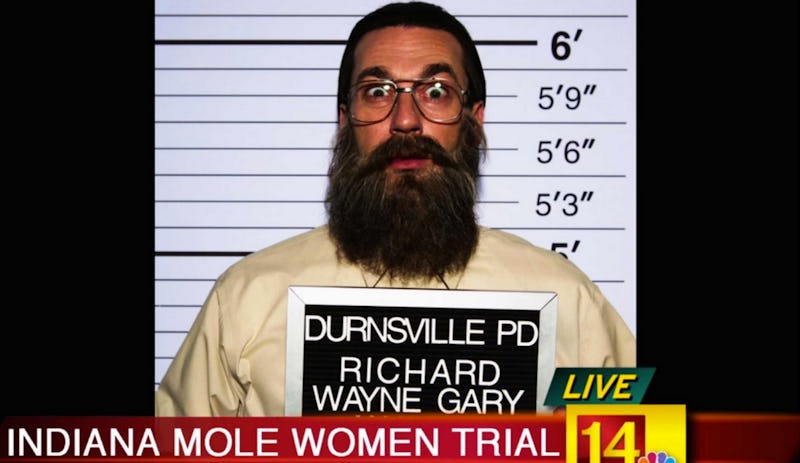 There's no doubt that Jon Hamm's most well-known, highly-regarded role to date is that of Don Draper, the dapper and troubled ad man at the center of Mad Men . But Hamm's hardly a one-trick pony, and he's proven throughout the years since his breakout that he is more than game to put his status as a noted comedy geek to good use whenever the right sitcom and/or ensemble comedy calls his name. For evidence of this see his Disney Prince-looking character on 30 Rock. Or his teeny-tiny guest shots on Parks and Rec. Or any of his moments on SNL.Or his role as Kristen Wiig's douchey sex buddy in Bridesmaids. Or, more recently, perhaps the best of them all: Jon Hamm's turn on Unbreakable Kimmy Schmidt as the evil reverend who kidnapped Kimmy and kept her in a bunker (and a cult) for fifteen years.
You can't really top Don Draper in iconicity (at least not yet), but a number of elements made Hamm and his involvement with the show about as close to perfect as it gets. Here are some of the things that make Hamm's role as Reverend Richard Wayne Gary Wayne almost surreally perfect:
The Role's All About Charisma
Pretty much the only other people they could have cast in a role like this are George Clooney and Idris Elba. This part needed to go to the type of person you could see getting away with this sort of thing — who could lure at least one woman into that cult willingly, and who could charm a jury into thinking he didn't do anything wrong. I mean, c'mon, Hamm's got that dude down after so many years as Don Draper. And there are not an infinite number of actors who could pull this off:
He's Got Tina Fey Connections
Perhaps the first thing that showed us that Hamm was more than a dramatic actor on the then-new "prestige" AMA drama was his guest arc on 30 Rock Season 3 as Liz Lemon's downstairs neighbor turned boyfriend, Dr. Drew Baird. Baird was beautiful (see: He was in possession of Jon Hamm's face, and "looks like a cartoon pilot") but dumb as a rock. He weaved in and out of 30 Rock as one of their go-to guest stars throughout the remaining seasons, so it makes perfect sense that Fey and fellow executive producer Robert Carlock would bring him back for Unbreakable Kimmy Schmidt considering all the other ways the series is echoing 30 Rock's casting habits.
He's Got Strangely-Timed Ellie Kemper Connections
Here's a fun fact to keep in your back pocket: Jon Hamm used to be Ellie Kemper's drama teacher. He took a break from pursuing acting to return to his hometown of St. Louis, where he taught eighth-grader Kemper in drama class. It's kind of poetic, then, for him to come back and be in the first big show's she's headlined. Even if it's really best not to think about the in-story fact that Reverend Richard kidnapped Kimmy...also in eighth grade. Remember the fiction, people. Focus on this adorable quote from Hamm to The Daily Beast about their history:
Ellie, my former student! Honestly, it's really great. I wish I could have said when I was 24 that I knew that girl—or Beau [Willimon, creator of House Of Cards, who was also in the class]—would be famous. It wasn't that specific, but in a school full of highly motivated and very high achievers, they were standouts. They just were. Ellie, for a young kid, was incredibly forthright and very confident, and Beau was wildly intelligent and creative. I thought, 'I hope they do it and go,' and they did. And it's amazing.
D'aw.
He's A Huge Comedy Nerd
One thing to always remember about Jon Hamm is that he is a noted major comedy fanboy. He's mastered the mysterious contemplative brood as Don Draper, but chances are he was listening to comedy podcasts in the car on the way to set. As a major Hollywood star he is of course a peer on every TV set, but he also admires these people as more than just colleagues — as he told The Daily Beast, he "felt honored to be able to play in the sandbox with the cool kids again." And that's super sweet, especially considering all the other ways he seemed predestined for this part.
Images: Getty Images, Netflix