10 Mail-Order Thanksgiving Sides So You Can Just Cook the Turkey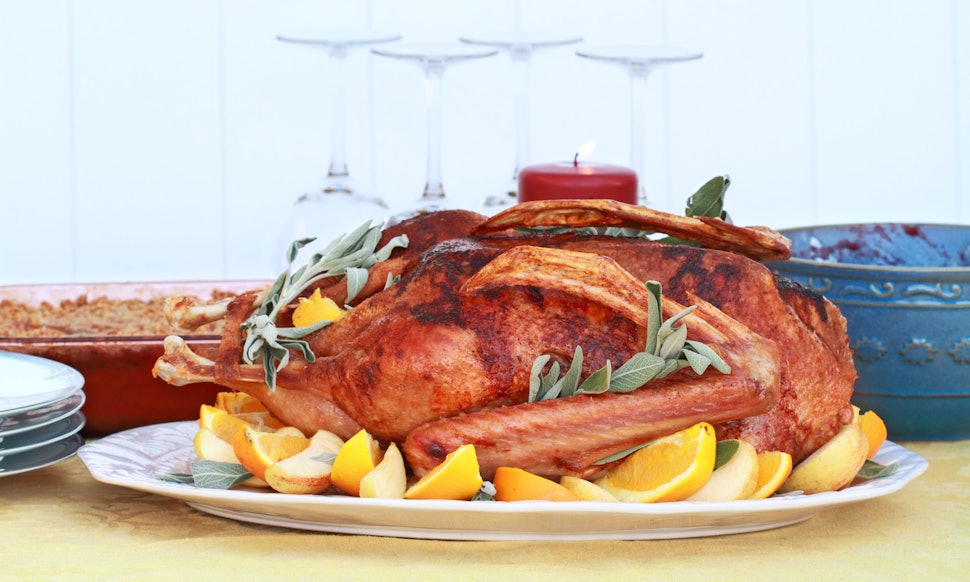 Not exactly a whiz in the kitchen? Short on cooking skills, long on feasting needs? Never fear! No need to email all your relatives with requests like "microwave-safe mashed potato recipes" or "lots of guests, very little time, please send yams ASAP." Because let's be honest: dealing with the bird is plenty of work. Instead of juggling heating and stirring all the necessary eats, you can order all the sides you need online and simply heat them up on the big day. These delicacies will arrive on dried ice and with instructions for simple thawing and/or heating. All of it's delicious: everything from jalapeno crawfish cornbread dressing to the biscuits that will have your neighbors talking forever. Thank you, Interwebz!
Cranberry Sauce
Canned cranberries are gross and boiling raw cranberries is labor intensive, so you should probably just thaw and serve this cranberry sauce, which has a hint of orange to cut the sweetness.
Green Bean Casserole
This delicacy is made with fresh green beans and homemade mushroom soup, not the Campbell's nonsense you'd normally settle for. To top it all off: crispy fried onions. I will take 90 servings, please.
Jalapeno Crawfish Cornbread Dressing
Classic dressing is the bomb, yes, but this year, we suggest spicing things up. This Cajun dressing is delivered to your door, and you just have to microwave it for a couple minutes before guests go crazy for your Creolation.
Cheddar Chive Biscuits
Pillsbury crescent rolls have their place, but they're hardly a highlight of the Thanksgiving table. These buttery, flavorful biscuits will rival even the turkey itself.
Praline Pecan Sweet Potato Casserole
As brightly colored as it is scrumptious, this side almost sounds like dessert, so you'll have to remind your guests of the forthcoming pies.
Mushroom Truffle Mashed Potatoes
These mashed potatoes are made with truffle butter. Remember when you were going to go with the boxed, instant mashed potatoes? These are much easier; just throw them in the oven for 20 minutes.
Broccoli & Cauliflower
Braised Kale
Better than the bitter, salty kale you made with the scraps from your CSA, this kale is cooked in broth with thick-cut bacon and garlic, so...the choice is clear.
Artichoke Parmesan Stuffing
Holy artisanal cooking! With French bread cubes, mushrooms, artichoke hearts, parmesan, and onion, this stuffing sounds like something you'd order in Thanksgiving heaven.
Pecan Pie
Made with real butter and farm-fresh eggs, this pie is as wholesome as it is tasty, which is to say, "incredibly so." It's shipped to your door in a special box to ensure its safe arrival.
And of course, Pumpkin Pie