The Ugly Truth Behind BCA Products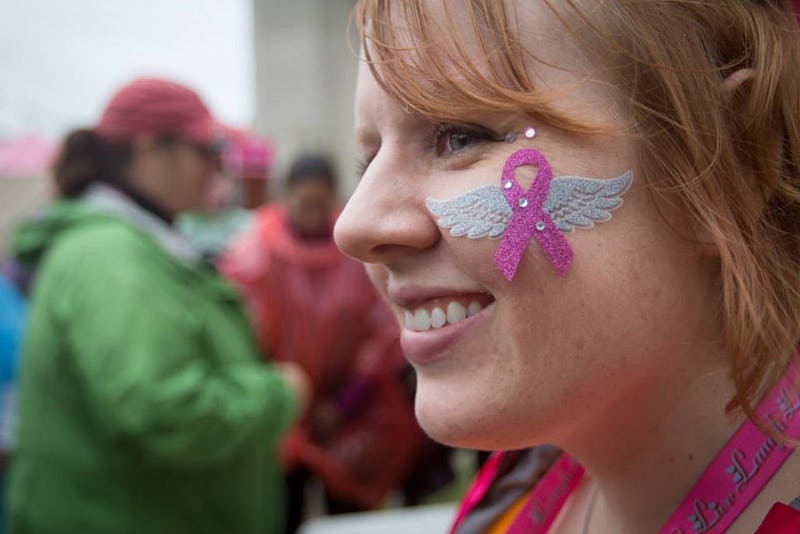 During the month of October, it's impossible to miss the variety of pink hues coloring everything from soup cans to car decals for Breast Cancer Awareness Month. It seems like any product you pick up at the supermarket claims to donate money from your purchase to breast cancer research, and it can make buyers think that they're doing a good deed simply by choosing chicken noodle soup for lunch.
Despite decades of awareness campaigns and millions of dollars invested in research, breast cancer is a serious problem for both women and men. According to the Centers for Disease Control and Prevention, breast cancer is the single most common cancer in women, and is the most common cause of cancer death in Hispanic women. For white, black, Asian/Pacific Islander, and native women, it is the second deadliest cancer.
Unfortunately, most of your supermarket good deeds aren't making a real impact on the fight against breast cancer. "Pinkwashing," a broad term first coined by Breast Cancer Action's Think Before You Pink campaign, applies to a wide range of consumer goods and charitable donations that companies claim support breast cancer awareness.
The most common form of pinkwashing is when companies offer to donate a portion of profits generated from pink-labeled products to a breast cancer charity. Often, the company doesn't even tie their donation to sales of the pinkwashed product. Instead, they will use the product to generate goodwill toward their brand while making a pre-set donation.
Most of these labels provide no information about the company's actual donation to breast cancer charities, and they say nothing about how the funds will be used to benefit women with breast cancer. Charity overhead can put a steep dent in how the donation is actually used, so your money may go to executive salaries at a large non-profit instead of low-income women in need of mammograms.
The NFL has recently been a target of claims that their pink products don't really donate much money to breast cancer charities. This year's A Crucial Catch campaign focuses specifically on early detection of breast cancer, which does save lives. Pink game toss coins and game balls will be auctioned off to raise money for the American Cancer Society, but how much?
Analysis at Business Insider suggests that only 8% of funds raised by the NFL will actually be used for cancer research. "for every $100 in pink merchandise sold, $12.50 goes to the NFL. Of that, $11.25 goes to the American Cancer Society." The rest of the funds are divvied up between the product manufacturer and the retailers, often the NFL and its respective teams.
Many other companies have been targeted for pinkwashing for profit, including Yoplait, cosmetic companies like Avon, and even Kentucky Fried Chicken. In this case, though, critics were more concerned about the cancer-causing chemicals inside these products than their pinkwashed labels.
According to Breast Cancer Action, companies and non-profits often add the ubiquitous pink ribbon to products that contain known carcinogens, or sell other products in their lines that do. In 2012, Campbell's Soup became the target of significant criticism after it turned many of its famous soup cans pink to support breastcancer.org.
These pink soup cans, most contaminated with bisphenol-A (BPA), a suspected carcinogen with scientific links to breast cancer, helped generate over $800,000 in donations to breastcancer.org in 2006. At the same time, Campbell's was selling millions of cans of soup, generating over $755 million in revenue across all the company's brands.
In 2012, Campbell's made a big announcement that they would be removing BPA from cans. In what many health bloggers called a great victory, Campbell's managed to punt the issue until at least 2015, likely because they still don't know how to produce close to 95% of their canned goods line without using BPA.
Nonprofits are also not exempt from pinkwashing. In 2011, Breast Cancer Action busted the Susan G. Komen Foundation after the launch of their first signature fragrance, Promise Me. Breast Cancer Action found that the perfume contained at least two highly toxic chemicals, which likely led to the Foundation's discontinuation of the line in 2012.
Even though October is almost over, pinkwashed products will be on the shelves for the foreseeable future. Instead of contributing to corporate profits to give to breast cancer research, consider giving directly to a charity that is working for a cure without wasting donations on ambiguous "administrative costs."
Breast Cancer Research Foundation provides 91% of all donations to breast cancer awareness and research, 88% of which benefits critical research. The National Breast Cancer Foundation helps provide education and early detection services to women, and a quick glance at their 2010 financial report shows that the vast majority of funds go toward awareness, research, and early detection.
Image: Susan G. Komen via Facebook