Who Could Beat Halston & Rose For Best Kiss?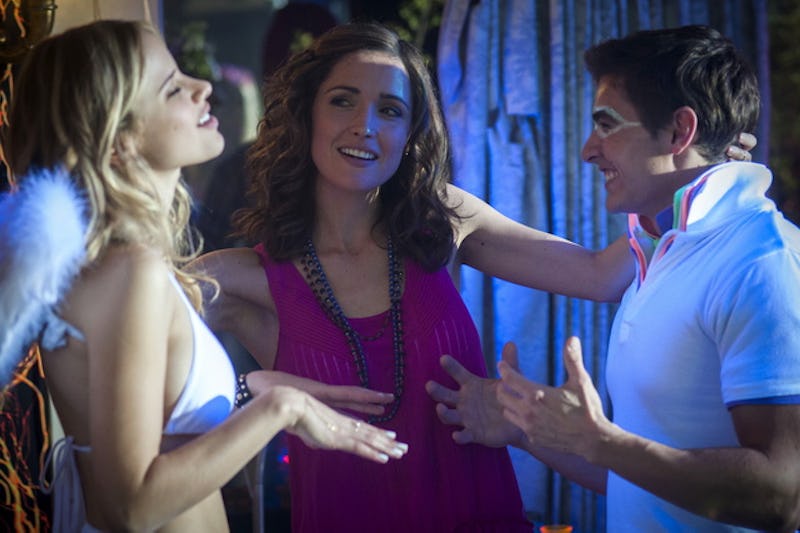 The MTV Movie Awards are known for having controversial categories. 2015's ceremony boasts awards for Best Fight, Best Shirtless Performance, Best Scared-As-S**t Performance, and of course, Best Kiss. The coveted Best Kiss category picked up notoriety after Toby McGuire and Kristin Dunst won the award for their upside down smooch in 2003's Spider-Man. Other memorable winners include Ryan Gosling and Rachel McAdams for The Notebook in 2005, Jake Gyllenhaal and Heath Ledger for their steamy kisses in Brokeback Mountain, and the very first Best Kiss award winners ever, Anna Chlumsky and Macaulay Culkin for 1991's My Girl.
This year, the competition is as still as ever. Nominees include:
Ansel Elgort & Shailene Woodley, The Fault In Our Stars
James Franco & Seth Rogen, The Interview
Andrew Garfield & Emma Stone, The Amazing Spider-Man 2
Scarlett Johansson & Chris Evans, Captain America: The Winter Soldier
Rose Byrne & Halston Sage, Neighbors
Paper Towns actress Halston Sage says she's anxious about all her competition, but mostly: "I'm nervous about Shai and Ansel," she says. "As a fellow John Green book actor, I wouldn't be horribly disappointed if they won, but at the same time I really want to win. I've got to figure out a way to take them down."
To refresh your memory, here's the nominated kiss:
See who takes home the sultry prize April 12 at 8/7 CT on MTV, and see Paper Towns in theaters July 24.
Image: Good Universe