Gigi & Kendall Master the Selfie Stick For 'Vogue'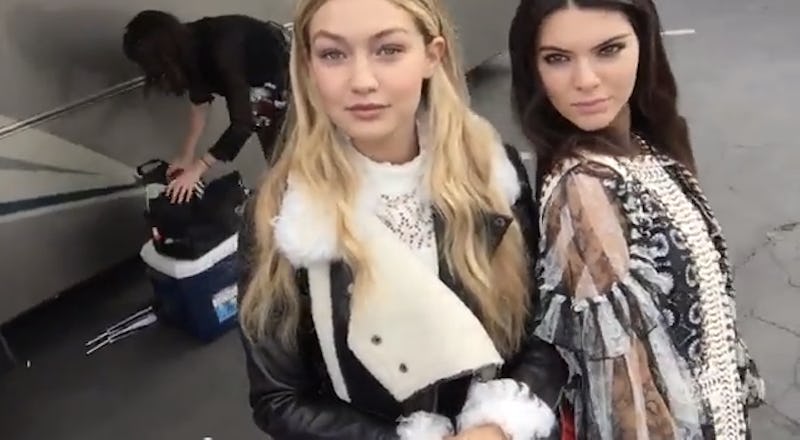 Taking a selfie is difficult for us commoners. We stretch our arms to their fullest potential, tilt our heads to the side and we still end up with 50 photos that haven't quite captured us in our best light. Even with a selfie stick, it can be hard to find your good side (but how great is it that we got the Statue of Liberty in the background, right?). Besides, the tool is just so... lame. Yet somehow, Kendall Jenner and Gigi Hadid made the selfie stick look cool in a new video for Vogue.
The clip goes behind-the-scenes of their recent editorial, titled the "Hollywood's New Brat Pack," set to be featured in next month's issue of the fashion glossy. Vogue set the two teen queens loose with a selfie stick, with some guest appearances by teen heart throbs such as Justin Bieber, Ansel Elgort and Cody Simpson. But those guys didn't quite stun like Jenner and Hadid. To help get you in the selfie-taking spirit, here are some of the top moments from the video, in which the two models most definitely managed to make the selfie stick work in their favor. Beware: major jealousy will ensue.
That time they seriously knew how to work their angles
That time they made the "goofy face" look model-worthy
That time they invited Ansel Elgort to be a part of the action
That time Gigi Hadid owned the duck-lips pout
That time Kendall Jenner taught us how to wink without looking like we had a lash in our eye
That time they blew us kisses
Here's the full video from Vogue:
Images: YouTube/Vogue