What the 'Hart of Dixie' Cast Is Up Post-Finale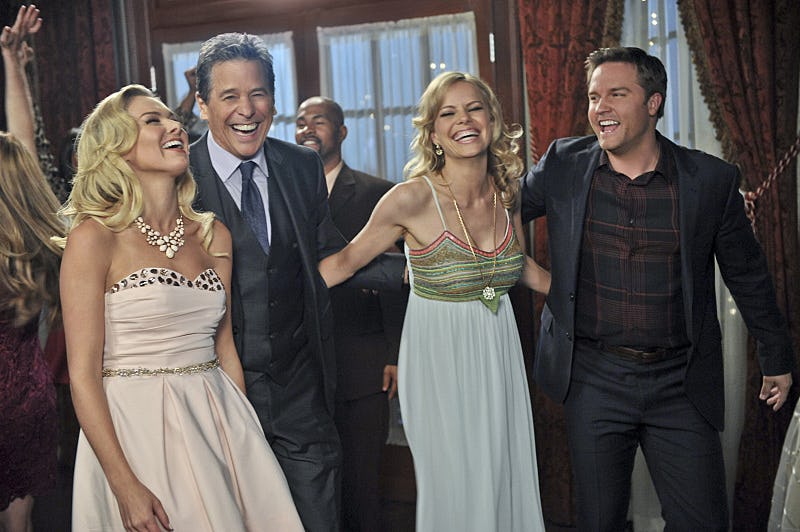 Life must go on for the folks who live in Bluebell, Alabama. Viewers will get one last chance to say goodbye to Dr. Zoe Hart (played by Rachel Bilson) and the gang in the The CW's Hart of Dixie series finale on Friday night. As for the cast of the Hart of Dixie , they've been keeping busy since the show was canceled and forced to come to a close. The very talented cast — which includes Bilson, Scott Porter, Jaime King, Wilson Bethel, Cress Williams, and Tim Matheson — is already busy with new projects as well as spending time with their families.
The show's abbreviated 10-episode fourth season comes to a close on Friday with a series finale that will hopefully leave fans satisfied. "This is a season for the fans and we are building toward what will be an amazing, celebratory resolution while still leaving some doors open for the future," Hart of Dixie creator and exec producer Leila Gerstein told Yahoo. While there was speculation about the show's renewal, ultimately The CW did announce that Hart of Dixie was canceled. But the very talented cast has already moved onto other endeavors, even though they're sad that their days in Dixie have come to an end.
Here's what some of the cast is up to these days:
Rachel Bilson
The 33-year-old actress recently gave birth to her first child and her husband Hayden Christiansen, daughter Briar Rose, in November. The new parents have been seen out and about with their little girl — and they even took her on a road trip across the U.S. in an R.V. Sounds like Bilson will be using this time off to spend with her adorable newborn.
According to an interview in Health Magazine, being a mom has always been on Bilson's bucket list. "I've always wanted to be a mom," she said. "I have always wanted kids. I can just see this little toddler waddling around the house."
Wilson Bethel
The 30-year-old actor already has a next gig lined up: He'll appear in 10 episodes of ABC's new drama series Astronaut Wives Club , which was developed by Hart of Dixie exec producer Stephanie Savage. The new show will premiere in this year.
Bethel has also created two webseries for CW Seed, the channel's online video platform: Stupid Hype is a nostalgic look at the '90s, while L.A. Rangers is about park rangers who aspire to work in Hollywood (above).
Jaime King
King is currently expecting her second child with husband Kyle Newman, a director who helmed the music video to Taylor Swift's "Style." The 35-year-old actress is pregnant again and glowing — and she doesn't care who knows it. She recently posted a topless photo on Instagram showing off her baby bump and telling the haters to stop body shaming. She told Elle Magazine:
The only thing I care about is having a happy and healthy child. I don't really subscribe to this whole, 'Let's see how fast you can get back your pre-baby body!' Like that whole thing is so laughable to me. It's a joke that's the focus on women now. It's just the same thing with judging women when they're pregnant. "Like oh my god, she's skinny, is her baby okay? There must be something wrong with her! Oh my god I can't believe so and so gained so much weight during their pregnancy! Like can you believe how big she is?" Like, those kind of comments that they have online and in magazines about celebrities are crazy to me.
Good for her! Her second child will have many great role models: King herself and Swift will be the child's godmother.
Images: Richard Foreman/The CW; Getty Images