7 Bachelorette Party Ideas That Are Actually Fun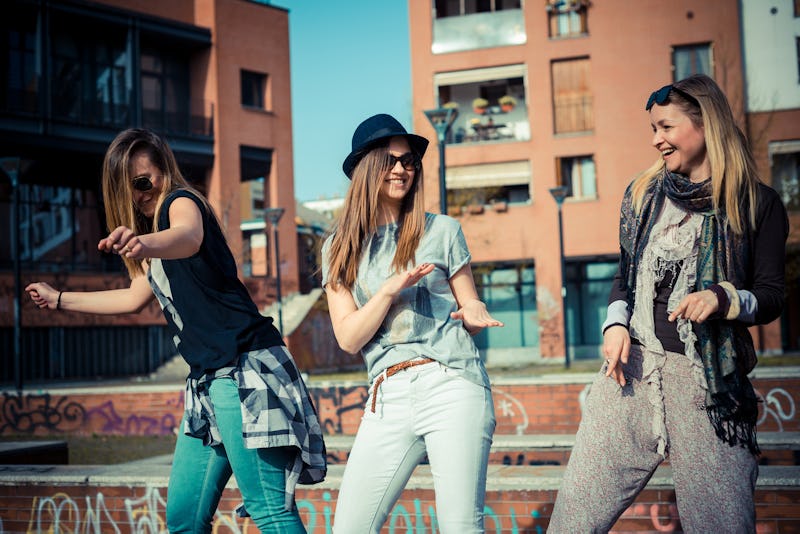 Dick necklaces. There's an opening line I thought I'd never write. I'll keep going: tiaras. Buttons. Sashes. Selfies. Party buses. Glitter. Shots around the bar. The "woo" girls. Somewhere along the line, the modern bachelorette party as we know it evolved from a shared "we'll get ours, too" mentality among single women looking to party and into what might kindly be referred to as the palest imitation of debauchery known to brides the world over.
But of course, not everyone sticks to the script when it comes to party planning. Whether a bachelorette party is being hosted by a bridal party member or the bride, the planners aren't restricting themselves to strip clubs and hangovers. They don't host single-gender parties which exclude friends. Brides might bring their betrothed along to the festivities. There will be no plastic penises involved – and everyone in attendance will have a genuinely good time.
Fun fact about me: I've been a bridesmaid in three weddings and I'm preparing for a fourth stint in May. In my experience, the bachelorette party is always more fun to plan than a bridal shower. It's creative. It's silly. When I spoke with others looking back on their own parties, they expressed a similar fondness. Here are some of their best ideas:
1. Share some fondue
"I took my three besties out for fondue at the Melting Pot. One of them had flown over from Iceland so it was incredibly special. Yet super-chill. I did it because fondue is delish and decadent mainly, but also because it was something leisurely we could share. I think what made it most special was that all my 'people' were with me — none of them knew each other but wound up getting along fabulously." - Jenn
2. Go on an outdoorsy adventure
"My husband and I had a joint one and we went to a safari park in VA, the kind where you drive through and feed the animals. It was awesome. I also helped plan one where we went to Hershey Park for the day and rode a bunch of coasters. Both were centered around hanging out with friends and having fun, just maybe different fun than is typical for those kinds of parties." - Chelsea
3. Don't stop the music
"I rented out a private karaoke room and had folks of all gender in attendance." - Shannon
4. Seek out some culture
"My friends took me to a museum and to a tea room in Philly for mine. Such a fun time. The best part was that so many of my friends were able to go. It had never happened that all of us were able to take a mini trip together. Best weekend." - Alyse
5. Chase each other around
"I went to laser tag for a friend's joint bachelor and bachelorette party, and I liked that it was 1) laser tag, and 2) more of an excuse to get cool people together to meet each other before the wedding and to do something fun together than a 'last hurrah before the cage of marriage' BS type thing." - Rachel
6. Put on a show
"I told my friends I didn't want a bachelorette party but one of my BFFs planned a unique one for me anyway... without my knowledge she contacted all of my local friends, male and female, and asked each of them to prepare to do something creative for me. We all met in the private back room of a restaurant and people did puppet shows, read poems, showed their yoga skills, sang songs, did stand-up comedy, etc. She even got together a tape of some who weren't able to make it. It was really fun!" - Shawna
7. Throwback to a different time
"I was taken to Medieval Manor and it was really fun. [It was] phallic and I certainly wasn't mentioning I was marrying a woman, but fun and good food and rowdy but not over the top." - Jennifer
Images: Eugenio Marongiu/Fotolia; Giphy: 1-7