Proof Sean Hayes Is Just Jack from 'Will & Grace'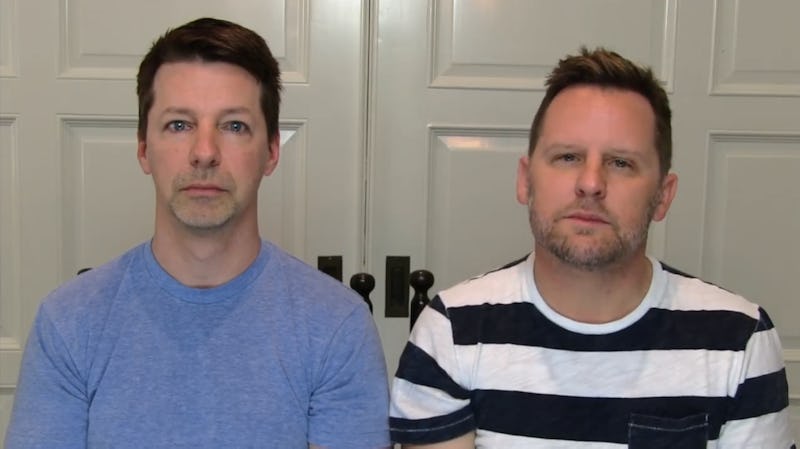 Stop whatever you are doing, because nothing could be more important than this. Sure, it's been a rough week for us all, but your Will & Grace feels are about to come back with a vengeance. On Thursday, Sean Hayes lip synced Iggy Azalea's "Trouble" with his husband, Scott Icenogle, in a Facebook video that everyone needs to watch. Somewhere between Angelina Jolie's poignant tale about preventive surgery and Zayn Malik leaving One Direction, there is Hayes rising like an empire in order to make us all laugh. The video becomes even funnier if you imagine he is literally Jack from Will & Grace doing this. Because he would — though probably with Karen rather than with Scott Icenogle.
The video opens with the two men sitting stone-faced in front of a pair of double doors as the music starts. No one moves. No one blinks. No one breathes. Then Hayes opens his mouth and Azalea's voice comes flowing out in order to give us all a heart attack — you know, those of us who thought that he would be singing the song himself. Then Icenogle comes in, belting out Jennifer Hudson's part in Hudson's voice.
Did I mention there are props involved? Not to mention a lot of head banging and shoulder wiggling? All I need now is for Taylor Swift to show up in the background, waving her hands over her head, because she was summoned by all the adorable awkward dancing present in this room. Listen, I know that, as far as relationship goals go, we have a lot of options. There's Neil Patrick Harris and David Burtka, John Krasinski and Emily Blunt, and, recently, Ariana Grande and Big Sean. But we definitely need to add Hayes and Icenogle to the list, because I officially want to be them. If your husband doesn't love you enough to make a Facebook video like this with you, then it's probably time to file for a divorce.
Just kidding. Or am I? Check out the video below.
Image: SeanHayes/Facebook