9 Books To Read If You Loved 'Blue Thread'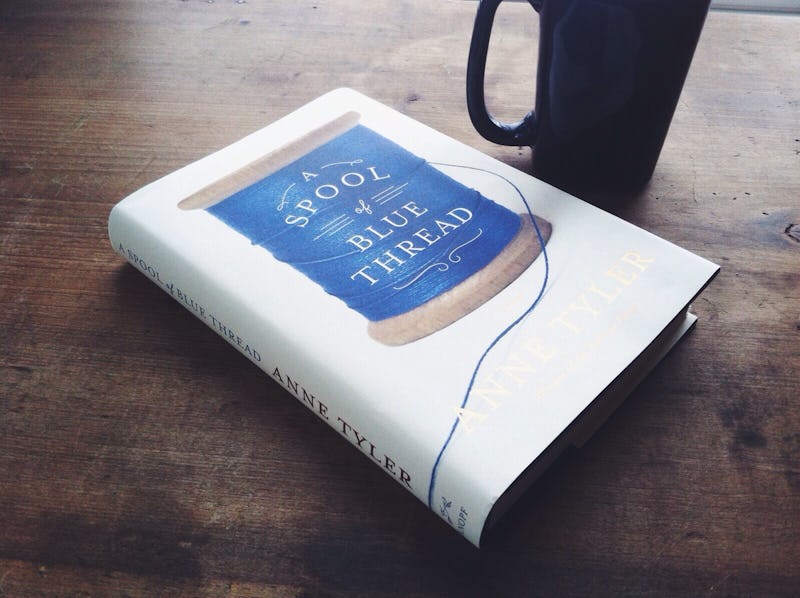 Anne Tyler loves the everyday. With her 20th novel (20th!!!!), A Spool of Blue Thread , Tyler continues to sew together stories about the mundane and turn them into something approaching the magical. The author has always excelled at capturing the minutiae of normal life — especially as that applies to the lives of big, sprawling families — and her latest novel is no exception. It's not that it's hard to resist falling in love with the Whitshank family, occasionally fractured and dramatic as they may be, but that it's almost impossible to not believe, at least while reading the novel, that you just might be a member of the clan.
A Spool of Blue Thread, $10, Amazon
A Spool of Blue Thread covers big swathes of the Whitshank family tree, but all roots go back to Abby, wife to Red and mother to Denny, Stem, Amanda, and Jeannie, and grandmother to a mess of little ones. The novel presents a large portrait of these many Whitshanks — occasionally even zipping back in time to introduce us to other relatives, including even Abby's parents – and while reading about their various connections would be enjoyable enough, A Spool of Blue Thread eventually edges up on serious, heartbreaking territory. Abby, the heart of the story and the Whitshanks themselves, is not well, and Tyler treats her steadily decaying mind with both respect and unsentimental frankness. Will you cry by the end of A Spool of Blue Thread? That's not even the question, it's how much will you cry?
If you've already sobbed your way through A Spool of Blue Thread , dry your tears on these other books.
Tyler is a prolific writer, and if you loved A Spool of Blue Thread, you'll likely be just as pleased with any of her other (19!) titles. Yet Breathing Lessons is arguably her most beloved and well-known, and one that any budding Tyler fan should pick up post-haste. The novel also boasts a story that's very similar to her latest, as both books chronicle the unions of long-married couples, flashing between the present and the future to paint a full portrait. Even better? Both books feature strong-willed leading ladies that very nearly drive their families to utter insanity.
Like Tyler, Smiley mostly traffics in stories about complicated families (fun fact: both authors have also won the Pulitzer Prize for their work), and while Smiley's large backlog of books will likely appeal to most Tyler fans, Early Warning is tailor-made for A Spool of Blue Thread lovers. Smiley's novel centers on the Langdon family, another tightknit clan pulled apart by the illness of a parent and the different desires of its various siblings. It's a big, sprawling story, and although Early Warning is a part of a trilogy (along with Some Luck and an upcoming and untitled new novel), it stands strongly on its own.
A Spool of Blue Thread is haunted by the threat of Abby's diminishing mental faculties, and Genova uses a similar story — in her book, the eponymous Alice is a much younger woman who starts to succumb to Alzheimer's disease, seemingly without warning — to illuminate the cracks in a once-strong family. Julianne Moore just won her first Best Actress Oscar for her role in the film version of the novel, and to say that both the book and the movie are heartbreaking doesn't quite convey the depth of emotion present. I'm not crying, you're crying!
Although the Whitshanks are a close family, that doesn't mean they're not also prone to in-fighting, arguments, and plenty of long-held resentments. Macomber's novel explores that notion through the complicated relationships of the three Carter sisters. Close as kids, the Carter girls fell apart after wild Cassie ran off with the wrong man. The book picks up years later, as each sister attempts to finally reconcile with each other, but is it too late?
A sharp and very dark look inside a crumbling marriage, Pitlor's novel explores the meaning of memory and expectation, and how those things can often add up to a very unhappy picture. Or just a bad marriage. What sets Pitlor's novel apart from others like it — and what could intrigue fans of A Spool of Blue Thread — is her choice to also involve the children borne of said marriage, who all have their own take on what really happened. There's also a big mystery weaved into the story, and the ending is a jawdropper.
The Foxman family is dazzlingly weird and deeply screwed up, but they also love each other a lot, and when they're forced to reconnect after the death of their father, the results are charming, funny, and satisfying. It's also my very favorite Tropper! (And the source material for an Adam Driver-starring feature film.)
Middlesex by Jeffrey Eugenides
A Spool of Blue Thread traces a number of generations over its pages, something that Eugenides' hefty and bold novel does startlingly well. Although the story mostly focuses on young Callie (or is it Cal?) Stephanides and his discovery that he's intersex, Eugenides lovingly chronicles the rest of the Stephanides family throughout the work, turning the story into a major epic tale that's long been considered a solid candidate for "Great American Novel" status.
A family saga unlike any other, The Corrections and its protagonists, the immensely messed up Lambert family, make other "family saga" books look relatively tame by comparison. Still, the novel is bitingly funny and shaded with a number of intriguing details. You might not love the Lamberts like you love the Whitshanks, but rest assured, you'll find them hard to get away from.
A family drama of a different stripe, Wildgen's novel takes the notion of caregiving and deep bonds in a slightly off-kilter direction. Like A Spool of Blue Thread, the seemingly indomitable woman at its heart — the stylish and smart Kate — has been felled by a major disease, only to be healed and helped by a relative stranger, one who becomes very much like family.