Dwayne Johnson Is Franchise Viagra On 'SNL'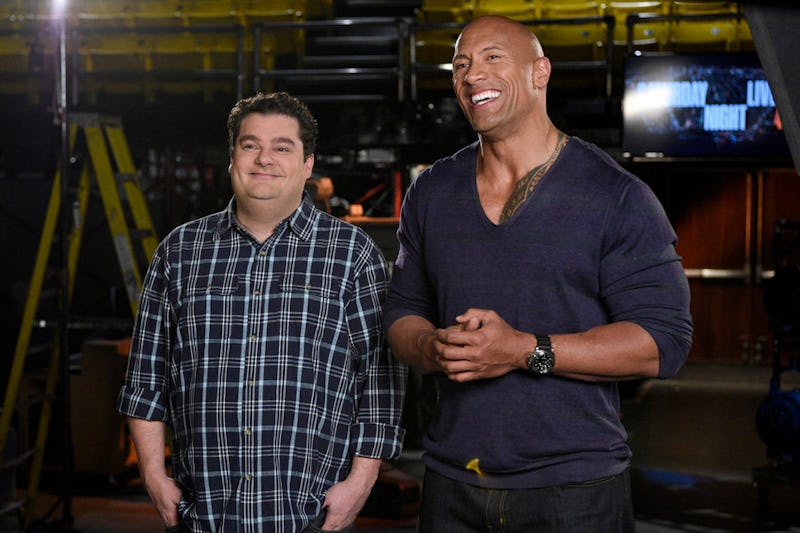 Saturday Night Live host (and almost member of the five timer club), Dwayne Johnson, returned to the SNL stage on Saturday for the fourth time. Immediately, the Furious 7 actor reminded audiences that "being back" feels right, probably because it is what he does best. On SNL , Johnson introduced the audience to "Franchise Viagra," and if you don't know what that is, allow me to introduce you to the term. 1) "Franchise Viagra" is an actor who gives franchise sequels an added "oomph," and 2) Johnson is "Franchise Viagra." So Hollywood, if you're looking for a little something special to add to your big-budget sequel, look no further.
Johnson, who is no stranger to sequel films, is a proud "Franchise Viagra" title holder. If Hollywood is looking to make a second, third (or seventh film), Johnson is your man, and what better way to tell fans that than through a beautiful song. Joined by the wonderful women of Saturday Night Live, Johnson sang a sweet monologue song about many a movie he could help revive simply by his presence in the film. Some of the films included (but were certainly not limited to):
Frozen — Because Johnson has the perfect look for a Disney princess film.
Home Alone — Kevin is definitely not taking crap from any home invaders because he's, like, ten times their size.
The Theory of Everything — "Can you smell what Stephen Hawking's cooking?"
During the monologue's smooth moves, Cecily Strong became well-acquainted with "The People's Elbow," when she got elbowed by Johnson at the end of the sketch, which I'm sure was a high point of her career at SNL.
Hollywood — whoever that is — if you're looking to revamp a sequel, consider adding Johnson to it. Unless it's Tooth Fairy, because if Johnson couldn't save the first film, I think a second one is out of the question.
Images: Dana Edelson/NBC