Chris Farley & David Spade Were the Best BFFs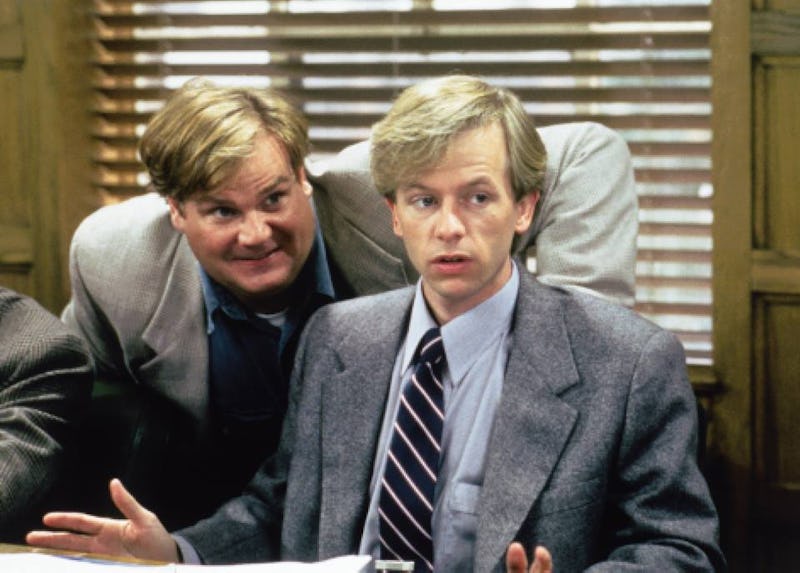 While each cast of Saturday Night Live is special in their own way, the best one for me has always been from the "Bad Boys of SNL" era. Back in the early 90s, I used to beg my mom to let me stay up late on a Saturday night to watch Chris Farley, Chris Rock, David Spade, Adam Sandler, and Rob Schneider riff off each other. It was there that Spade and Farley started a friendship that would make them a classic comic duo in Tommy Boy , which is celebrating its 20th anniversary, and last until Farley's untimely death in 1997 at age 33.
"I still want to call him if I hear something funny or something that would piss him off, or if I see a girl I know he would die for, or a script that would be great for us to do," Spade told Playboy in an interview in 1999. Spade and Farley also starred in the movie Black Sheep and were apparently talking about doing a third movie together right before Farley died of a cocaine and morphine overdose, along with coronary atherosclerosis, which is a narrowing of the arteries that serve the heart.
Spade still remains emotional when he talks about Farley in interviews, including in a Reddit AMA last year. Here are three reasons why Farley and Spade are remain a classic and emotional dynamic duo.
They Were Opposites
According to Spade, Farley was always willing to go the extra mile for a laugh and he was more outgoing than the reserved Spade. "I think he was another guy that had great comic instincts and would do everything right off the top of his head, even if it wasn't the smartest thing to do at the time and got him in trouble," Spade wrote on Reddit. "I don't think I will ever be 100% like that, because I'm slightly more reserved, but I did respect the fact that there aren't many people like him, he's very unique, and that kind of comedy is hard to come by."
They Had The Best In-Jokes
When they worked at SNL, Spade and Farley shared an office, which was by Adam Sandler and Chris Rock's office. Is this blowing your mind as much as it is mine? All that (future) starpower in one place is just incredible. That's also where the "Fat Guy in a Little Coat" joke from Tommy Boy originated.
"He would say 'Davey… turn around' and I said, 'If this is Fat Guy in a Little Coat I'm not turning around, it's not funny anymore.' And he would say, "No, I've got a whole new thing I'm doing'," Spade wrote on Reddit. "And then I'd turn around, and it would be him in my Levi jacket, and he would say "Fat guy in little coat! Don't you give up on it!' And so when we did Tommy Boy, we were just looking for jokes and scenes to make them better, and we decided that was funny to us, maybe it would be funny to there people."
Spade Was Too Emotional to Go to Farley's Funeral
Spade famously skipped Farley's funeral in the comedian's hometown of Madison, Wisconsin. It wasn't because they didn't get along or they were in a fight — Spade said the funeral was too hard for him to attend and see his friend in a casket.
"I think about him all the time. We had such a good time for so long, and we were crammed together for so long, that we did have our squabbles, but I think people misunderstood me not going to that funeral, it was nothing about that it was just too… emotional, and I wouldn't be able to handle it," Spade wrote on Reddit. "But I still hear songs, of all things, I know it sounds stupid, but there are songs that I hear, and they remind me of him."
Images: TommyBoyMovie/Facebook; Giphy (2); Getty Images