A Refresher On Mark Hamill's Original 'Flash' Role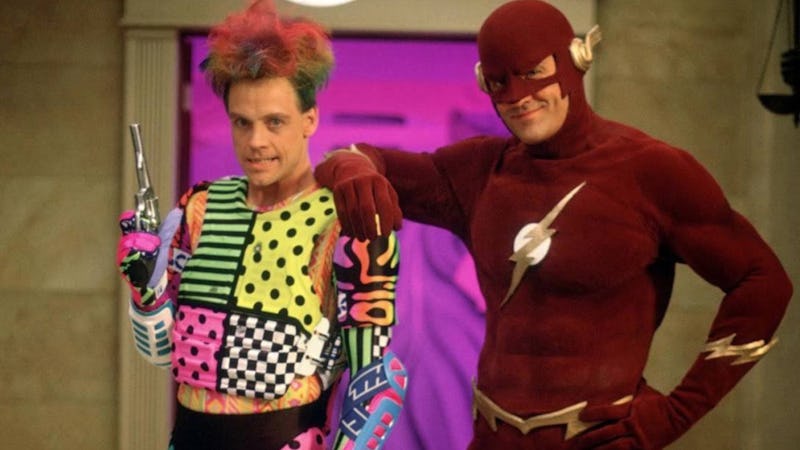 It's too much work trying to hide how excited I am about Mark Hamill playing Trickster on the Flash . Again. That's one of the most exciting things about it — Hamill has already portrayed this role, and now he's taking it on for the second time, almost 20 years later, on a completely different Flash show. Enough for you to process? It's like a great meeting of comic and geeky minds got together, tried to figure out what would be the BEST thing in the entire world, decided on Hamill returning to the role of the Trickster, and were completely right. The character of Trickster is awesome enough on his own, but then attach one of the most well known sci-fi names to him, and the excitement levels simply go through the roof. It's also kind of a big deal for Hamill to even be on TV. Yes, he played one of the most iconic — if not the most iconic — characters in film ever, Luke Skywalker. But unlike Harrison Ford, who's had a million different film roles since he first piloted the Millennium Falcon, Hamill doesn't jump back in front of the camera too often. Instead, he lends his voice to a ton of different animated shows, so actually seeing him is exciting. Now, Hamill's original Trickster appeared on two episodes of The Flash in the early '90s. Back then, way before CGI was a thing, the Trickster used very simple things to thwart our Barry Allen. Like, marbles. Once, in order to stop Barry from running at such high speeds, the Trickster released marbles into the road, and Barry tripped over them as he ran. So simple. Why hasn't Captain Cold thought of that yet? The original trickster also had a sidekick named Prank. This character was created solely for the show, but she has since shown up in a few animated DC comics, too. Prank was played by Corinne Bohrer, who you might immediately recognize as being Veronica Mars' mom. However, it doesn't look like Prank will make her way back to The Flash this time.
Thanks to the Internet, we don't even have to wonder what The Flash in the '90s looked like, because a few episode clips have made their way online. Check one out below.
The '90s Flash sadly only had one season, so the writers and crew behind it never got to expand upon most of the characters any further. In an interview with TVLine, the current Flash showrunner Andrew Kreisberg mentioned that both Hamill and John Wesley Shipp (the original Flash, who now plays Barry's dad) have talked about what would've happened if the original series had been renewed. "John and Mark have told us that the first episode was going to be a giant Rogues episode," Kreisberg explained. "And that sounds like maybe a good thing for us to do, what they didn't get the opportunity to do."
This makes it sounds like the new Flash is trying to help the old Flash achieve what it never could. All the Rogues together? Plus Hamill? I'll certainly be there.
Also, I really need to share this second clip of the first Flash, in which Trickster has his own Trickster-mobile. Can The CW's Flash do that, too? Man, I miss the '90s so much.
Image: Warner Bros.