12 Easter Food Traditions From Around The World To Help You Celebrate Globally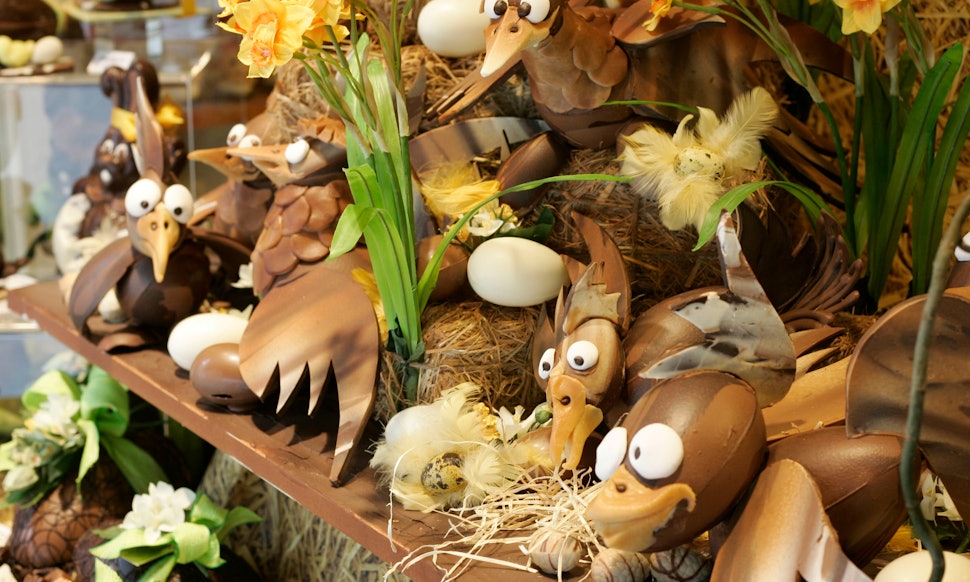 Mark Renders/Getty Images News/Getty Images
Each family has its own unique Easter food traditions, whether that includes eating a huge Easter brunch or guzzling down some chocolate bunny shots (we won't judge) — but Easter food traditions from around the world are even more varied. Marshmallow peeps and jelly beans may be a staple in the United States, but Easter food abroad has its own long histories. While some countries may share similar practices for the Christian holiday, each nation has its own signature food that celebrates the day.
From colorful, eggy breads to the coolest-looking butter you'll ever see, these are some of the tastiest Easter traditions from across the globe.
Greece: Tsoureki
With dyed eggs braided into the dough, tsoureki makes a gorgeous addition to any spread. The yeast-based bread is a Greek sweet that's a staple dessert around Easter time.
United Kingdom: Hot Cross Buns
Eaten in the United Kingdom and popular in America, hot cross buns are an Easter classic because of their Christian symbolism. Traditionally, they are saved for Good Friday consumption only.
Italy: Gubana
One of many traditional Italian desserts, gubana is a brioche-like cake characterized by tasty raisin-nut swirls. Though sometimes called "Italian Easter Bread," it is also frequently eaten on Christmas and at weddings.
Poland: Butter Lamb
In Poland, religious significance also comes to the table in the form of butter — when it's in the shape of a lamb, at least. Butter lambs can be purchased pre-shaped into the animal, or they can be made at home using cheesecloth to create a "woolly" appearance. Don't forget the peppercorns for the eyes!
Ukraine: Paska
Similar to Polish babka, paska is a braided egg bread with a gold, glossy surface. Sweetened with raisins and orange zest, the dessert is sometimes even topped with frosting and sprinkles for a festive touch.
Image: Getty Images
Spain: Mona de Pascua
Decorated with colorful sprinkles and eggs, Mona de Pascua is most commonly eaten by Spanish Catholics to celebrate the end of Lent — a time during which the most devout Catholics abstain from eating meat and eggs.
Image: Getty Images
Germany: Osterbrot
Similar to Ukranian paska, osterbrot is a sweet bread characterized by its citrusy taste and raisin-speckled texture. Some versions get a little extra sugary goodness from an orange zest glaze.
Russia: Pashka
This traditionally Eastern Orthodox dessert isn't your average cheesecake. Pashka is made out of farmers' cheese and is molded into a pyramid shape. The structure symbolizes both the church and the tomb of Jesus.
France: Pâté de Pâques
Leave it to the French to make Easter positively gourmet. Pâté de Pâques is a first course dish from the Berry region of France, comprised of sausage and egg wrapped in pastry — en croûte, if you're fancy.
Portugal: Folar da Pascoa
Just like many other European cultures, the Portuguese have their own version of Easter sweet bread. Folar da Pascoa is most often covered in symbolic crosses (and sometimes colored eggs).
Mexico: Capirotada
This bread pudding makes one delectable dessert. Capirotada is served on Good Friday and is comprised of dried fruit, nuts, cheese, and a sugary syrup. Each ingredient also has a religious significance.
Armenia: Choereg
The Armenian choereg has similarities to many other European breads, but its not-too-sweet taste makes it unique. This baked good makes a great dessert or side dish.