Memorable Quotes & Memes From 'Tommy Boy'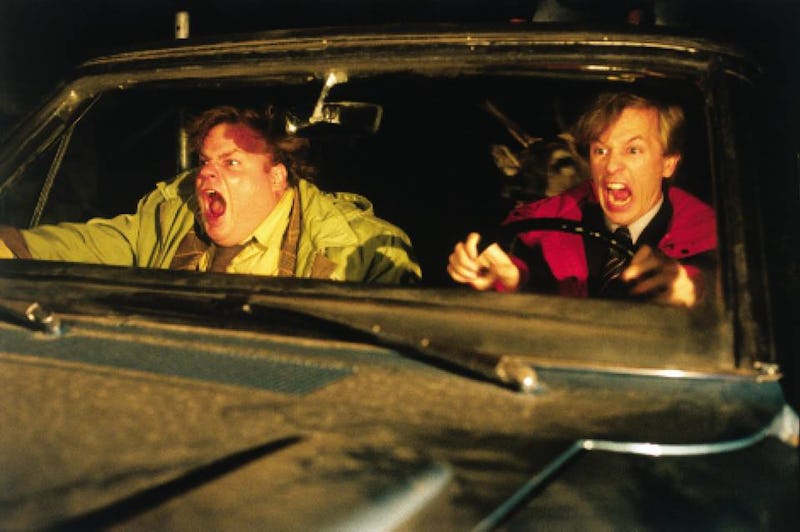 I don't know what it is about it, but whenever Tommy Boy is on TV, I have to stop and watch it. Perhaps its my soft spot for David Spade and Chris Farley, who were part of the "Bad Boys of Saturday Night Live" era in the early 90s. Or maybe it's because so many of the quotes and scenes from Tommy Boy are still relatable, even now celebrating its 20th anniversary. So many of the jokes still live on from the movie, especially "Fat Guy in a Little Coat," which actually originated as an in-joke from Farley and Spade's friendship.
Tommy Boy is like what would've happened after Van Wilder graduated from college. Tommy Callahan III (Farley) finally graduates from college after seven years and returns to his hometown in Ohio to work for his father Tom's auto parts plant. But when the elder Tom (Brian Dennehy) suddenly dies, Tommy embarks on a cross-country road trip with Tom's assistant Richard (Spade) in order to sell enough break pads to repay the company's debts. It's a true underdog story, because everyone — including Tom's con artist new wife (Bo Derek) and her fake son/lover (Rob Lowe) — believes Tommy is to much of an idiot to be able to make it happen.
But hey, he learned a lot during those seven years of college. Here are the enduring lessons, quotes, and memes for every occasion from Tommy Boy.
When You Just Wanna Be A "Fat Guy In A Little Coat"
Spade told Reddit in AMA that the bit originated from their SNL days. "He sang it (which was funny, and not the plan), and then we had to cut the coat in the back to make sure it would rip," Spade wrote. "So that was a long answer for the question of 'did he really rip it.' We had to make sure it would rip, and sound funny, so we had to help it a little bit."
On the movie's anniversary, people are posting tribute pics of themselves in a little coat on Twitter under the hashtag #LittleCoat.
When You Need To Trust Your Instincts
Just take his word for it.
When You Don't Wanna Eat That
It's a more Tommy Boy way of saying, "I'm on a diet."
When You Were Just Insulted
When You Feel The Need To Prove Yourself
When You're So Excited To Hear From Someone
Because brothers. sisters, and best friends don't shake hands.
When You're Being Frank With A Colleague
Honesty and communication are key in the auto parts business.
When You Want To Show Off Your Speed
No better way to say it than Tommy-style.
When You're Totally Shocked
How did this one not catch on more?
When You Gotta Make Up a Historical Hero
Herbie Hancock is an unknown true American hero. And so is Tommy Boy himself.
Images: TommyBoyMovie/Facebook (5); Giphy (4); amy-the-little-new-englander/Tumblr