How David Miscavige Got Where He Is Today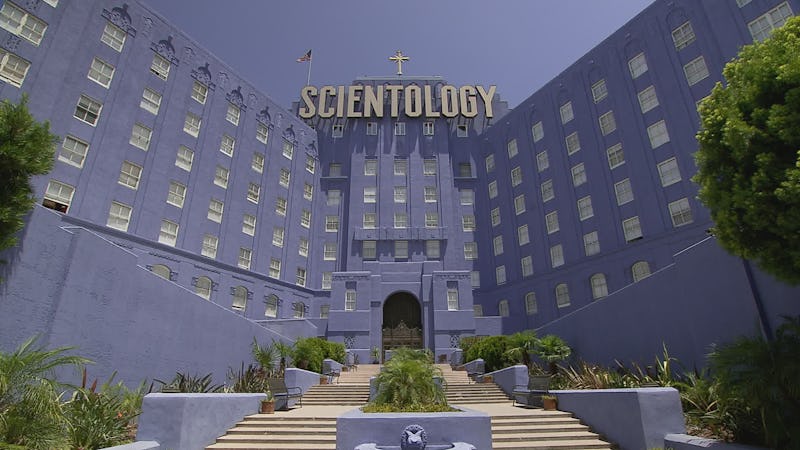 As the leader of the Church of Scientology, David Miscavige has become a central figure in the investigation of the faith, which was further delved into Sunday by the HBO documentary Going Clear. Since the church's founder and creator L. Ron Hubbard died in 1986, Miscavige has held the reins and been the face of both the church and the Religious Technology Center. But just how did Miscavige come to hold so much power in the Church of Scientology? (For its part, the Church says of the documentary: "The accusations made in the film are entirely false and alleged without ever asking the Church.")
Miscavige's journey into the church began at age 14, when his parents allowed him to join Hubbard's children's group called "Commodore's Messengers." However, Miscavige's first faith was Catholicism, and according to the St. Petersburg Times, he received his first communion and had his first confession at the church. Growing up, the southern New Jersey native was often sick and suffered from severe asthma. According to a profile on Miscavige by The New Yorker, he found relief from Dianetics counseling, from which he says he "experienced a miracle."
At age 16, Miscavige dropped out of high school to devote his life to Scientology, and he joined Sea Org, an organization within the church that pledges eternal faith to Scientology. Miscavige seemingly went on to develop a close relationship with Hubbard. As Hubbard's executive assistant, Miscavige was tutored in photography and cinematography, and when Hubbard went into hiding, Miscavige was allegedly one of the few with whom he remained in contact. According to the Los Angeles Times, Miscavige essentially became the sole point of contact between the Church and Hubbard, from where he began to assume more leadership and control.
In 1986, Hubbard died of a stroke at age 74. Just two weeks later, Miscavige, who was in his mid-20s at the time, came onto the stage — both literally and figuratively. When Scientologists gathered at the Hollywood Palladium for an announcement, it was Miscavige who came on stage. He told those in attendance that Hubbard had been investigating higher levels, and that he "has now moved on to the next level" that was "done in an exterior state," reported the Village Voice.
Miscavige soon became the leader of the church. However, it seems he did not obtain power without a challenge. The Los Angeles Times reports that Hubbard had two lieutenants — Pat and Anne Broeker — who many thought would be his successors and who had been in hiding with Hubbard. Allegedly, the struggle for power led to a tug-of-war over Hubbard's final Scientology writings, and Broeker allegedly even went so far as to threaten he would use Hubbard's writing to start a church of his own.
Since that initial power struggle, Miscavige has become a revered and powerful figure in Scientology. The way that Miscavige assumed power is strikingly similar to the way that many describe his current leadership style: forceful and decisive. While Miscavige might have stayed out the public eye, he certainly hasn't escaped the public's curiosity.
Images: HBO (1); Getty Images (2)