'Mad Max' Trailer's 16 Most Insane Moments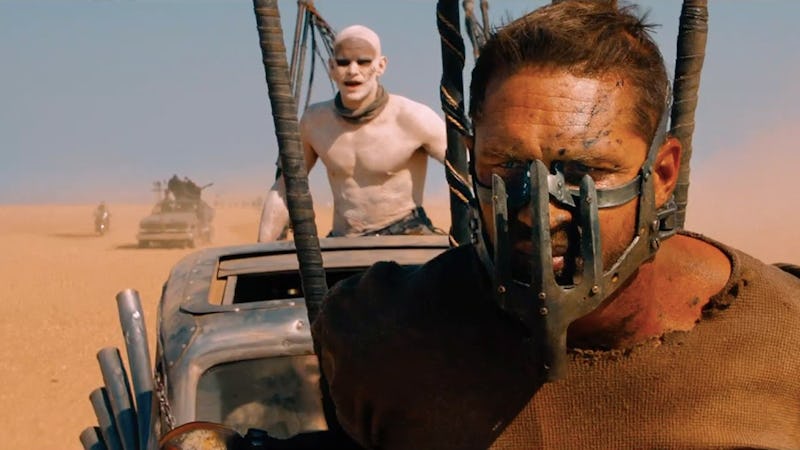 When I heard the latest Mad Max film had gotten the greenlight several years ago, the 2015 release date seemed like a distant date that would never come to fruition. The thought of Tom Hardy (swoon), and Charlize Theron (SWOON), starring in George Miller's iteration had me all hot and bothered. Sort of like Max Rockatansky in the latest trailer for Mad Max: Fury Road.
For the uninitiated, Mad Max: Fury Road surrounds Max, who, in a post-apocalyptic world where people fight to the death, teams up with the mysterious Furiousa in an attempt to survive. Resources are scarce, and Max, who just lost his wife and child to the madness of a destroyed Earth, seeks peace of mind — and you know, like water and food — in the aftermath of his tragedy.
Really, 2015's Mad Max could have zero plot points and I'd be on board. Luckily, the plot, the wild set pieces, the desert landscape, the choppy editing style, and the killer cast have me convinced we'll be in for a wild, and meticulously crafted ride come May 15. Here are the 16 most insane moments of the latest trailer to keep you sane until the movie hits theaters.
Max Looks Like a Fifty Shades of Grey Extra
With fear in his eyes and a gag in his mouth, he might running for his life — or running from a man in a suit and tie who spanked him too hard.
When a Gang of Acrobatic Albino Men Chase Max Over A Car
Skills.
When He Hallucinates About a Young Girl
His deceased daughter?
When He Jumps Out of a Cave Onto a Floating Crane
This move reminds me of Harrison Ford in The Fugitive, jumping to near certain death off the side of a waterfall.
When Bane's Grandfather Makes an Appearance
Hollywood is incestuous, after all.
When Charlize Theron Fails at Eyeliner But Wins at Being Badass
Sure, she has more eyeliner on her forehead than her eyes, but who am I to judge post-apocalyptic beauty trends?
When Divergent's Zoe Kravitz Looks Real Sleepy
Considering the young actress is in just about every movie this year, we understand her desire for a little shut-eye.
When Tom Hardy's Trapped In a Cage & You're Weirdly Turned On
(I mean... what?!)
The Fact That This Post-Apocalyptic Bunker Has A Grand Piano and Chandelier
The world is crumbling and people are dying daily from starvation and heat, but well-maintained ivory keys and Swarovski crystals are a necessity. NBD.
A Glorious Sunset
Reminding us that even after the world is destroyed the sun will still be kickin' it.
When The Little Mermaid's Dad Was Like "Here, Borrow My Trident... For Your Face"
When the Albino Men in Cargo Pants Attack Automobiles With Giant Spears
Works every time!
When a Victoria's Secret Model Makes a Cameo
That would be Transformers actress and lingerie-posing supermodel Rosie Huntington-Whiteley.
When You Almost Don't Realize That The Crazy Dude With the Goggles is NICHOLAS HOULT
When Max Brings Home A Souvenir From Battle
When Conditions Are Never Too Extreme To Indulge In a Little Music
Watch the glorious full trailer below, and see Mad Max: Fury Road when it hits theaters May 15.
Images: Warner Bros./YouTube (16)