Why We Should All Be Reading Rupi Kaur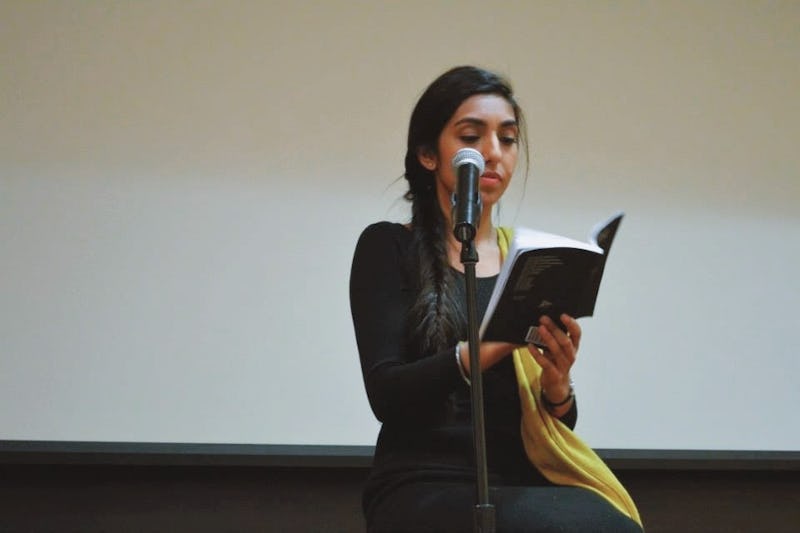 Poet and spoken word artist Rupi Kaur has received a lot of attention in the past weeks for her fiery response to Instagram's decision to censor an image Kaur posted. In it, a woman lies sideways on her bed, a trail of menstrual blood ripping through her sweatpants and onto her sheets. Kaur's response was equal parts cutting and absolutely lovely.
Kaur's signature combination of gentleness and fire is quickly making the Toronto-based spoken word poet one of my favorite contemporary voices. Kaur's poetry collection milk and honey , which came out November 2014, is frank, unnerving, and incredibly moving. It's been sitting on my nightstand for a few weeks now, and even though I've parsed through pretty much all the poems by now, they still make for both comforting and invigorating bedtime reading after a rough day — or for inspiration as I delve into my own writing. Divided into four increasingly personal chapters and adorned with her own simple, haunting sketches, the collection traces Kaur's coming into her own as a poet and a woman, her loss, pain, love, and healing.
Kaur is a natural speaker, comfortable, poised, and animated in front of a microphone — so it's not surprising that what stands out most in her poetry is the way she transmits her eager-hearted wisdom through her poem's even cadence and her sentence's piercing simplicity: at times collected, torrential at others.
Here are 7 reasons why Kaur's poetry is essential reading:
It will make your heart race
i don't know what living a balanced life feels likewhen i am sadi don't cry i pourwhen i am happyi don't smile i glowwhen i am angryi don't yell i burn
It will make you angry
our backstell storiesno books havethe spine tocarry
It will make you shiver
he placed his handson my mindbefore reachingfor my waistmy hipsor my lipshe didn't call me beautiful firsthe called meexquisite
It will make you hopeful
you are the faint linebetween faith andblindly waiting
It will make you smile
i want to apologize to all the womeni have called prettybefore i've called them intelligent or bravei am sorry i made it sound as thoughsomething as simple as what you're born withis the most you have to be proud of when yourspirit has crushed mountainsfrom now on i will say things likeyou are resilient or you are extraordinarynot because i don't think you're prettybut because you are so much more than that
It will make you think
of course i want to be successfulbut i don't crave success for mei need to be successful to gainenough milk and honeyto help those aroundme succeed
It will make you feel empowered
the next time hepoints out thehair on your legs isgrowing back remindthat boy your bodyis not his homehe is a guestwarn him tonever outstephis welcomeagain
It will make you strong
you mustwant to spend the rest of your lifewith yourselffirst
Image: rupikaur.com