Can Rain Boots Be Comfortable? I Tested 10 Pairs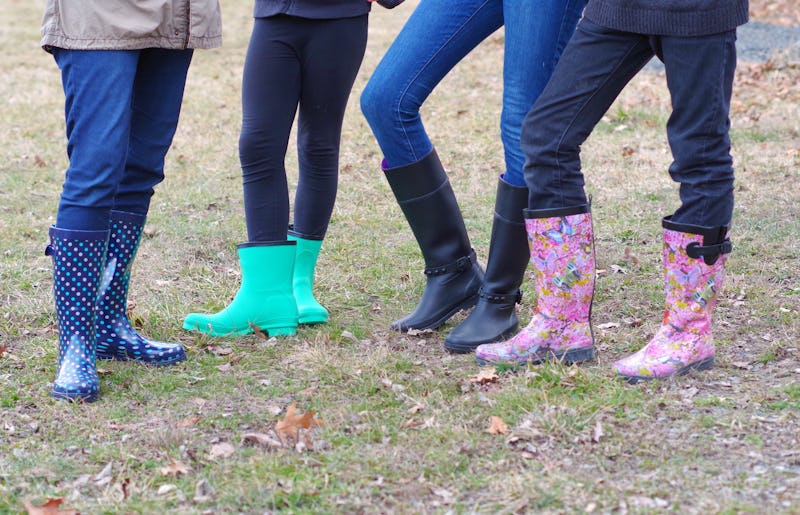 April has finally arrived, which seems like a relief after a long winter — until the spring showers start. If you don't own a pair of comfortable rain boots, this entire next month is going to be hellish for you as you trek to work in a downpour, trying (and failing) to avoid puddles, getting your feet wet, and ruining your favorite shoes. Let's not even talk about what your feet will look like if you try to go to Coachella wearing sandals.
So you need a pair of rain boots ASAP. We're agreed. But they also need to be comfortable. Nothing is worse than clomping around all day in rain boots that are heavy and too big, or worse, uncomfortably cramped and hot. Plus, most rain boots lack proper support, leaving your feet feeling sore after a long day.
Well, not these boots. I took it upon myself to test drive multiple pairs of rain boots. They had to be cute, sure, but most importantly they had to be comfortable enough to wear all day. I found ten pairs of rain boots that are comfortable enough (and stylish enough) to wear to work, on a date, or to some crazy music festival in the desert. You may find yourself wanting to wear some of these when it's not even raining.
Here are my top ten comfortable rain boots from these stores:
Missguided
Lace Up Wellies Hot Pink, $36, Missguidedus
These Lace-Up Wellies are a lot of fun and would go well with a floral dress for a cute spring outfit. You can lace them up all the way (or not, as shown above) and show off colorful socks because they're clear. The platform also gives a bit of extra height, which is nice. These are comfortable as long as you get the right size — I went up one size myself so I would definitely recommend doing that.
T.J. Maxx
Dirty Laundry Mid Calf Studded Rain Boots, $22, TJMaxx
T.J. Maxx has a great selection of discounted rain boots. The matte black rain boots with studs seem simple until you notice the studs that give a subtle rocker vibe (and they also have a secret purple lining). I wore my usual size with these and they fit perfectly.
These butterfly and flower print tall rain boots ($25), on the other hand, are a girly-girl's dream this spring. I could see Zooey Deschanel wearing these on New Girl. These fit in my usual size and can also be adjusted with the strap. Plus they have a good amount of arch support thanks to a small heel.
Marshall's
If you don't have a T.J. Maxx near you, check out your local Marshall's for discounted rain boots. I really liked these navy blue rain boots with white and mint colored polka dots ($25) that add a nice touch to any outfit:
And these green mid-calf rain boots ($35) are the perfect spring color and were very light and roomy:
Lastly, these chic black ankle rain boots ($50) were my favorite Marshall's find:
They don't even look like rain boots. You could easily dress them up or down. They didn't feel like typical rain boots either, since they weren't clunky or heavy and were comfortable to walk in all day.
Muck Boot
Breezy Tall Insulated Rain Boot in Black Gingham, $100, Muckbootcompany
Gingham is second only to florals in the spring, and these boots also come in pink, blue, and purple gingham, as well as solid black. I found these surprisingly lightweight, plus the midsole cushions and insulation kept my feet comfy and dry all day. I went up one size with these.
Puddletons
Classic Wellie Style Rain Boot, $60, Puddletons
These are a classic pair of rain boots with a really flattering shape. They have a few different colors and designs in case you're not as into black as I am. I suggest going up a size. You can adjust the tightness with the strap. These had a slightly arched shape, making them comfortable to wear all day.
däv
Finally, I tried out two pairs of däv rain boots and immediately became a big fan. Their stylish rain boots are very popular amongst celebrities, so I was surprised to find that both of these boots are under $100.
Glasgow Oxblood, $75, Davrain
Their Glasgow pair in Oxblood is gorgeous, with a sophisticated patent shine and pop of color. This is one pair of rain boots that you could actually wear to work. Celebs such as Jaime King, Kendall Jenner, and Gigi Hadid have all been seen wearing the Glasgow, so you know they're legit.
The oxblood panels are stretchy, which makes the fit more comfortable. Of course, since the toe is pointed they can be a little snug in that area. I wore my usual size but you may want to go up one size with these for a looser fit (especially if you have wide feet).
Liverpool Solid Black, $79, Davrain
I also love their Liverpool boot. It's a rain boot masquerading as the classic moto boot, and it actually pulls it off. You wouldn't know they're rain boots unless you took a very close look. Vanessa Hudgens, Alessandra Ambrosio and other stars have been spotted wearing these. As for the fit, I definitely had to go up one size with these, but then they were perfect for wearing all day.
Images: Josh Kirby