10 Halloween TV Episodes So Good, It's Scary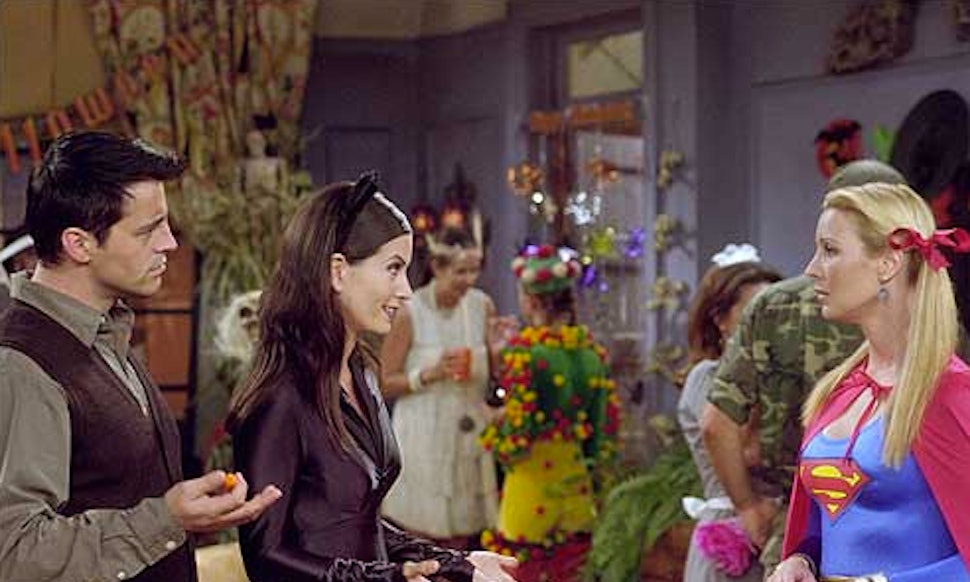 Halloween is almost upon us, and eventually our roommates are going to tire of us rewatching Hocus Pocus on repeat. And so we move to television, the history of which is ripe with goofy horror homages, B-horror, great costumes, and the mix-ups that come with them.
Here are some of our favorite Halloween episodes of television past. We're sure we left some off the list (and Buffy and Community both had multiple supremely good selections), so hit us up on twitter and let us know your favorites.
Tweet us @Bustle and @AlannaBennett
'Community': "Epidemiology"
The basic premise: There is a zombie-like outbreak at the Greendale Halloween party. Troy must prove he has what it takes to be the first black man to make it out of the horror movie alive.
What we love about it: We can never listen to ABBA anymore without thinking a little bit about zombies. Instant classic.
Favorite costume: Troy rebelling from his geekiness by going as "A sexy Dracula," and Dean Pelton as Lady Gaga.
Notable line(s): "I love you." "I know."; "Back burner, Troy! This cat must be dealt with!"
Image: NBC
'Friends': "The One With the Halloween Party"
The basic premise: Monica and Chandler have a costume party. Rachel tries to bond with some children by giving them money, Phoebe interacts with twin sister Ursula and her fiancé (guest star Sean Penn), and Ross tries to get people to get his costume.
What we love about it: Monica and Phoebe going head-to-head as Supergirl and Catwoman was also pretty great.
Favorite costume: We honestly can't choose. Ross as "Spud-nik" is a seminal classic, but Chandler in that bunny costume will be with us forever.
Notable line(s): "Hey, Ross came as doody!"; [Watching Chandler and Ross arm wrestle] "Wow, they must be very strong." "Or equally weak."
Image: NBC
'Buffy the Vampire Slayer': "Halloween"
The basic premise: Buffy had many awesome Halloween episodes to choose from — and "Band Candy" aired on Halloween but wasn't a holiday-themed episode, therefore it couldn't make this list despite its greatness. But we're going with the episode actually called "Halloween" for this one, because in it all the characters start turning into the costumes they're wearing. Buffy into a fainting 18th century damsel (so not exactly her usual self), Xander into a soldier (also not exactly his usual self), etc.
What we love about it: It's a good mix-up of the usual roles the characters play to each other, plus it's just fun. And it's when we first meet Oz!
Favorite costume: Nothing will beat the season when Willow went as Joan of Arc and Oz as "God," but Willow as a slutty ghost was weirdly adorable.
Notable line(s): [When Buffy faints] "She couldn't have dressed up like Xena?";
Image: The WB
'Dawson's Creek': "The Scare"
The basic premise: We're breaking multiple rules with this one, because this episode aired in May (of 1998) and Dawson's Creek does actually have some that are set on Halloween. But rules be damned! Friday the 13th episodes totally count! This episode revels in the spooky magic of Halloween even if it doesn't take place on it. It's a horror movie homage from the writer of Scream, what more could you ask for?
What we love about it: Sometimes you just gotta give into the '90s B-Horror of it all. Let it wash over you. It is glorious, and actually lends itself to suspense. And Scott Foley's there!
Favorite costume: N/A, except for that we love Pacey's '90s shirts always.
Notable line(s): Dawson says he loves horror movies because they "provide positive examples of ordinary people overcoming their worst fears and conquering evil." Which is just such a Dawson thing to say. Image: The WB
'Parks and Rec': "Greg Pikitis"
The basic premise: Leslie is determined to stop charming young conboy Greg Pikitis from vandalizing one of her parks like he does most Halloweens. Chaos ensues. Elsewhere, Ann throws a dud of a Halloween party until Tom steps in with his services.
What we love about it: It's Leslie at her most unapologetically manic and obsessed, and it is beautiful to watch.
Favorite costume: Tom as Lil Wayne, Ann as Raggedy Ann.
Notable Line(s): "Do you know how much fun gay halloween parties are? Last year I saw three Jonas Brothers making out with a Robert Pattinson.";"He's like an invisible, adolescent, James Bond super villain criminal mastermind. Or maybe someone else is doing it."
Leslie: Commit this to memory. You see him, you stomp him. Knock his head off if you have to. Dave: Don't do that. Leslie: Don't do that. But I give you permission to use excessive force. Dave: Don't use excessive force. Leslie: Don't go overboard. Just stop him, by any means necessary. Dave: No. Leslie: No. Just stop him. (under breath) You know what I mean
Image: NBC
'Louie': "Halloween; Ellie"
The basic premise: Louie takes his daughters trick-or-treating. Given that Louis CK revels in exploring the dark sides of life alongside the ordinary, things get real. Specifically, the type of real that comes with letting your kids trick-or-treat after the sun goes down in New York City.
Why we love it: For the same reason we love everything CK does: It's a realist taking a surprisingly sweet look at the world.
Best costume: CK's older daughter goes as abolitionist and social reformer Frederick Douglas. It is politically incorrect, of course, for a small white child to go as a black man. But this is a comedy show and it's also brilliant.
Image: FX
'How I Met Your Mother': "Slutty Pumpkin"
The basic premise: Ted spends another Halloween in search of the mystical woman he once saw wearing a beguiling slutty pumpkin costume years before. It's all very Ted.
Why we love it: It is the epitome of classic How I Met Your Mother.
Best costume: Marshall and Lily as Jack Sparrow and his parrot are the most impressive, but we can't get over the Ted-ness of Ted going as a "Hanging Chad."
Notable line(s): "I penguin-suited up to show you the error of your ways."
Image: CBS
'Boy Meets World': "And Then There Was Shawn"
The basic premise: Detention turns into a horror movie when someone writes on the board "NO ONE GETS OUT ALIVE." We're breaking our own rules again but this is classic '90s television at its finest.
Why we love it: The horror homages, Angela's screaming, watching who gets killed off, how, and when. It also got really emotional about Shawn. And Jennifer Love Hewitt was there!
Notable line(s): "Oh my God, they killed Feeny!"; "What's your name?" "Jennifer Love Fefferman" "May I call you Feffie?" "Everyone does";
Image: ABC
'Freaks and Geeks': "Tricks and Treats"
The basic premise: The "geeks" go trick-or-treating, the "freaks" cause some Halloween chaos throughout the neighborhood at the expense of the non-Lindsay Weirs.
Why we love it: It's an episode of Freaks and Geeks, which means it is near perfection in teen-showdom. Plus, it's hilarious, with nice touches of familial emotion.
The best costume: Bill as the bionic woman, hands down.
Notable line(s): "I'm sorry Steve Austin. I can't marry you. I'm mad at you right now. What? I'm sorry I can't hear you. Hold on I'm gonna put the phone on my bionic ear. That's, that's better. No, don't talk so loud! Don't forget I've got bionic hearing. No! These are not bionic! These are all me!"
Image: NBC
'Happy Endings': "Spooky Endings"
The basic premise: The gang goes to a warehouse party, wherein everyone assumes Alex in a Marilyn Monroe costume is a man (she's got a sore throat). Elsewhere, Brad and Jane battle demon youth in the suburbs.
Why we love it: These people are crazy enough without the costumes and the sugar-high. With it? All bets are off. And Alex's dance is the best.
Best costume: Alex was rocking that Marilyn costume, but Penny and Max as mom-and-baby was delightfully weird (and inconvenient).
Notable line(s): "Halloween is the Superbowl of drinking." "Isn't the Superbowl the Superbowl of drinking?" "No, the Superbowl is the Halloween of football."; "Halloween is the Arbor Day of urinating!" "So wait, that makes Arbor Day the Wimbledon of having sex." "YES! You GET ME, bro!"
Image: ABC