8 Things We Need to See in 'Beetlejuice 2'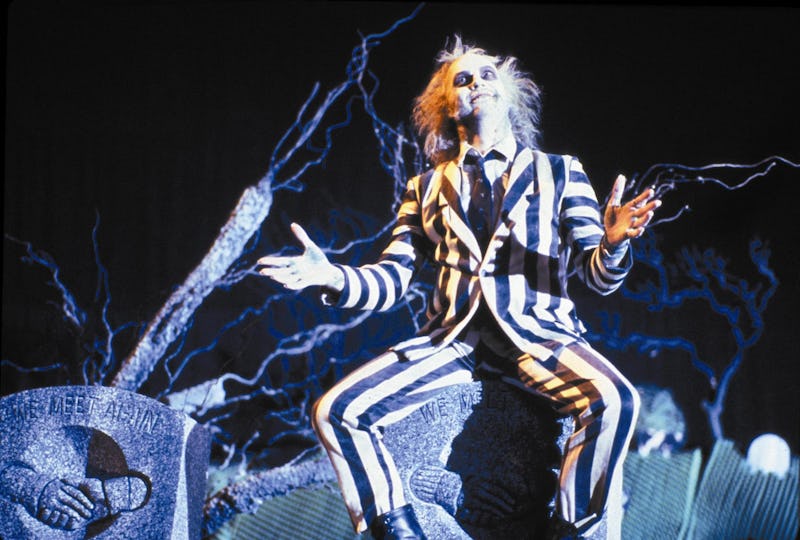 If we've learned anything from Beetlejuice's wise sage and case worker Juno, it's that we should never trust the living. More so do not, under any circumstances, call Beetlejuice. Well Juno, we're sorry to have to do this, but, "BEETLEJUICE! BEETLEJUICE! BEETLEJUICE!" That's right Deetzes, guess who's back? Tim Burton is in talks to direct Beetlejuice 2 . The project would also have Michael Keaton reprising his role as the scummiest and wittiest poltergeist this side of the Inferno (And thank Hell, because no one else could dare touch that role). No word yet on any of the other original cast members signing on or what elements of the original film the sequel will include. For now, we might have Burton and Keaton and we couldn't be more excited... unless we were actually being possessed by the man himself to sing and dance all over the place. No need, we've already started a conga line of our own.
Tim Burton has kept busy, to say the very least, in the 25 years since creating Beetlejuice. He's recently been nominated for an Academy Award for his work on Frankenweenie and also experienced a few flops. (Does anyone remember Dark Shadows?) Burton has consistently injected a very macabre sense of humor and a fantastical, imaginative visual style that has gone unmatched in his quarter-century contribution to the world of movies. Beetlejuice was the film that trademarked Burton's artistic vision and directorial style. We're thrilled to death to re-visit the other side with our favorite undead sideshow that is Beetlejuice. Here are a few things we hope make its way into the long-awaited sequel:
The Robin Thicke Call Out
By the time Beetlejuice 2 is released, some other tacky celebrity incident will have overshadowed the Robin Thicke/Miley Cyrus VMA Twerk-Gate of 2013. Still, wouldn't you love to see Beetlejuice flick a tiny shrunken Robin Thicke across Adam's model town? Better yet, Robin Thicke sitting in the waiting room along with these guys:
Image: Robin Thicke in NY Daily News
Lydia Deetz Update
Oh Lydia, you former angsty teenager, you! Tell us what you're up to these days. Teaching Photography at a New England Liberal Arts College? Still hanging out with Barbara and Adam? Annoyed that Instagram stole all your ideas? We know you're all grown up now, but we sure hope you're still just as weird.
More Rousing Musical Numbers
If only we could reprise Catherine O'Hara's amazing sideburns. We'll settle for more paranormal song and dance routines. Go bigger this time. Maybe Beetlejuice and the Maitlands can capitalize on flash mobs and get an entire stadium thrusting their hips and shaking their rumps to the oldies.
Artwork by Delia Deetz
We know it wouldn't be fair to expect the sequel to be just a simple continuation of the original. Too much time has passed — but there's just too much to love from the original. The over-the-top decor of the Deetz re-model of the Maitland house is what made the living world seem just as strange as the non-living world. Promise us, Mr. Burton that you will at least throw some artwork by Delia Deetz into the film.
Image: Beetlejuice, Geffen Company
More Time with Case Workers and the Handbook
Beetlejuice was technically a comedy, but boy oh boy, it went to some dark places. The moment when the janitor opens the blinds to show the lost souls room was seriously unsettling. We think the sequel could dive a little deeper into the "other side." Our own morbid curiosity begs to know what happens when we die — might as well be entertained when exploring the question. There's no one better for the task than Tim Burton.
Image: Beetlejuice, Geffen Company
Beetlejuice takes on the Internet
We think it's time Beetlejuice updated his marketing scheme. Not that his TV spots as the leading bio-exorcist weren't great, we just think he could really capitalize on the Internet. He could give a whole new meaning to "going viral." A free demon possession with every exorcism is still valid.
Beetlejuice 2: Ghosts in the City or Beetlejuice 2: Bohemian Demon
The placid New England setting of Beetlejuice was pitch perfect for the original. We'd like to see where else in the world Beetlejuice could cause some trouble. Burton has a knack for using Smalltown America for setting his dark heroes against the very white picket fence idea of "normal." We'd like to see what happens when his characters go to places where more people let their freak flag fly, we think it could be some serious fun.
Image: Beetlejuice, Geffen Company
Danny Elfman, Please
Fans, do yourself a favor and watch the "Score Only" version of Beetlejuice in the DVD extras. It's the entire film played without any audio except for the original music written by Danny Elfman. The film changes into something much, much more eerie. It's tough to capture the magic of a successful original film in a sequel — however, we think it'll be a much easier task with Danny Elfman's compositions on board. Thankfully Elfman and Burton have collaborated on dozens of projects over the decades, and we're banking on his involvement with the project.
Image: Warner Bros.