Where Is Gia From 'Full House' These Days?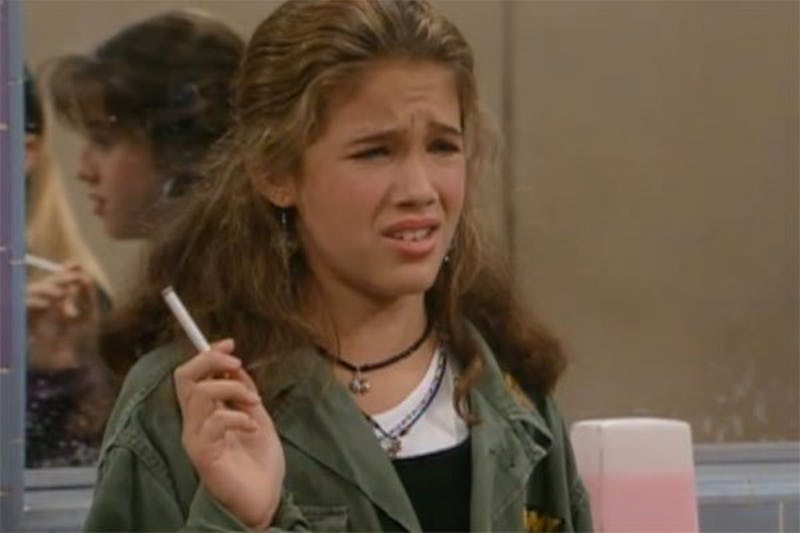 Growing up, I thought that Gia from Full House was ridiculously cool. For a while there, she was not supposed to be the character we looked up to. She was pretty much your classic middle school mean girl — she taunted Stephanie for not smoking, encouraged her to go to a makeout party, and basically threw the middle Tanner child under the bus for her own crimes. Gia was eventually redeemed, but my love for her started from her very first appearance on the show. Those crop tops! The expressive brow raise! That attitude! How was I not supposed to think she was coolest? We can thank actress Marla Sokoloff for Gia's seemingly innate Cool Girl persona.
The actress appeared on multiple sitcoms in the '90s and early '00s, and though you might not recognize her name, she's been on the TV landscape since she was barely a tween. But what did she do after her time playing Full House's baddest BFF? Here's what Sokoloff has been up to since her time hanging with the Tanner family — and which famous movie star she dated for five years.
Tons Of Sitcoms
The actress booked Full House in 1993, and appeared in eight episodes. She went on to guest star on Boy Meets World, Step By Step and Home Improvement. If you were sitcom-obsessed in the late '90s, you definitely saw her face a few times.
Party of Five (1995-1996)
Apparently, Sokoloff was typecast as a bad girl of '90s television, because she had a recurring role as troublemaker Jody on the family drama. Check out the above scene, in which she cons her way into free ice cream.
Over the Top (1997)
Sokoloff was a series regular on this short-lived sitcom, which featured major names like Tim Curry and the soon-to-be famous Steve Carell.
The Practice (1998-2004)
Sokoloff played Lucy, the receptionist at the titular law firm who later became a counselor for rape victims. She appeared on 113 episodes of the series, but left in Season 7 before returning for the finale.
Whatever It Takes (2000)
You may not remember this modern-day Cyrano De Bergerac, but Sokoloff met actor James Franco, whom she went on to date for five years, while shooting it.
Friends (2001)
Friends fanatics will definitely remember Sokoloff. She played Dina, Joey's youngest sister, who got pregnant and had to break the news to Joey.
Desperate Housewives (2004-2005)
Sokoloff played a nanny named Claire on three episodes of the soapy series.
Big Day (2006-2007)
This entire ABC series took place over the course of one day: the day of the wedding of Sokoloff's character, Alice.
TV Guest Star Stints
Sokoloff guest-starred on a number of shows throughout the mid '00s, including Burn Notice, CSI: NY (featured above) and Melissa & Joey.
Today, Sokoloff is certainly no high school mean girl. Stephanie's former friend is now married to Deadsy drummer Alec Puro and has two kids. Here's what she looks like today (and, yes, she is friends with Haylie Duff).
Image: ABC