'Meet the Smiths' Is Your Intro To A Sports Legacy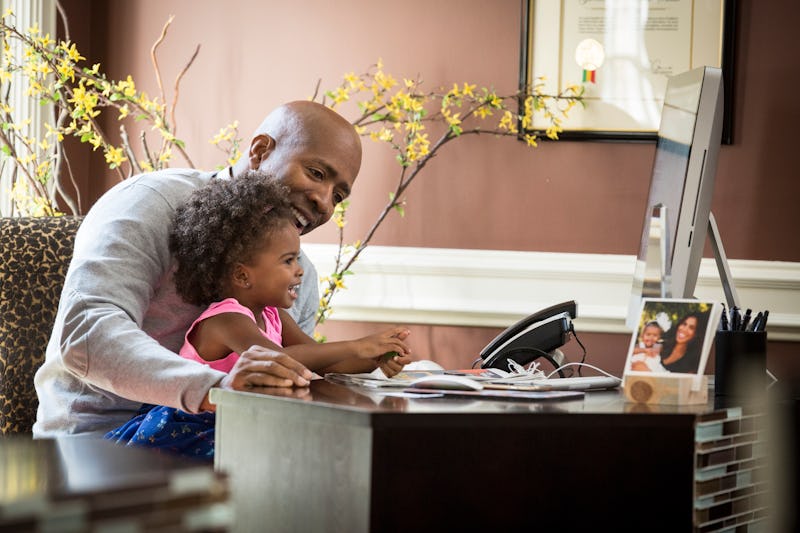 You don't need to have a last name as well known as Kardashian to become a reality TV star, and no one proves that more than the Smith family of TBS' Meet the Smiths. If you haven't heard of them before, you might be wondering what makes the Smiths interesting enough to warrant their very own reality show. Well, Kenny Smith is a former NBA player and current commentator on Inside the NBA with Charles Barkley, Shaq, and Ernie Johnson (which is easily the most entertaining sports panel on TV). But before his commentating and reality TV career began, Smith won two championships with the Houston Rockets and played for a handful of other NBA teams during his nine-season career. Basically, if you're a sports fan, you've seen Smith before.
But why is that enough for a reality show? Well, series like Deion's Family Playbook, Basketball Wives, and La La's Full Court Life have already shown that there's a market for athletes, current or former, and their families on TV. But what's possibly the most interesting thing about this show so far is a small quotation from its Wikipedia page which says, " Meet the Smiths is a scripted reality show on TBS." I know, it's just a misprint, but maybe a few prewritten car chases would make this show wildly exciting, though Smith's family seem like they're bringing a lot to the table as it is.
Kenny Smith
He's the lead of the show, the paterfamilias, and the main draw for TBS. He played basketball in Houston, Sacramento, Atlanta, and Detroit over nine seasons. His personal website describes him as "The Jet," which is a very cool nickname for what seems like a very normal family man.
Gwendolyn Osbourne-Smith
Kenny's wife is a British actress, model, and now singer trying to make her way while also raising two small children and Smith's older three children. She's also been a Price Is Right model/castmember for the past 10 years.
KJ Smith
The oldest Smith son his following in his father's footsteps. He's a successful high school basketball player.
Kayla Brianna Smith
She's one of Kenny's elder children. She's also trying to get into the music business — she has a record, "Honest," that seems to take on themes of domestic violence and the pressure women are under to "protect" abusive spouses. Those are some heavy themes for a first single, so I'm intrigued.
Monique Green
Their next youngest daughter has an excellent Instagram.
Malloy Smith/London Smith
There are two cute babies on this show! At five and two years old, they are going to be very busy being adorable, and that's pretty much my main reason to check out the premiere of Meet the Smiths on Friday night at 9 p.m.
Images: Trae Patton, Tyler Golden/TBS