It's Time To Get On The Beauty Patch Bandwagon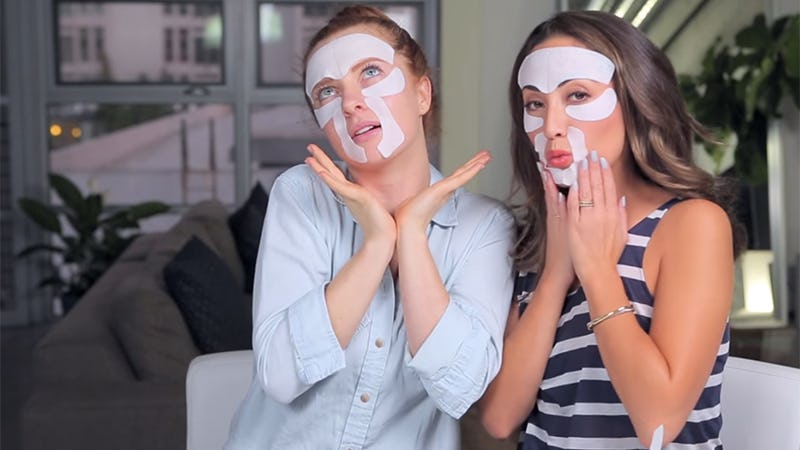 The word "patch" doesn't inspire the most stellar associations when it comes to beauty and fashion, but 2015 is well on the way to transforming the humble item's reputation. Gel eye and skin patches are official the next, kinda-weird-looking-but-really-amazing thing in the beauty world. Forget your immediate impulse to think eye patches, nicotine patches, or the unsightly fabric squares you use to disguise holes in your skinny jeans, because the patch is undergoing a major makeover this year.
2015's patches aren't designed to help you quit smoking or disguise a trip to the optometrist. Instead, the beauty industry has rebranded patches as convenient, quick, skin-perfecting solutions to unsightly ailments from acne and bloat to uneven skin tone. Think of the eye patch as the modern equivalent of a chilled cucumber slice under each eye or a slapdash layer of blemish cream atop a pimple, only infinitely more effective and efficient on a limited time frame. Instead of dousing your face in sloppy serums, layering on messy masks, or attempting to create a puzzle-like amalgamation of multiple liquid treatments to heal varying concerns, patches can provide your skin clean and streamlined solutions with minimal effort and even less time. And for those looking to beautify without breaking the bank, at-home patch treatments are a drop in the bucket compared to pricey spa procedures.
The first, and perhaps most prevalent form of patch is the under eye model, designed to sweep away traces of late night carousing and fatigue with a cocktail of skin-soothing ingredients. Beloved beauty companies from Guerlain to Klorane are introducing patches into their product lineups, but newer companies such as Patchology and skyn Iceland with dermatological innovation on the brain are truly leading the charge in terms of patch technology. Skyn Iceland's Hydro Cool Firming Eye Gels nabbed a spot on Harper's Bazaar's 2013 Beauty Hot 100 list and praise from Rachel Zoe for its de-puffing and tightening effects. Patchology's Energizing Eye Patches were a backstage favorite during New York Fashion Week and have been touted by publications from Allure to TeenVogue for their anti-aging effects within minutes of use. Indeed, under-eye patches are intended to manifest significant results in a limited amount of time for consumers who only have a split second to spare for beauty before launching into their hectic schedules. Patchology's Energizing Eye Patches were devised with just such a customer in mind, uniting a moisturizing mix of ingredients including Vitamin C and Hyaluronic Acid with micro-current technology to allow the product to penetrate the epidermis and create quick yet lasting results. In addition, the brand's newly released FlashPatch Eye Gels provide a similarly beneficial treatment in the span of only five minutes.
Patchology FlashPatch Eye Gels, $50, Amazon
If under eye issues are not your primary concern, fear not: Patches targeting acne, external signs of aging, and dark spots are also on the rise. Frownies' highly-regarded Forehead and Between the Eyes Facial Patches utilize a simple combination of unbleached paper and corn-based adhesive to address deep creases in the face by preventing the forehead from moving in ways that may cause wrinkles instead of attempting to undo wrinkles with a laundry list of chemical ingredients. Meanwhile, blackhead sufferers will find Dr. Jart+'s Blackhead Master Patch much like the classic Biore Deep Cleansing Pore Strips, with the addition of tea tree extract and witch hazel for increased purifying power and efficacy.
Dr. Jart + Blackhead Master Patch, $35, Sephora; Biore Deep Cleansing Pore Strips, $14, Amazon
Frownies Forehead & Between Eyes, $18, Amazon
If patches continue their upward trajectory in terms of popularity and pleasing product formulas, it seems that these small yet mighty strips could be the wave of the future for the beauty industry. If you're on a serious time budget and a trip to the day spa is out of the question, it may be time to give your glutinous clay mask a break and reach for a five-minute patch instead. Who days consumers can't have a product that is fast, cheap, and good?
Images: ipsy/Youtube; Courtesy Brands