Mom Dancing Just Became The Coolest Thing Ever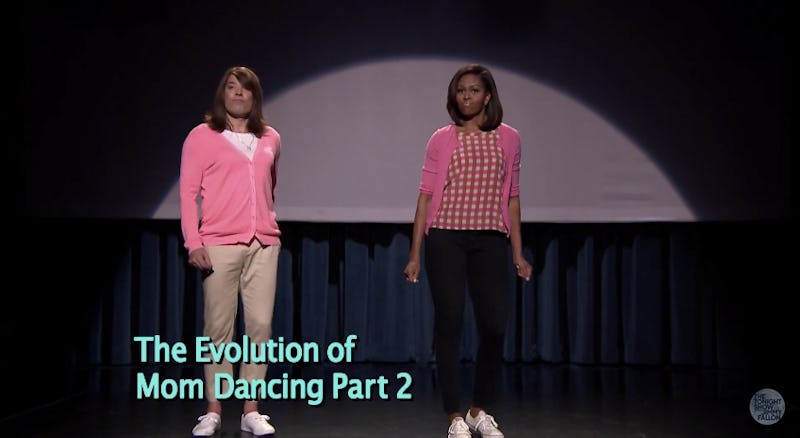 Mom jeans have come back in style and now so has mom dancing. On Thursday night, the ever amazing First Lady graced The Tonight Show Starring Jimmy Fallon to honor the fifth anniversary of her mainstay initiative Let's Move!, which encourages Americans to live a healthy lifestyle. Let's get real — Michelle Obama and Jimmy Fallon mom dancing might be the best thing you'll watch all year.
This isn't the first time that Malia and Sasha's mom has shown her dance moves to inspire Americans to get active. First Lady Obama had a dance-off with Ellen DeGeneres last month on The Ellen Degeneres Show. The two got down with a choreographed piece to Bruno Mars' "Uptown Funk," with beginner-friendly moves aimed at parents and children alike.
The Tonight Show segment, titled "The Evolution of Mom Dancing Part 2," opens with Fallon standing alone on stage with a spotlight. In a copper wig, he bops to a lighthearted beat while also wearing a pink cardigan, khakis, and white sneaks. Fallon's soon joined by Obama in a similar pink ensemble, and together, they remake embarrassing mom moves that will no doubt make their way to every party and shindig this year.
The Classic "Shimmy Twist"
Shake it off, shake it off!
The "Shush And Tush"
Taking a cue from the Coppertone baby.
The "Knock Knock"
Who's there?
The "Getting A Bag From Your Collection Of Plastic Bags Under The Sink"
My mom isn't the only one!
The "You Go, Girl"
No, YOU go girl!
The "This Ol' Thing? I Got It At Talbots"
Style for style.
The "I Can Still Do This Dance Because My Arms Are In Shape"
#Blessed.
The "Can We Turn The AC Up?"
My mom always said no.
The "One Move Behind In Zumba Class"
Why can't life be just like Step Up — Channing Tatum included.
The "No One's Looking (Just Makin' Sure)"
Guilty.
The "Trying To Start A Conga Line"
There should be a law banning this at weddings.
The "Oh My God, I Didn't Know You Were Coming Here!"
There's a woo girl in all of us.
The "Barack Obama"
Gotta stand by your man.
The "Jimmy Fallon"
Sorry Jimmy, you just got served.
During their sit-down interview, Obama and Fallon asked mothers everywhere to post videos of their own mom moves with #MomDance. The fun segment shows just how fearless our FLOTUS is, especially when it comes to a great program like Let's Move! Check out the full piece and watch Obama and Fallon make mom dancing cool.
Images: NBCUniversal