13 Bridesmaid Gifts To Get Your Bridal Party, Because These Ladies Are The REAL Loves Of Your Life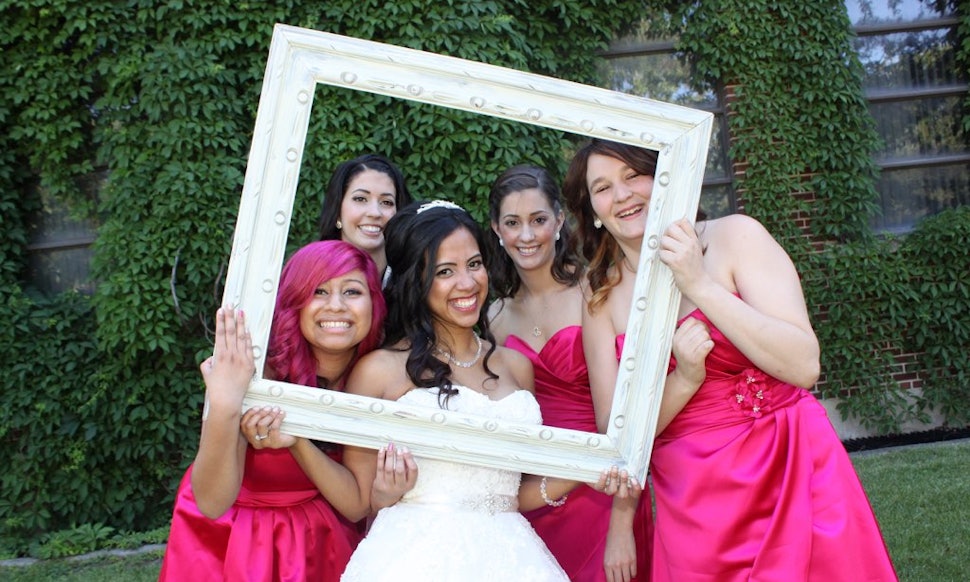 Planning a wedding is both a joyous and hectic time for any bride. Luckily, you don't have to do it alone. While the groom is the bride's number one go-to for wedding day decisions, it's the bridesmaids who handle all the little details on your big day — so treat them to one of these unique bridesmaid gifts. We love the tradition of giving your favorite ladies something special to honor their friendship and participation in your wedding. After all, it's hard to get through one of the biggest days of your life without your best girlfriends standing by your side.
But with a million items already on your checklist, it's hard to throw one more thing into the mix. So we took the reigns on this one by putting together an ultimate gift guide for the girls. Here are thoughtful and practical gifts your bridesmaids will love!
Image: James Zimmerman/Flickr
Bridesmaid Handkerchief
Pearl Bracelet & Earrings Set
Monogrammed Robes
Monogrammed robes are the best way for you and your girlfriends to get ready for the big day.
Monogrammed Robes, $25, Etsy
Bridesmaid Cuff
Give a special thanks to your bridesmaids with these personalized cuff bracelets that have an engraved message on the inside, and a floral textured pattern on the outside.
Bridesmaid Cuff, $23, Etsy
Initial Pendants
These vintage initial pendants are available in multiple colors like aquamarine and coral peach, and are a great addition to any bridesmaid dress.
Initial Necklace, $22, Etsy
Personalized Compact Mirrors
A compact mirror is a bridesmaid's must-have on the big day. There are tons of design options to choose from when customizing these perfect pocket gifts.
Compact Mirrors, $15, Etsy
Knot Bracelets
This is the perfect gift to get the girls you can't tie the knot without. This stunning bracelet is adjustable, and looks great alone or stacked with other bracelets
Gold Finish Knot Bracelet, $9, Bella Harper Boutique
Monogrammed Makeup Bags
These monogrammed makeup bags are cute and stylish, but also super useful the day of the wedding. They're the perfect size for carrying all your makeup essentials, and with personalized initials you won't have to worry about the girls mixing up their bags.
Monogrammed Chevron Makeup Bags, $12, Etsy
Personalized Manicure Set
This "handy" set comes with everything you need for well-manicured hands in a beautifully engraved matte finished tube. A thoughtful gift the girls can use any time.
Personalized Manicure Set, $18, LazerDesigns
Monogrammed Coffee Tumblers
Customize these trendy coffee tumblers for your bridesmaids, because everyone needs a little caffeine in their system on the big day.
Tumblers, $14, Melshera
Sterling Silver Knot Rings
"Knot" your average friendship ring! Since rings are a big part of the day, give your bridesmaids a tie-the-knot ring for being there for you when it matters most.
Sterling Silver Knot Ring, $16, PreciousWings
Jewelry Dish
Give your favorite ladies a personalized clay dish ideal for rings and other small items of jewelry.
Jewelry Dish, $12, TheBrickKiln
Mini Emergency Kit