This Is The Most Amazing Bloody Mary Ever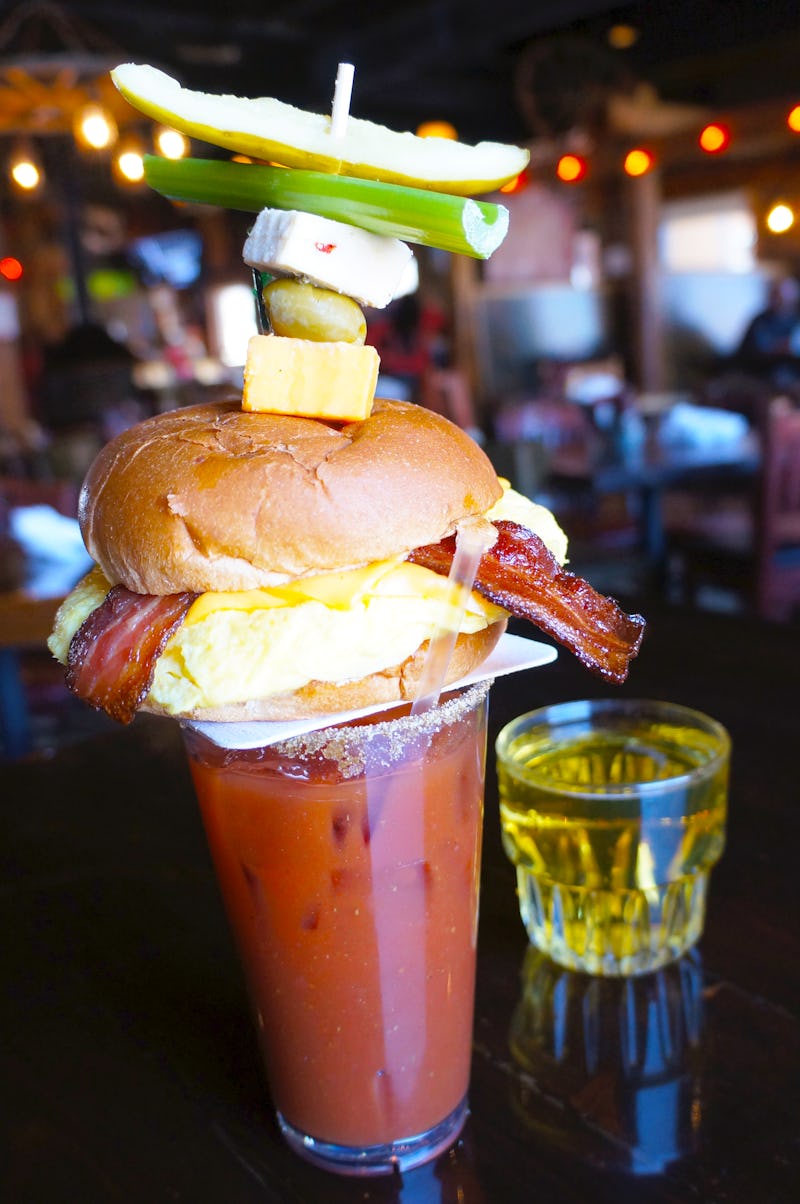 When it comes to Bloody Marys, more is more. This has been a year featuring the most insane Bloody Mary garnishes the cocktail world has ever seen, and the trend shows no signs of slowing down. Up next? Cowboy Jack's "The Rehab" Bloody Mary. The St. Cloud, Minnesota restaurant's glorious monstrosity is topped with a skewer including a bacon, egg, and cheese sandwich, celery, cubed cheeses, a pickle, and a green olive. It was recently featured as "Drink of the Week" in the SCTimes, and for good reason — it looks mind-blowingly delish.
Essentially, it covers every stage of drinking all on one skewer. You have the drink itself, which gets you started on your trip to Drunktown. Then you have the celery, which is the last good decision you'll make. Next you have the salty I'm-buzzed-and-need-a-snack options of cubed cheese, the olive, and a pickle. And finally, the bacon, egg, and cheese sandwich, which won't undo the previous drunken malarky, but will certainly soften the blow of the inevitable hangover.
Beyond being completely mesmerized by the beauty of this beverage and by how incredible it is that an entire meal can fit on a stick hovering above the rim of a glass, you're probably wondering: what's next? Will we be ordering only cocktails with meals on top? Will we one day have the honor of saying, "Uh, yeah I'll have the Moscow Mule with fried mac and cheese balls"? How far is too far?
My guess is that the trend will go almost too far, but stop short at the soup category. Because liquid plus liquid equals serious mess.
But until that day comes, we can bask in the glow of these monster Bloody Mary cocktails, and order as many as we darn well please, because the work week is about to begin, and you and your tastebuds deserve something extraordinary.
For your very own Rehab, head to any of the After Midnight Group Cowboy Jack's locations in Minneapolis, Plymouth, Bloomington, Otsego, Woodbury, Rochester, St. Cloud, and Bemidji. Locations outside of Minnesota include Des Moines, Iowa and Fredricksburg, Virginia.
P.S. The St. Cloud location also has a Bloody Mary bar from 10 a.m. to 1 p.m. where you can make your own meal on top of a glass.
Road trip, anyone?
Image: The After Midnight Group; Giphy