6 Cute Raincoats That'll Make You Legitimately Excited For April Showers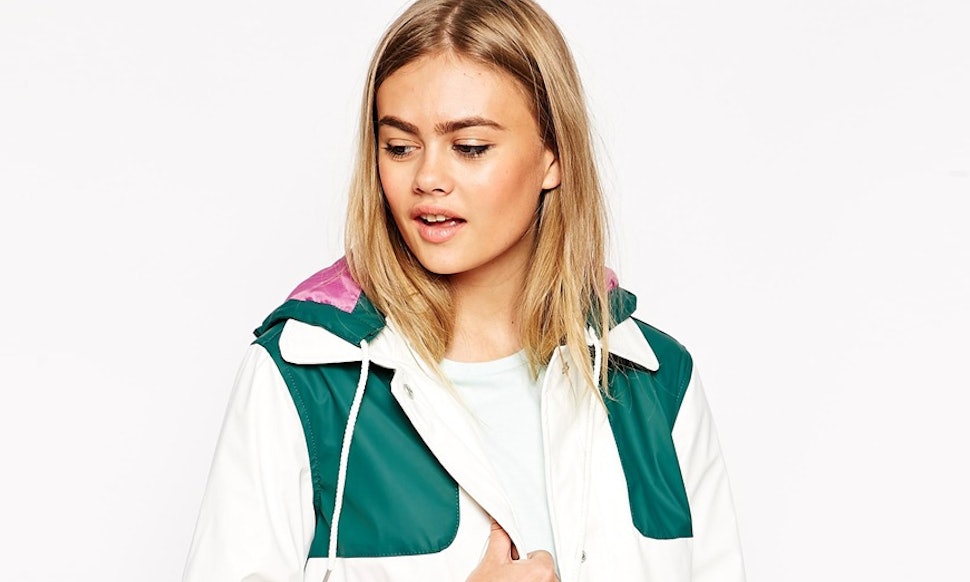 In theory, April showers bring May flowers. In practice, April showers bring a whole lot of weather-based frustration. While we can all take comfort in the fact that winter is on the outs, the pre-spring drizzle-filled season is about to get underway. I think we can all agree that the moisture sucks, as does getting wet. Still, you should be prepared. You'll need a non-heinous, actually cute rain coat that won't make you hate the rain even more than you already do.
This is where we come in. I've combed the inter-webs to find some legitimately cute raincoats that'll actually make you excited for the rain. You're welcome.
Floral Bliss
Might as well remind yourself of the fact that all of the wetness has a great payoff for your garden.
Floral Plastic Mac, $95, Top Shop
Color Blocking
Gotta love the 1960s Courreges feel of this little number.
ASOS Rain Trench With Panel Detail, $81, ASOS
Striking Look
Wear your love for thunderstorms on your sleeve.
Alice Takes A Trip Festival Trench Jacket With Cartoon Cloud Back Detail, $73, ASOS
Put A Bird On It!
Keep yourself dry and drop some ill references Portlandia sketch with this snazzy number.
ASOS CURVE Pac-A-Trench in Swallow Print, $43, ASOS
A Classic Anorak
Ain't nothing wrong with a classic anorak. Transitions seamlessly from downpour to sunny day.
ASOS CURVE Ultimate Summer Parka, $99, ASOS
Polka Dot Special
This playful slicker gives me serious '50s picnic vibes.
Let The Coat Out Of The Bag, $60, Mod Cloth