I Can Now Confirm That Brow Tinting Is Worth It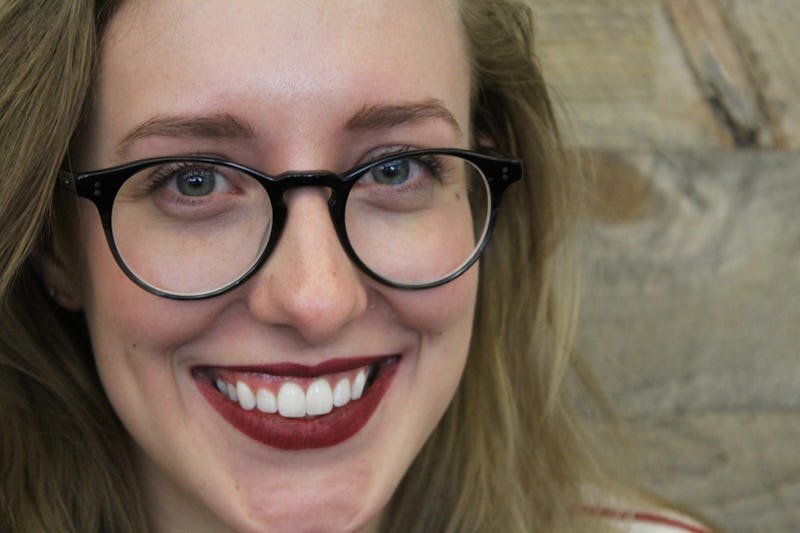 Fellow ladies (and gents) determined to be as on fleek as possible, I would like to present my before and after eyebrow tinting photos as proof that there is hope for even the finest, flaxen brows to reach Cara Delevingne status (or at least get kinda close). Thanks to Jenny, a brow specialist at hair removal salon Spruce & Bond in NYC, I am now officially calling brow tinting the one beauty service you should absolutely splurge on.
As a natural blonde, my basically-invisible eyebrows have always been the part of my life that I was definitely not having more fun with than my brunette peers. Even as my strands darkened from white blonde to pale gold to a dirty, strawberry-ish hue as I got older, my eyebrows stayed pretty darn light. This lead me to horrible experiments with powders, pencils, and markers, all just a touch too dark to ever look natural on my face. Sound familiar, my fellow tow heads? If so, brow tinting is about to change your freaking life.
Before I show off my before and afters, I feel like a little disclaimer is in order: You may still have to fill in your brows slightly, even after you tint them. The developer used to tint brows won't dye your skin, so any sparse patches will still be sparse patches — but at least the hair you do have will be a lot more visible.
See? My "after" eyebrows still aren't Cara D level, but that's probably for the best. Jenny advised that, with my extra pale, pre-summer skin, I only go a couple shades darker for my first session. However, you can certainly go all the way and walk out with nearly-black brows, if you feel so inclined.
The sessions are quick — I got my eyebrows shaped in addition to tinted (highly recommended), and the whole thing still only took about 20 minutes. While she worked her magic, Jenny offered up a couple tips on prepping for your own appointment, plus how to do brow touch ups at home.
1. Put down the tweezers pre-appointment.
The results of my most valiant efforts to grow in my tiny brows.
On behalf of all brow specialists, Jenny implores you to leave your eyebrows alone for at least two weeks (a month is even better) before you go in for an appointment. Trust me, I know how hard it can be to resist plucking strays, but it'll make your shaping go a whole lot smoother. Your tech can take as much hair away as they need, but even the most skilled expert can't magically add necessary brow hair back if you've gotten a little tweezer happy.
2. Ask for five minute intervals.
Left: After five minutes. Right: After ten minutes.
Most brow techs know this, but just in case Jenny advises to wipe off the tint and check how dark your brows have gotten every five minutes. The color developers work more quickly on your, like, ten eyebrow hairs than they would on an entire head of hair, and you can always put it back on for a few more minutes if you want to go darker.
3. Avoid magnifying mirrors at all costs.
Since the tint doesn't dye your skin, Jenny could go crazy with it to ensure she got every hair.
Magnifying mirrors, Jenny says, are a brow tech's worst enemy, since people tend to over-pluck in attempts to get every single hair that seems even slightly out of place when they use them. Think about it: If you can't see a hair in a regular mirror, anyone interacting with you on a daily basis won't see it either.
Try: LeJu Makeup Vanity Mirror, $32, Amazon
4. Obey the "No Tweeze Zone."
If you have to touch up between appointments, try to only pluck in the spot between your eyebrows. Messing too much with anything at the arch or further could lead to accidentally ruining your shape. Most importantly, don't ever pluck the ends of your brows. Jenny tells me those hairs rub off in your sleep anyway, so you want to save as many as you can.
5. Mark your spots before you shape.
Really, you should leave major shaping to the experts, but this method works as a guide for filling in your brows as well. Instead of just measuring where you should tweeze/fill with a pencil, literally mark each spot with a brush and some brow powder, then wipe the excess off after you're done.
Try: Anastasia Beverly Hills Brow Powder Duo, $23, Amazon
6. Use a mix of pencil and powder.
It's all a matter of personal preference, but Jenny recommends using a combination of brow pencil and brow powder to reach peak fleek status. Apply pencil with short strokes to fill in sparse spots, then use an angled brush to apply powder all over and make your brows look fuller. Add a touch of brow gel on top to keep them in place.
Try: Lorac Brow Pencil, $19, Amazon
7. Make multiple appointments.
Left to right: Just brow tint; after Jenny filled in my brows; after I added a touch of pencil and some lipstick
Especially if you've over-tweezed in the past, you likely won't get your dream brows in just one session. I was pretty pleased with my results this time around... which means I'm officially addicted to having my eyebrows tinted and will most definitely be doing it again. A tint and shaping adds up to $75 at Spruce & Bond (tinting alone is $25), though they offer a discount if you book in bulk, so it's worth it to schedule out the whole year if you love your new, darker brows. Jenny recommends coming in once a month, though a fellow Bustle editor told me once a quarter is perfect for her. It's a gentle fade — you won't get visible roots or obviously dye-free splotches — so how often you go is totally up to you.
Images: Rosanne Salvatore; Kara McGrath