I Wanted To Dress Like Audrey Hepburn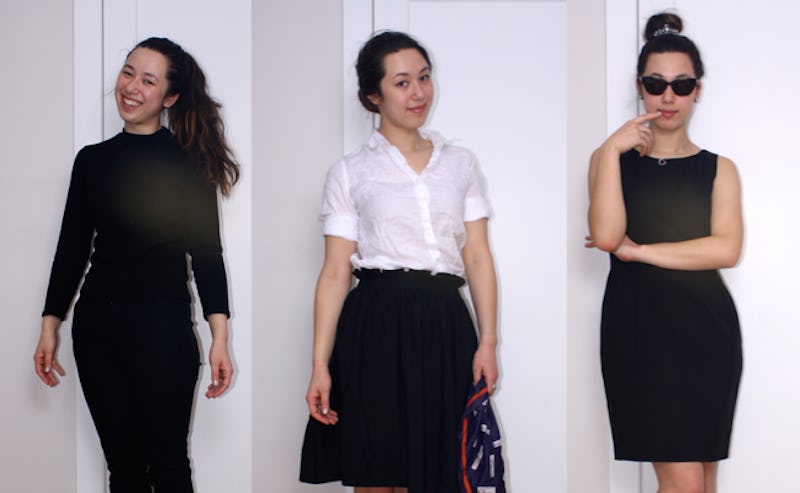 It's all but impossible to have a conversation about style icons without mentioning Audrey Hepburn. Hepburn has been named the most iconic beauty of all time, and for good reason. She carried herself with such poise, both on-screen and off, as an ambassador for UNICEF for 38 years. She could sing like a songbird and dance like a madwoman while still remaining as graceful as a gazelle. All the while, Hepburn was dressed impeccably, in deceptively simple outfits that fit well and looked chic.
I, along with most fashion-interested people, succumbed to the sartorial charms of Audrey Hepburn long ago. For Christmas one year, my parents gave me a box set of all of Audrey Hepburn's movies, and I subsequently spent my holiday break watching them all. I tried to emulate her hairstyle and her makeup and, perhaps most importantly, her outfits. That obsession hasn't gone away, although I did lose most of the DVDs. Years of study have brought me to this point where I can confidently recreate three of Hepburn's most iconic looks for the modern girl using only clothes I already had in my closet. Because like so many Audrey fans before me, looking like I came straight out of Breakfast at Tiffany's is pretty much ideal.
Roman Holiday
Hepburn's breakout role (for which she won an Oscar in 1953) was as Princess Ann in Roman Holiday, starring alongside Gregory Peck, who plays an American newsman. Princess Ann gets sick of being a princess while on some kind of publicity or goodwill tour of Europe, so she sneaks out into Rome by herself and meets Peck's character on a park bench, and the two go zooming around on a Vespa, trying to run away from the cops who are looking for her. She's a princess, but she's not too precious, and the look is perfect for springtime in Rome... or wherever you are.
The white linen shirt, with rolled up sleeves, is Uniqlo, and the black skirt is from H&M. Ideally, I would have worn a skirt in a brighter color, not black. Although Roman Holiday was shot in black and white, color photos from the set reveal the skirt she wore was a baby, pastel blue, and that would have definitely made the outfit more springtime appropriate. The black ballet flats are Banana Republic Ashley Bow Ballet Flat, and the silk scarf, which was a crucial element of the original look, is vintage (and actually features signatures of all the American presidents between 1776 and 1976, so not as European as it maybe should be, but it works).
I could absolutely imagine wearing this outfit to Easter brunch or to an afternoon at a museum with friends or something cultural. The whole thing felt much more comfortable without the neck scarf, because I did kind of feel like a flight attendant. But it does seem a bit more unfinished without and I think I would have felt less like I was wearing a uniform if I had colors beyond black, white, and navy.
Funny Face
In Funny Face, Hepburn plays this girl who works in a bookstore in Manhattan's Greenwich Village and is discovered by a fashion photographer, played by Fred Astaire and inspired by the real-life Richard Avedon, and becomes this hugely successful model, flying off to Paris to become fashion's next big thing. Throughout the movie, she's decked out in elaborate costumes for photo shoots, with fluffy skirts in gorgeous pastels, memorably posing in front of the Winged Victory of Samothrace at the Louvre in a stunning, flowing red gown. But the movie's most memorable outfit, in my opinion, is also the most simple. Hepburn's character is sitting in a nightclub with Astaire's character and insists that she could use a release , so starts dancing like a wild woman. Her outfit is easy: all black everything and white socks. But she looks so chic and graceful, even when she's letting out all her frustrations and emotions through her otherwise erratic movements.
To be honest, this is basically what I wear to work every day. The black mock turtleneck is a Korean brand whose name I can't decipher on the tag, purchased in Seoul, and the black pants are J. Crew's Minnie pant in stretch twill. Those are the black ballet flats from Banana Republic, paired white athletic socks that belong to my boyfriend. In this case, the look is simple, so the success comes from the attitude, which is playful and gamine and confident. So I had to try to find a release through dance, of course.
No matter how hard I try, I am not as graceful as Audrey, and definitely not a trained ballerina. That's OK though, because my outfit is still chic, although I might leave the white socks in by boyfriend's gym bag next time.
Breakfast At Tiffany's
Hepburn's most iconic movie look is from the opening scene of Breakfast at Tiffany's. Wearing a stunning black dress, paired with a perfectly opulent pearl necklace and diamond tiara, Holly Golightly is standing wistfully in front of Tiffany's on New York City's Fifth Avenue, chewing on a Danish and sipping on some coffee from a street vendor, fighting off the mean reds. It's perfect and simple and iconically Hepburn. There's no way I was going to recreate Hepburn's best looks without giving this one a shot.
I didn't have an elaborate pearl and diamond necklace, but I do actually own a necklace from Tiffany's. It's a silver Elsa Peretti Open Heart Pendant necklace my parents gave me for my sixteenth birthday, which I felt was totally in the spirit of the look even if it's not the most accurate to the outfit from the movie. In another scene from Breakfast at Tiffany's, Holly Golightly scrambles around her apartment, looking for her black alligator pumps, which she would have paired with her black dress. I, for better or worse, do not own a pair of black alligator pumps, but I do have a pair of Via Spiga calfskin leopard pumps, which I feel would be the modern-day equivalent of Holly Golightly's footwear. Leopard print is basically a neutral now, anyway. My LBD is ASOS, not Givenchy, as it is in the movie, but it totally does the trick and might be one of the most lovely dresses I own. The top-knot is all natural, the tiara is actually a necklace from H&M that I bobby-pinned to my head, and the cat-eye tortoiseshell sunglasses are vintage, which really means they were taken from my mother's closet. When I walked out to take this picture my boyfriend high-fived me, because even he knew exactly what movie character I was channeling. This look isn't a perfect recreation, but it's just as classy as the original and something I'd feel totally comfortable wearing to a nice cocktail party.
Really, none of these outfits are exactly what Hepburn wore, but that's not really the point of this exercise. Her influence and inspiration is evident in each look, and in each, I felt pulled together and poised and graceful and good about myself. If you're feeling stuck in you wardrobe, watch a couple of Audrey Hepburn's movies and get inspired. There's a good chance you already have a lot of the pieces in your closet to make it work.
Images: Author's Own; Giphy