The Slut-Shaming Problem Among Close Friends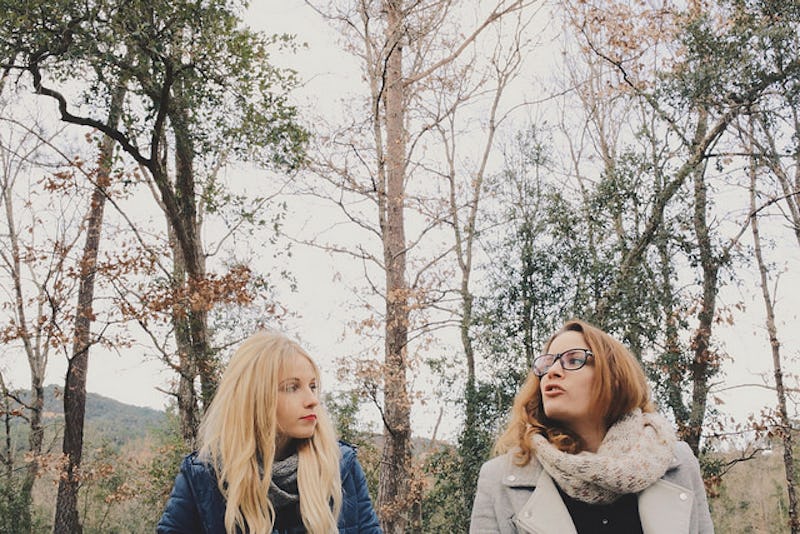 Sex researcher Dr. Zhana Vrangalova and research assistant Rachel Bukberg co-authored a provocative new study on the effects of slut-shaming among college students. Their study, "Are sexually permissive individuals more victimized and socially isolated?" was published online last month in the academic journal Personal Relationships. During the course of their research, Vrangalova and Bukberg surveyed 810 undergraduates between the ages of 18-23. Additionally, 74 percent of the study's participants were women and 62 percent were white.
In an article for Psychology Today on her findings, Vrangalova writes: "As we expected, the more partners someone had, the more relational aggression they had experienced, things like having friends going behind their backs, turning others against them, or being the target of rumors or gossip. They were also more likely to report having been the target of discrimination or negative stereotypes based on their sexual behavior."
But according to Vrangalova's article, the surprising result of their study was that those who faced relational aggression because of their perceived promiscuity didn't become social outcasts because of other people's gossip. Those who reported higher numbers of casual partners also experienced "lower loneliness, [a] greater likelihood of having a best friend, more close friends, more acquaintances and more relatives with whom they communicated on a regular basis."
These "close friends" who are quick to backstab and turn against each other sound a lot more like enemies. As I read Leora Tanenbaum's new book I Am Not a Slut: Slut-Shaming in the Age of the Internet, I found that Tanenbaum's research describes some of the motivations behind why young women might engage in slut-shaming against their friends. "By pointing a finger at another female, the name-caller at least temporarily diverts attention from herself and safeguards her own status," writes Tanenbaum. "She quite brilliantly in one stroke proves both that she's not a slut (because the other girl, once labeled, is marked as 'worse,' and when it comes to sluttiness, relativity is everything) and also that she's not a prude (because she's sexually sophisticated enough to be parsing finely observed sexual judgments.)"
From Vrangalova's perspective, her research "offers hope to those whose 'number' happens to be higher than the norm, and requires us to revise the traditional view of promiscuous people—particularly women—as automatically victims." The final line of the study's abstract also notes that these results ultimately "suggest a complex relation between permissiveness, victimization, and isolation, indicating resiliency among permissive individuals in the face of adversity."
This is where Vrangalova loses me. What exactly is the "norm" when it comes to a total tally of partners? Wouldn't that "norm" of a number vary widely among college students? In a 2011 article for Slate, Jessica Grose argued that because so many women are marrying in their later adult years, "the number of lifetime sexual partners is higher in younger cohorts than in older cohorts... as women are single and sexually active for longer, their 'numbers' will naturally rise, and in the process, those numbers will start to seem less and less relevant."
Claiming that most of us equate promiscuous people with victims is also confusing — what, exactly, are these people victims of besides antiquated stereotypes and slut-shaming? Kate Hakala of Mic agrees with Vrangalova in her response to the study's findings:
"Pop culture's portrait of a promiscuous person is one of a lone tragic figure, usually a woman, whose behaviors have made her an undesirable friend, family member and romantic partner," she writes.
But that's not always true. Sex icon and actress Mae West famously said, "Good girls go to heaven, bad girls go everywhere." That doesn't sound too tragic to me.
Of course, West's line relies on the comparison of "good girls" and "bad girls," much in the same way that this study contrasts "promiscuous" college students with... well, it goes unsaid, but is the term something along the lines of... virtuous college students? Chaste college students? Seriously, what is the antonym for a word like promiscuous?
Speaking of antonyms, I'm also a little perturbed by the notion that in this context, resiliency is the opposite of victimization. It's as if the authors are suggesting that a resilient person doesn't ever let the slut-shaming faze them. After reading the harrowing accounts at The UnSlut Project from those who survived bullying, invasions of privacy and sexual harassment, it's obvious so many survivors of slut-shaming are incredibly strong in the face of daily, brutal torment. Speaking out about the harms of slut-shaming is an unquestionable display of resiliency.
I'm glad to hear that so many participants in this study felt like they combated loneliness through close ties to friends, family and a sense of connection to others in their community. But I'd love to hear more about the quality of those friendships and family ties. It would be great to know exactly what these particular students faced when they shared the truth about their sex lives with some of their more judgmental peers — how did they deal with the gossip, the back-stabbing, the rumors? Because it's not enough to say "I have friends" if those friends aren't acting very, well, friendly. Perhaps the solution for a problem like loneliness in the face of campus slut-shaming is cultivating loyal, honest, and genuine relationships -- even if a good friend is hard to find.
Images: Giphy: 1-3