19 Stylishly Ugly Sandals For Prom To Help You Reach Peak '90s Nostalgia During The Big Dance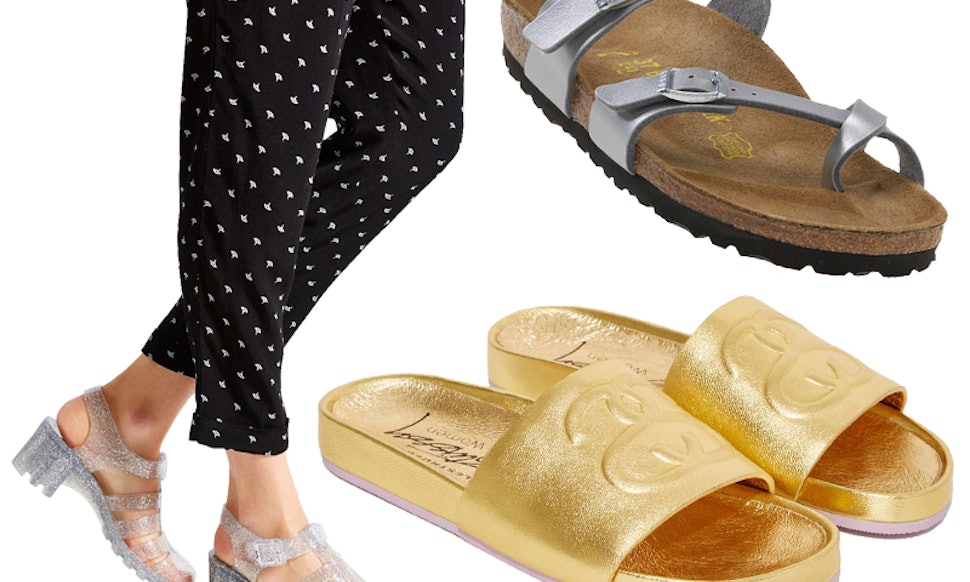 One of the most fantastically hilarious things to happen to fashion in recent years is the ugly sandal trend. Some people despise the fact that we're letting everyone get away with clunky soles, thick straps, and cumbersome buckles guaranteed to look horrible in photos a decade from now, but I personally am loving it. Ugly sandals are comfortable, and their hideosity (you know, the trendy kind of hideous) somehow makes them go with everything — including your prom dress.
Sure, heels have always been the norm at prom, but flat shoes (of all kinds) are becoming more widely acceptable as the way to go, even at your most formal events. Flip flops at the dance could feel lazy, but wearing these so-called ugly sandals to prom would make a big ole style statement. If you're down to embrace the fact that comfort is in (and you definitely should), here are 19 metallic, embellished, and all-around cool sandals to shop now.
Gold Buckles
A thick, platform sole adds extra height without making dancing more difficult.
Frill Sandal, $88, Nordstrom
Silver Birks
Obviously, I have to include the original "ugly" sandal in this "ugly" sandal roundup. They're comfortable and metallic, which equals perfection on prom night.
Oil Slick
The slightly-holographic finish of these silver shoes is fantastic.
Dirty Laundry Babette Flat Sandal, $50, Chinese Laundry
White & Silver
All-white sandals are great, but all-white sandals with a touch of metal detailing are even better.
Ficuzza Sandals, $45, Call It Spring
Metallic Slides
Pulling of sandals at prom is a whole lot easier if they're metallic.
SO Women's Two Piece Slingback Sandals, $30, Kohls
Black Straps
Classic black makes sure these sandals will work well past your prom night.
Corona Sandal, $90, Seychelles Footwear
Metallic Slides
These are literally metallic pool slides. Do I really need to say anything else?
Stussy Link Leather Slide Sandal, $130, Nastygal
Rope Details
The thick strap keeps these decidedly in on the "ugly cool" trend, but that rope detailing is so perfect for summer.
Isha Sandal, $70, Sperry
Lacey Espadrilles
OK, fine. The lace on this means they barely fall under the "ugly" trend, but I'm including them for how comfortable they are.
Tulip Lace Sandal, $65, Soludos
Hot Pink
If all these metallics aren't quite your style, a pair of fuchsia sandals may suit you better.
Women's Double Band Sandals, $17, Old Navy
Gold Glitz
MORE GLITTER.
Glittery Sandals, $25, H&M
Baby Pink
Pale blush is an unexpected shoe color for prom, but it's girly in the all the best ways.
Abbot Slides, $78, J.Crew
Jellies
Please, for the love of all things '90s nostalgia, wear glittery jelly sandals to prom this year. PLEASE.
Juju Footwear Glitter Babe Heeled Jelly Sandal, $50, Urban Outfitters
Glamping Sandals
Teva is doing metallics now, and I don't think it's because sparkle somehow makes mountain climbing easier.
Women's Original Universal Leather Metallic, $75, Teva
Clear Jewels
They have the shape of an "ugly" sandal, but the faux crystals of evening wear so… yep. These are the ultimate prom shoes.
Jewels Out For Summer Sandal, $50, Modcloth
Beachy Slides
The woven sole on these slides balances the thick, bold strap.
Boardwalk Breeze Black Espadrille Slide Sandals, $17, Lulus
Girl Band Platforms
The Spice Girls would be so proud.
Pixie Block Heel Cleated Sandals, $44, Boohoo
Strappy Platforms
And if you wore these, the Spice Girls would be literally sobbing.
Patent Faux Leather Platform Sandal, $32, Forever 21
Embellished Sandals
Just because you're going the more casual, ugly sandal route doesn't mean you can't rock a substantial amount of bling.
Hibiscus Embellished Sandals, $50, Topshop