A Shopaholic's Best Friend: A Wallet on Wheels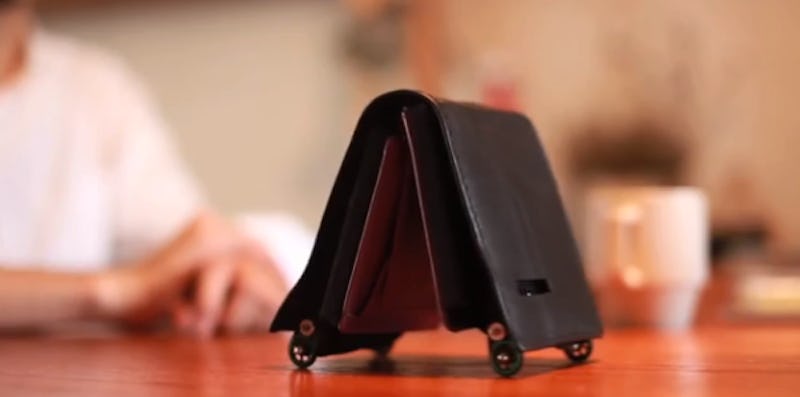 Recovering shopaholics no longer need to be afraid of relapsing during Black Friday's big sales, assuming they get their naughty, spendthrift hands on the Living Wallet, a high-tech accessory to help curb spending habits. With small wheels on each side, this Japanese-made product can roll away from you when you try to reach for it. It also pairs with a bookkeeping app called Zaim, so it knows exactly how much money you have and how much money you should (or shouldn't) be spending.
If you're trying to control your spending, you can switch the wallet to 'Save Mode.' Not only will the wallet roll away from, it will also scream for help if you end up catching it. Yes, it has a built in sound chip that yells, "No! Don't touch me! Help!" This may get you some stares and concerned looks, but you can reassure everyone that it's just your talking wallet.
Spenders who ignore their wallet's desperate cries will have to answer to their mothers because the wallet is a total tattletale, too. It will call or email your mom to tell them what you've done (or bought).
For those obedient shoppers who have earned a trip to the mall, your wallet will reward you by going into 'Consumption Mode.' Your living wallet will encourage spending by playing Beethoven music and reciting popular products on Amazon.
Unfortunately, the wallet has not gone public just yet, but we're hoping they'll be available to order before holiday shopping rolls around. To watch the case presentation and to learn more about the Living Wallet, check out the video below.